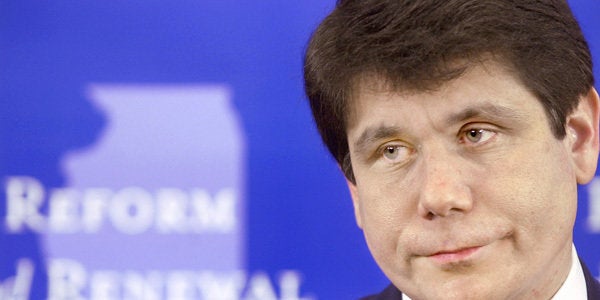 Illinois politicians moved quickly to repudiate Governor Rod Blagojevich after his arrest early Tuesday on federal corruption charges.
Lt. Gov. Patrick Quinn called on Gov. Blagojevich today to "do the right thing and step aside."

The No. 2 state official added, "I hope he does the appropriate thing for Illinois."
If Blagojevich resigns or is successfully impeached, Quinn would become governor.
U.S. Sen. Dick Durbin called for Obama's Senate replacement to be decided by a special election:
"No appointment by this governor, under these circumstances, could produce a credible replacement."
Incoming State Senate President John Cullerton echoed Durbin's views. From the Capitol Fax Blog:
"Before I take office as the President, we should pass legislation changing the law to allow for special election for the replacement of Sen. Obama. And I believe that Sen. Jones will support me in that effort."
Outgoing State Senate President and key Blagojevich ally Emil Jones will reconvene the State Senate to discuss the process of filling President-elect Obama's vacant Senate Seat:
"The events this morning are shocking. The faith of the citizens of Illinois has once again been shaken. I will call the Senate back in to session to pass legislation that would create a special election for the U. S. Senate seat to help restore the confidence of the people of Illinois during this difficult time."
In a statement released today, Illinois House Speaker Michael Madigan said he would similarly reconvene the House of Representatives to discuss the vacant Senate seat and possible impeachment proceedings:
"Today's events are shocking and disappointing. It represents a new low for conduct by public officials. I believe in the rights of individuals to due process, but I also believe action must be taken to avoid certain functions of state government from being irrevocably tarnished by Governor Blagojevich's continued exercise of power.

I am prepared to convene the House next Monday to change state law to provide for a special election for the U.S. Senate replacement. I would urge U.S. Sen. Dick Durbin to take note of this action.

On the question of impeachment, I am prepared to discuss the suggestions of the House Republican Leader.

We have many important issues to confront. Today's events do nothing to help us attain solutions."
Illinois Attorney General Lisa Madigan also called for the Governor's resignation in a statement:
Today, our worst fears have been realized. Once again, the people of Illinois have learned that a Governor has engaged in a shockingly flagrant scheme to sell his power and authority to the highest bidder.

The conduct is especially outrageous and truly demonstrates a new level of corruption given that Governor Blagojevich has been the subject of ongoing criminal investigations for years.

Yet, undaunted by these investigations, Governor Blagojevich decided to undertake schemes to sell the U.S. Senate seat, to sell his signature on legislation, and to interfere in financing deals - all in an effort to obtain personal and political benefits.

Public officials are elected to serve the people of this state and to uphold the trust of the people who have elected them.

It is absolutely clear that the Governor is incapable of governing.

At a time when our state faces tremendous challenges, Governor Blagojevich cannot faithfully exercise the powers of his office.

Governor Blagojevich should immediately resign and allow Lt. Governor Quinn to succeed him.

As the state's chief legal officer, I want to assure the People of Illinois that I am working quickly to move forward on the next legal steps should the Governor refuse to resign. I am already working with the legislative leaders to make sure that the work of this State continues without interruption.

I am thankful for the extraordinary work of the U.S. Attorney's Office and the FBI. And I echo their call for everyone with information about these allegations to come forward and offer their assistance to the U.S. Attorney's Office.
Illinois State Treasurer Alexi Giannoulias echoed these sentiments in his statement:

"This is a sad day for Illinois government and for the people of our great state. Governor Blagojevich's actions alleged in the complaint show a complete disregard for Illinois residents who elected him to lead. Today's indictment further demonstrates that we need to reform a deeply flawed system where political money is traded for favors and government is clearly for sale. The governor has failed in his responsibilities and should resign immediately."
The Sun-Times reports on the reaction from Illinois State Comptroller Dan Hynes. In a prepared statement, Hynes said the following:
"For the well-being of Illinois, Gov. Blagojevich must resign immediately.

"While this investigation is still ongoing, our state cannot afford to remain engulfed in this unfolding scandal. Our government's ability to deal on a daily basis with the fiscal and economic crises we currently face demands leadership and integrity.

"On a personal note, I am immensely saddened and angered by these developments. This is perhaps the most embarrassing moment in the history of Illinois government and a stain that will not be easily removed."
U.S. Rep. Jesse Jackson Jr. called the allegations against Blagojevich "appalling" in a statement, but did not call for the governor's resignation or impeachment:
"I was shocked and saddened today to learn that Illinois Governor Rod Blagojevich was arrested by federal law enforcement officials. I am learning of the details from the unfolding and astonishing news reports about the corruption charges.

"If these allegations are proved true, I am outraged by the appalling, pay-to-play schemes hatched at the highest levels of our state government. Sadly, today's criminal complaint casts another dark, wide cloud over our state. The people of Illinois deserve better.

"As reported, I met with Governor Blagojevich at the state building in Chicago for the first time in years. During yesterday's 90-minute meeting, I shared with the Governor my hopes and unique qualifications for succeeding President-elect Barack Obama in the U.S. Senate.

"I've worked to make this ongoing senate selection process more open, transparent and merit-based. So, I'm deeply concerned that this process may have been tainted.

"Now, the Governor's fate is in the hands of the justice system. As the process plays out, I hope that everyone involved will cooperate fully and completely with the federal government's investigation. In the weeks and months ahead, his future should ultimately be determined in the court room and not the newsroom."
U.S. Rep. Jan Schakowsky released a statement calling on Blagojevich to resign and urging the Illinois legislature to enact impeachment proceedings if he does not.
Schakowsky's full statement:
"This is a sad day for the people of Illinois. The charges against Governor Blagojevich are very serious and damaging. It is in the best interest of the State of Illinois that Governor Blagojevich resign from office immediately. If he does not resign, the state legislature should reconvene for a special session immediately and begin impeachment proceedings against Governor Blagojevich. I have already called the Illinois Speaker of the House, Michael Madigan, and Illinois State Senate President, Emil Jones, to ask them to come back into session to begin impeachment proceedings."
The Chicago Sun-Times also reported on reactions from three members of the Illinois legislature. According to the report, House Minority Leader Tom Cross said the following:

"Today our state is facing a crisis. Illinois citizens are victims of a corrupt governor," said House Minority Leader Tom Cross (R-Oswego). "To restore confidence and trust in Illinois state government, I have asked Gov. Blagojevich to resign from office immediately.

"Furthermore, I have informed him that I have requested impeachment hearings to begin immediately in the Illinois House of Representatives," Cross continued. "We have too much work to do to move Illinois forward, we cannot allow this crisis to impact Illinois citizens any longer."
Sen. Bill Brady, an announced Republican gubernatorial candidate in 2010, also reacted harshly to Blagojevich's arrest. From the Sun-Times:

"The dire fiscal situation in Illinois demands that we have a chief executive who can devote his full attention to serving the people of Illinois. With this cloud now over his head, Rod Blagojevich clearly is encumbered in the performance of his official duties and should resign immediately," Brady said.
"Whether he is ultimately proven innocent or guilty, we know from recent history the time these judicial proceedings can take. Elected officials need to put the public interest ahead of their own personal interests. The interests of the people of Illinois should not be neglected while the governor faces a grave personal and legal challenge," Brady said.

"There is no doubt these allegations create a sense of immediacy for the House to take a look at beginning impeachment proceedings," Fritchey said. "Whether it is pending legislation, the United States Senate vacancy or our troubled economy, our state has many needs that cannot wait for the judicial system to play itself out. I believe we need to act sooner rather than later."
Republican U.S. Rep. Dan Manzullo condemned Blagojevich and Illinois's history of government corruption:

"...unfortunately, Blagojevich's behavior is not unprecedented in Illinois, which he notes has the dubious distinction of "If you're a public servant, you're either totally honest or totally corrupt." "This governor needs to resign," Manzullo states bluntly. "He is now the fifth out of Illinois' past seven or eight governors to be indicted. Three have gone to prison; one was found not guilty; and now we have this. He gives new credence and new definition to the word corrupt."
Manzullo says if while in prison Blagojevich appoints someone to fill Obama's Senate seat, that appointment will forever be tainted. If the governor does not resign, Manzullo says the Illinois General Assembly should move forward with impeachment proceedings."

Former Illinois Gov. Jim Edgar joined the chorus of politicians calling on Blagojevich to resign. From the News-Gazette:
"I have never heard of that depth of corruption and misuse of public trust," added Edgar, a Republican who served two terms from 1991-1999. "It's a terrible day."

Edgar blamed voters for re-electing Blagojevich to a second term, saying the media had documented the governor's attempts to win campaign contributions in exchange for state jobs or contracts.

"All these things were raised during the last campaign. The electorate has to pay a lot more attention to elections in this state, Edgar said.

Speaking at a press conference at the University of Illinois Institute of Government and Public Affairs, where he's now on the faculty, Edgar said impeachment "definitely needs to be considered" if Blagojevich won't resign.

Edgar said he tries not to be shocked by anything the governor does but added, "It's unbelievable that someone in that position would do some of the things he's been charged with."
[...]
Some legislators are calling for a special election to fill Obama's former seat, but Edgar said the last thing the state needs is more candidates trying to raise money.

If Blagojevich resigns, Lt. Gov. Pat Quinn would take office and have the power to select a new senator. But Edgar suggested instead a blue-ribbon commission come together to nominate a candidate for the remaining two-year term and "get us past this."
REAL LIFE. REAL NEWS. REAL VOICES.
Help us tell more of the stories that matter from voices that too often remain unheard.