The year 2015 was politically tumultuous even for a state as accustomed to tumult as Illinois. Bruce Rauner became the first Republican governor in 12 years and promptly renewed his effort to curb the power of public employee unions in Illinois.
His executive order to end compulsory "fair share" fees for non-union public employees who are covered by collective bargaining unions ultimately failed, but a case before the U.S. Supreme Court could make it the law of the nation.
A bipartisan bill to fill a budget gap of $1.6 billion in March gave many Illinoisans hope that the cooperation between Rauner and the Democrats who control the General Assembly was a sign of good things to come. Unfortunately, it lasted barely two weeks, as the administration cut $26 million in social services funding that Democrats thought had been protected under the bill.
That set the tone for the rest of the year, as Rauner and Democrats clashed over Rauner's Illinois Turnaround agenda. The result has been a state budget standoff that has left the Illinois without an operating budget -- and en route to creating a massive deficit -- more than halfway into the budget year.
But the budget fiasco was eclipsed on Nov. 24, when the city of Chicago, under orders from a judge, released video that showed 17-year-old Laquan McDonald being shot 16 times by a Chicago police officer in October 2014. The video was a shocking contrast to the earlier, official version of the shooting, which indicated McDonald had lunged at the officer with a knife.
In October, Emanuel had seen his former schools chief, Barbara Byrd-Bennett, plead guilty to corruption charges in one of the most brazen bribery schemes in state history. The McDonald controversy brought demands for his resignation that continue today.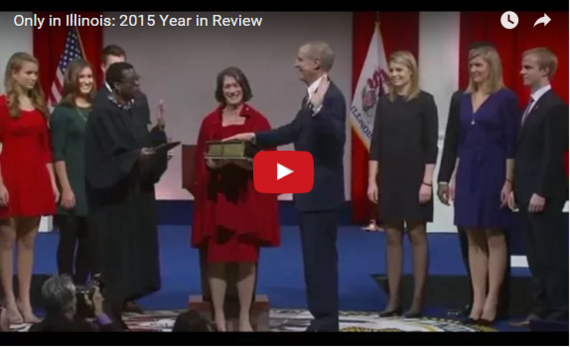 REAL LIFE. REAL NEWS. REAL VOICES.
Help us tell more of the stories that matter from voices that too often remain unheard.