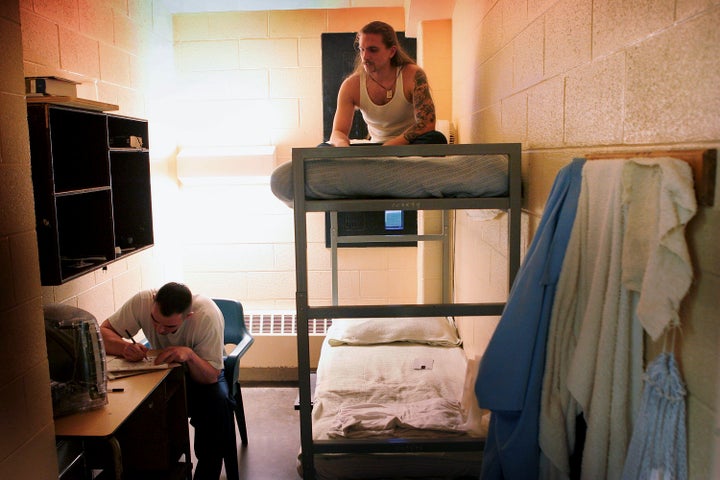 Illinois' budget crisis is not news to anyone, and as politicians in Springfield argue about what to cut, the budgetary woes have begun to spill over into some somewhat unusual and unexpected areas.
In Taylorville, Illinois--there's an underwear shortage.
A report issued by the John Howard Association shows that inmates in the prison are wearing dirty and threadbare clothes that are only being washed twice a week, raising "serious hygiene concerns." Several inmates reported much of the original clothing they received to wear -- three pairs of pants, three shirts, one jacket, one hat, two pairs of boxers and two pairs of socks -- are already used, soiled or in otherwise poor condition when they receive them.
The group is calling for the state Department of Corrections to remedy the situation and provide sufficient clothing for its inmates, in addition to looking at other issues -- like overcrowding and a lack of in-facility educational programs. They say such programs can reduce the rate of recidivism.
A department spokesperson told the Pantagraph they are "doing their best" given the state budget constraints and the decision by Governor Pat Quinn to abruptly end an early prison release system last year. Largely due to that decision, the Taylorville facility, like other prisons, is currently holding some 1,200 inmates -- double what it was built to hold.
Prisoner underwear, however, might be the least of the state's concerns. On Tuesday, the Peoria Journal Star reported that the state owes some $620 million in income tax refunds dating back to 2009 to businesses, and the Illinois Department of Revenue announced this week that "there is not enough money in the Income Tax Refund Fund" to pay the over 7,500 businesses still owed those funds.
At this time, it remains unclear when the more than $1 million will be returned.
Popular in the Community