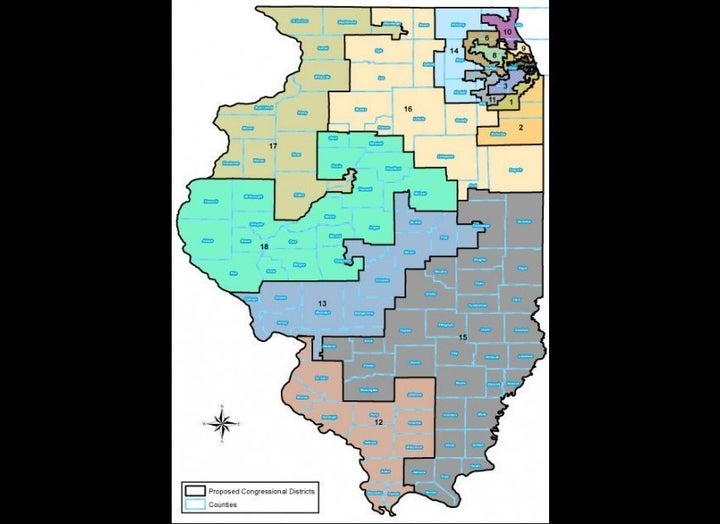 Not only did the Republicans take a majority in the U.S. House in last November's elections, but they also claimed majorities in a historic number of state legislatures, winning 650 state-level seats around the country and taking control of 19 Democratically-held chambers.
To the victor go the spoils, as they say, and on Friday, Democrats in Springfield announced the spoils they were gunning for: a new map of the state's Congressional districts.
The redistricting process, based on the 2010 Census, is a partisan process everywhere. But with complete control of the process, Democrats in Illinois are tailoring the maps to cause headaches for several Republicans elected in the 2010 wave. The way things look, Democrats could completely reverse the Republican gains of the last election with a single stroke of the mapmaking pen.
Though it's impossible to be certain, the Democratic proposal appears to favor 12, or possibly even 13, Democratic districts out of a total of 18. They currently hold eight (of 19 -- the state is set to lose one due to population losses), though they held 12 seats until last year's losses.
Most of the five freshman Republicans are in uncomfortable positions in the newly proposed maps. Democrats expanded some Chicago districts to grab portions of Republican territory in the suburbs, cutting into the base of several of those freshmen.
Republican Adam Kinzinger's suburban home now falls in Jesse Jackson Jr.'s district, which is still safely Democratic. If he wants to keep his job, he will likely have to leave the district and challenge a fellow Republican in a primary. And Robert Dold, who took Sen. Mark Kirk's seat in the North Shore suburbs, now faces a significantly bluer district, with liberal Jan Schakowsky grabbing some of his Republican support.
Joe Walsh and Randy Hultgren, two other new Republican congressmen, have been drawn together into one district, and may well face off in a primary battle.
Also in serious trouble is freshman Bobby Schilling, who ousted incumbent Democrat Phil Hare in one of the bigger surprises of 2010. His district now appears to lean Democratic, and there are few nearby options that wouldn't require a primary challenge of a more established Republican.
The sum total looks like this: Democrats still have seven seats rooted in Chicago and safely theirs. Two newly unoccupied districts, the 8th and 11th, also appear to be Democratic, although many of the numbers are still coming out on the new map, so certainty is hard to come by. Schilling's 17th, which now includes pro-Dem Rockford, should also turn blue.
18-year incumbent Jerry Costello will keep his seat in the 12th, bringing the Democratic total to 11. Then there's Dold's district, the 10th, which has always been a swing district, and could swing the Democrats' way under the new map, which would make 12 seats.
The 13th seat for Democrats would be the 13th District, which takes in Champaign, Decatur and Springfield and could cause Republicans problems as well.
The map is expected to be pushed through quickly -- if it doesn't pass before the end of the legislative session on May 31, it would require a three-fifths super-majority for passage, meaning some Republican cooperation in the state legislature. And with the way the maps are drawn right now, that doesn't seem particularly likely.
Related
Popular in the Community