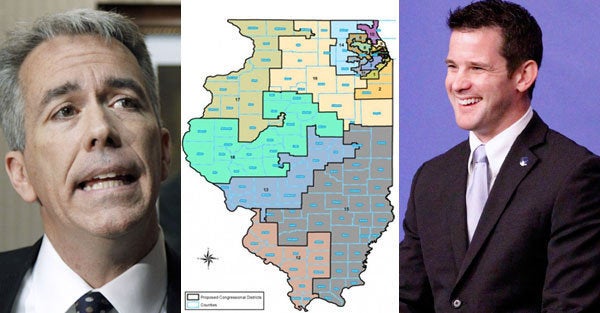 After the 2010 Census showed slowing population growth in the state, lawmakers were forced to change the political boundaries. Democrats used the shrinking number of U.S. House seats to push some areas that recently went red into more solid blue areas.
As HuffPost Chicago reported last week, most of the five freshman Republicans are in uncomfortable positions in the newly approved maps. Democrats expanded some Chicago districts to grab portions of Republican territory in the suburbs, cutting into the base of several of those freshmen.
Republican Adam Kinzinger's suburban home now falls in Jesse Jackson Jr.'s district, which is still safely Democratic. If he wants to keep his job, he will likely have to leave the district and challenge a fellow Republican in a primary. And Robert Dold, who took Sen. Mark Kirk's seat in the North Shore suburbs, now faces a significantly bluer district, with liberal Jan Schakowsky grabbing some of his Republican support.
Joe Walsh and Randy Hultgren, two other new Republican congressmen, have been drawn together into one district, and may well face off in a primary battle.
"This congressional map is a national embarrassment," he added, according to the Tribune. "This doesn't really reflect the type of product that I think the people of this state would be proud of. This is a power grab. You have a majority. You have the power to do it."
"I am running to return to Congress because there are important things left to accomplish, and important accomplishments that must be defended," Foster said in a statement. "Our fragile economic recovery must be sustained, and the long-term fiscal problems that we face must be solved without breaking promises to our seniors or dismantling Medicare. Reforms to our financial and healthcare systems must continue so that they work well for both businesses and ordinary people."
While Republicans and some minority groups groaned about the new maps, Senate President John Cullerton defended them.
"It's politically fair and you'll see that bear out in the next 10 years," Cullerton said, according to the Tribune.
Republican Sen. Kirk Dillard called the process "rotten to the core" and said the state would work a lot better with a two-party system.
Read more about the redistricting ramifications for Republicans here.
Popular in the Community