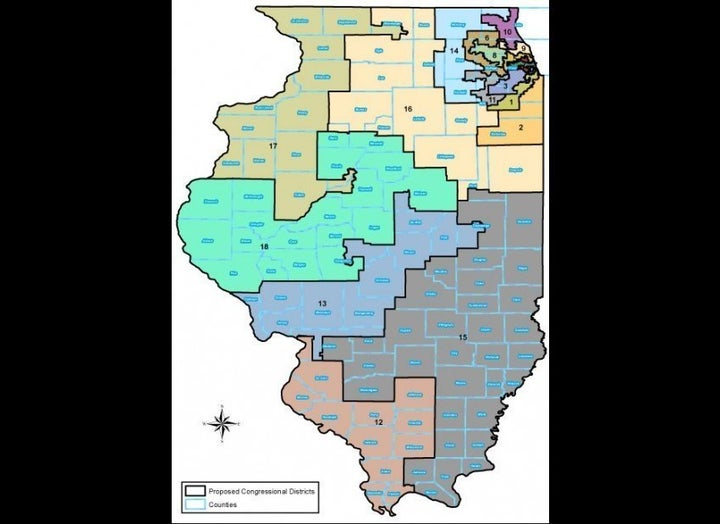 The newly redrawn map of Illinois's congressional districts isn't even official yet, sitting as it still does on Governor Pat Quinn's desk. Already, though, the possible challengers for suddenly vulnerable Republicans have begun the political jockeying leading up to 2012.
On Monday, State Senator Dave Koehler announced his plans to run in the 17th District, currently represented by freshman Republican Bobby Schilling. It will now include Democratic-leaning Rockford and other blue areas likely to put Republicans in the minority in the district, so Koehler is hoping to claim the Democratic nomination and then take his shot at Schilling.
Meanwhile, a progressive candidate who was once planning a challenge to a Democratic incumbent now finds himself likely to take on a Republican.
John Atkinson had raised hundreds of thousands of dollars in an early exploratory bid for a primary challenge against Dan Lipinski, a Democrat in Illinois's 3rd district. Lipinski is a conservative Democrat who voted against healthcare reform and in favor of the Stupak Amendment to that bill, which would have greatly restricted women's access to abortions.
But in the new map, Atkinson's home is now in the 11th District, currently represented by another freshman Republican, Adam Kinzinger. (Kinzinger's own home, interestingly, is now in Jesse Jackson Jr.'s district.) There's no requirement that one live in the district one hopes to represent in Congress, however, so Atkinson could conceivably still run against Lipinski.
In an email message to supporters, he indicated that he was still deciding where to run. "My team and I are going to take a good hard look at it. I'm going to talk to my family. I want to hear from you. And then I'm going to make a decision. I will not be rushed into it – even though some politicians are already jockeying to stake out their 'claim' to one district or another," he wrote.
Among those unnamed jockeying politicians could be Bill Foster, the former Congressman who lost the 14th District seat in 2010. Foster has announced his intentions to run in the 11th as well, which could make for a tough primary path for Atkinson.
One candidate who appears to have staked out a pretty good claim is Ilya Sheyman in the 10th District. That district was always very purple, but has been held for many years by Republicans -- Mark Kirk was replaced by Republican Bob Dold in 2010 when he left the seat to run for Senate.
This time around, though, Democrats don't plan to let the seat go. It has been drawn to include plenty more blue territory, and Dold, a relatively right-wing Republican, will have a hard time holding it.
Sheyman has spent months positioning himself as the Democratic heir apparent to the seat. He officially launched his campaign in April of this year, well before the new district lines were drawn, and opened its headquarters in suburban Waukegan last week.
He's also lined up one particularly impressive endorsement: that of Howard Dean, the former Vermont governor, presidential candidate, and DNC chairman. "Ilya has dedicated his life to moving this country forward and we need more people with his vision and integrity in Congress," Dean said in an email message to his network two weeks ago.
While the Democratic side of things is brimming with candidates, the Republicans have the opposite problem: with representatives drawn out of districts, they've got too many incumbents and not enough districts.
Correction appended: An earlier version of this article wrote that Bill Foster would be running in the 14th District. He plans to run in the 11th, not the 14th.
Calling all HuffPost superfans!
Sign up for membership to become a founding member and help shape HuffPost's next chapter