As part of a coal education curriculum that has been widely denounced as inaccurate, deceiving and outdated--at best--the state continues to host a website for kids rife with erroneous marketing lingo that overlooks the workplace crisis of black lung disease among coal miners, as well as rising health and environmental costs from coal mining and burning, and climate change. The petition also cites a recent study that found the state of Illinois loses nearly $20 million annually to maintain the coal industry.
"The health and safety of our coal miners should never be diminished for the sake of politics and marketing," said Sam Stearns, a former coal miner, who comes from a 3rd-generation coal mining family in southern Illinois, and heads up the Friends of Bell Smith Springs. "A lot of retired miners living in the wasteland of the coal fields thought that they had pensions to supplement their Social Security for the remainder of their lives. But as they are now seeing from the Patriot Coal pension debacle, coal companies were just waiting for the opportunity to shirk their obligations to these men and women."
"Gov. Quinn needs a wake-up call that the environment, and all those who reside here, matter," said Mark Donham, with the Regional Association of Concerned Environmentalists, a grassroots organization based in southern Illinois that has been working on forestry and environmental issues since the 1980s. "We can no longer afford to act as if certain environmental problems, such as climate change, are not happening."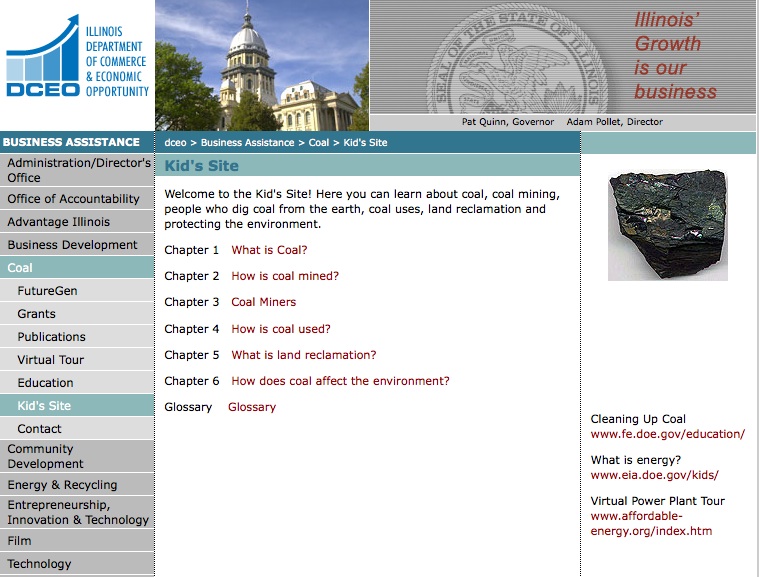 The petition notes three areas of special concern:

COAL MINER HEALTH AND SAFETY

The continual battle to guarantee the health and safety of all coal miners, especially for non-union operations as the industry fails to deal with rising black lung disease, needs to be openly addressed;

HUMAN AND ENVIRONMENTAL COSTS

With a mounting health care crisis from reckless increases in coal mining, and as the Quinn administration fails to protect communities from coal slurry and strip mining hazards, the kid's website refuses to acknowledge the dangers of coal slurry impoundment sites, coal ash, mercury pollution and the documented environmental effects of coal mining and burning;

COAL IS NOT CLEAN, COAL IS NOT CHEAP

Finally, it's time, once and for all, to stop telling our children that coal is clean and cheap. On top of the recent study that concludes the coal industry drains close to $20 million annually from the Illinois state budget, Illinois citizens are now dealing with the brand new Prairie State Energy coal-fired plant that plagues consumers with much higher electricity rates and emits millions of tons of CO2. Last week, Peabody Energy admitted--as the world's largest coal company, which launched its first mine in southern Illinois in the 1890s--that carbon capture and storage "clean coal" technologies are "simply not commercially available."

"Many coal miners were also farmers," Stearns said. "There was a time when land that was undermined for coal could still be successfully farmed on the surface. But strip mining and longwall mining are now ruining -- permanently, for many human generations to come -- once productive farmland. Once these modern mining practices change the topography of the land, it can never be restored to what it once was, despite the lies about reclamation that the Illinois' Coal Education Program" promulgates."
The petition concludes: "As residents of southern Illinois, we believe it's time to tell our children the truth about coal mining and burning, and ensure a brighter future with a just transition toward clean energy."
The full CREDO petition is here.
Popular in the Community