In 2014, the average net worth of Illinois' members of Congress was $2.16 million, according to a recent analysis by the Center for Responsive Politics.
The analysis used congressional Personal Financial Disclosure forms for 2014 to rank the wealth of all U.S. Senators and Representatives, which can be found on OpenSecrets.org. Nationwide, the average net worth in the Senate was $10.23 million and $7.77 million in the House.
This year, the fortunes of Democrats and Republicans switched. Last year, it was Republicans whose members saw an increase in median net worth as a group, while Democrats saw their collective net worth drop. But in 2014, median net worth for Democrats went to $1.1 million, up from $946,511 in 2013; Republicans suffered a slight loss, from $1,107,017 million in 2013 to $1,093,279 in 2014.

Senators remained wealthier than House members. The median net worth of the Senate in 2014 stood at $2.9 million -- up from $2.8 million in 2013 -- while in the House, it was $860,005 in 2014. That was an increase, too: In 2013 the House posted a median net worth of $843,507.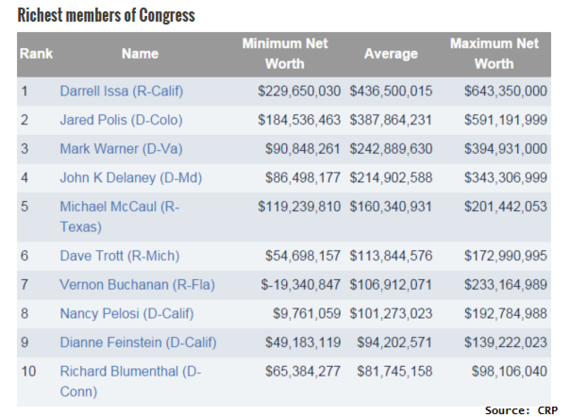 Click here to see an infographic that shows U.S. Sen. Dick Durbin's and Sen. Mark Kirk's average net worth and change in net worth since 2004.
Calling all HuffPost superfans!
Sign up for membership to become a founding member and help shape HuffPost's next chapter