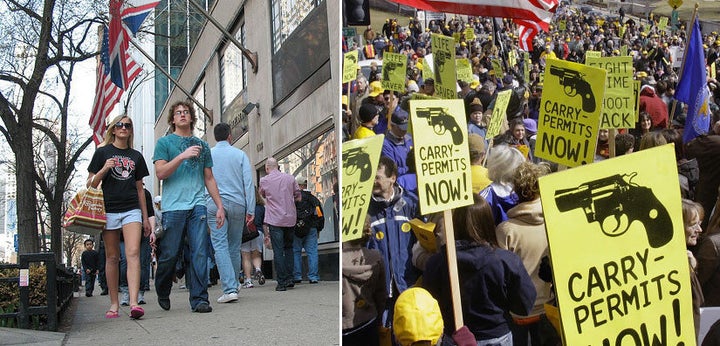 Anyone paying even a small amount of attention to the news in Chicago this week has been inundated with dramatic stories of teen "flash mobs" -- violent groups of young people who will target anyone, anywhere, anytime. The coverage has been sensational to say the least, and now an Illinois gun rights group is using the story to drum up support for legalizing concealed weapons.
The "flash mob" craze started over Memorial Day weekend, when some North Avenue beach-goers said "roving gangs" of black males were attacking people on the lakefront. Acting Police Superintendent Garry McCarthy said that was not the case, and the beach was shut down due to heat and overcrowding. On Saturday the story came back, when several people were allegedly attacked by "groups of 20 or more young men" in the tourist-friendly Streeterville neighborhood and the Magnificent Mile shopping district. Five youths were arrested following the alleged attacks.
The term "flash mob" usually refers to a group of people using social media to assemble suddenly in a public place--usually for some sort of satirical performance. Recently, however, the term has been used to describe large groups of people who organize to commit criminal acts through Twitter, Facebook and text message. These "mobs" have been an issue in the city for awhile, according to U.S. Congressman Bobby Rush. Rush said the only reason people care about the issue now is because the alleged attacks happened on the North Side--in predominantly white areas.
As Chicago Mayor Rahm Emanuel vowed to find those responsible for the attacks on Tuesday, the Illinois State Rifle Association was reaching out to its supporters with a warning: avoid Chicago as a vacation destination.
The ISRA is warning its members to think twice about selecting Chicago as a vacation destination this summer. This warning was issued in response to a recent dramatic upswing in violent crime in the windy city. Most notably is a spate of so-called "flash mob" attacks where as many as two dozen young men ambush and savagely beat their victims before robbing them of their valuables. One recent flash mob victim was a 68 year-old man.

The bulk of the flash mob attacks have taken place on Chicago's near north side and Gold Coast areas to include North Avenue Beach and the Magnificent Mile. The attack locations are within the general vicinity of tourist attractions including Navy Pier, Lincoln Park Zoo, and Millennium Park.

Thus far, the Chicago Police Department has had little luck controlling these flash mobs with only 4 participants having been apprehended. This ability to confound the police stems from the very nature of flash mobbing.

...

As most of our readers know, the most effective defense a victim could muster against a flash mob would be for the victim to draw a concealed firearm. As most of our readers also know, Illinois is one of only two states in the nation that deny citizens the right to carry defensive firearms.

The alert also asked members to pass the message along to all their friends and family members, and to call their state representatives about passing concealed carry legislation "so that you may protect yourself."
Aside from making Chicago residents fearful, the "flash mob" story has also stoked racial tensions. WLS ran a story Monday containing racist comments from a man presenting himself as a former Chicago police officer, and some police blogs (NSFW) have made sure to say "black gangbangers" are responsible for these attacks.
Is there really a "flash mob" problem or is the media responsible for stirring things up? The truth seems to lie somewhere in between. While many incidents have been confirmed, the Chicago Sun-Times noted Tuesday that police were unable to confirm some reports of "flash mobs" in the Gold Coast and along the lakefront.
Also, police have not confirmed the use of social networking in all the reported incidents--making use of the term "flash mob" questionable. In any case, Chicago is no stranger to mob action. Whet Moser at Chicago Magazine's blog offers some historical context here.