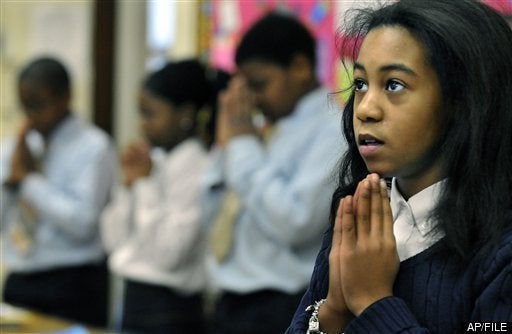 The injunction against the moment-of-silence law was officially lifted on Friday, according to a Tribune report. "This action means the Act is now in effect," the State Board of Education told districts in a message. That means that the moments of silence will begin on Monday.
Illinois schools may once again be mandated to hold a moment of silence, as a highly controversial law will be back in effect pending a court order.
In 2007, the state legislature passed the Silent Reflection and Student Prayer Act, requiring schools to take a silent moment at the beginning of the school day. That law launched Illinois to the center of a national debate on prayer in schools.
The law was challenged by Rob Sherman, an prominent atheist activist, and his daughter Dawn. In 2009, District Judge Robert Gettleman ruled the act unconstitutional. "The plain language of the statute... suggests and intent to force the introduction of the concept of prayer into the schools," the judge wrote in his decision.
But in October of last year, a three-judge panel of the 7th District Court of Appeals voted 2-1 to overturn Judge Gettleman's decision. "Nothing in the text ... limits students' thoughts during the period of silence; the text mandates only one thing -- silence," wrote Judge Daniel Manion.
The dissenting judge, Ann Claire Williams, wasn't persuaded: "let's call a spade a spade -- statutes like these are about prayer in schools," she wrote in her opinion.
Nonetheless, the bench returned the case to Judge Gettleman, on whom it now rests to lift the injunction against the law.
Illinois schools officials are clearly readying for that to happen soon. In his weekly newsletter to the districts, State Superintendent Christopher Koch said to prepare for the ban to be lifted in the next few days, as the Chicago Tribune reports Friday.
Koch left it up to individual districts to determine how to implement the moment of silence, but as WBEZ reports, the appellate court gave an example of how to do it properly in its ruling: "making a school-wide announcement before the Pledge of Allegiance."
Chicago Public Schools have yet to decide their new morning schedule, but suburban Elgin plans to set aside 15 seconds before or after the Pledge.
Popular in the Community