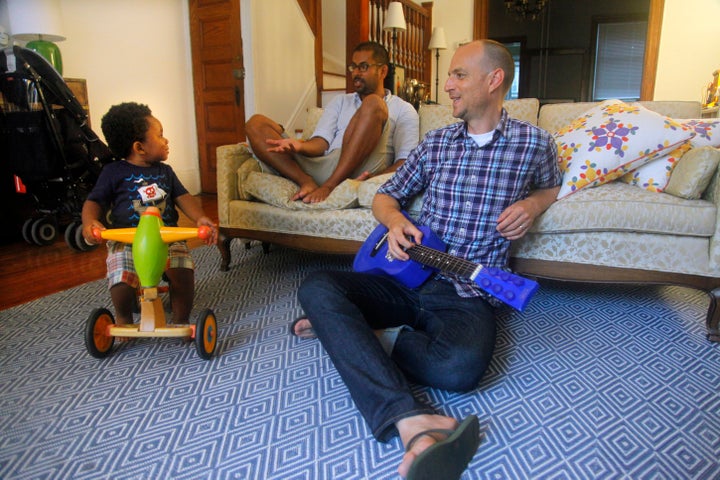 In May, Catholic Charities of Rockford announced that it would end its adoption and foster care program if the state forced them to grant applications to same-sex or unmarried couples. Since the diocese made the move, the state has been in a constant battle with Catholic Charities--and this week, decided to end the relationship.
The battle began in January, when lawmakers passed the Illinois Religious Freedom Protection and Civil Unions Act, which went into effect June 1. The law says that if an agency receives state money, it cannot discriminate against same-sex couples, and must treat people in civil unions as it would treat married couples. Catholic Charities has been working to get the legislation amended, hoping it would allow faith-based organizations to "decline an adoption or foster family home application" to a couple in a civil union "if acceptance of that application would constitute a violation of the organization's sincerely held religious beliefs." A Senate committee voted down the amendment in April, and a House committee did the same in May.
Since the organization insisted on placing children only with married couples, the state has decided not to renew any foster care and adoption contracts with Catholic Charities, the Chicago Tribune reported Monday.
"We can not enter into a contract for services with anyone who has publicly affirmatively stated that we will not follow the law in delivering those services," Kendall Marlowe, a spokesman for the Illinois Department of Children and Family Services told the Tribune. "These agencies have chosen this course and we must now plan to transition these cases with the least disruption for the children we serve."
The move comes as Catholic Charities awaits court action on the matter. Last month, attorneys from the Thomas More Society -- a pro-life, non-profit Chicago law center focusing on abortion-related issues -- filed a petition in a downstate court on behalf of the organization, asking a judge to rule definitively on whether their foster care and adoption agencies could continue to turn away unmarried parents, including those in civil unions, despite receiving funding from the state.
Peter Breen, executive director and legal counsel for the Thomas More Society, told HuffPost Chicago last month that Catholic Charities is hoping the judgment will bring some clarity, and allow them to "operate in the same way that they've been operating for decades."
Attorney General Lisa Madigan's office told the Tribune that they would "respond to Catholic Charities' arguments in court."
Currently, just under 2,500 children throughout Illinois are under Catholic Charities' care, approximately one-sixth of the state's total of 15,600 children currently under substitute care. When Rockford ended its foster care program in May, the Youth Services Bureau of Illinois Valley, based in Ottawa, Ill., took over the 300-plus Catholic Charities cases, and brought in Catholic Charities support staff as well.
Marlowe, who previously said there is no room for discrimination in child welfare, said the state has a strong network of child welfare agencies that will make the transition a smooth one. On Monday, Governor Pat Quinn said that Catholic Charities "made a choice" to ignore the law, and said the state of Illinois is "not going back" to discriminatory placement of children.
"If an organization... decides they don't want to voluntarily participate with the state, they have that choice and we honor that choice." Quinn said, according to the Capitol Fax Blog. "We have other entities that are involved in foster care that are willing to assume that duty."
Attorneys for Catholic Charities of Peoria, Joliet, Springfield and Belleville told the Associated Press they would seek a court injunction following the state's decision to end the contract.
"The idea that a religious entity needs to check its religion at the door when it takes state money is a false idea," Breen told NPR. "If the theory behind civil unions is live and let live, then those folks who are for civil unions can also be for Catholic Charities, and other religiously based adoption agencies, to provide services to the state which are valuable. And [the agencies] can continue to do it without shutting down -- without compromising their deeply held religious beliefs."
Anthony Martinez, executive director of the Civil Rights Agenda, issued a statement applauding the state's decision Monday.
"Not only is Catholic Charities trying to work around the Civil Union law, by not providing services to a certain group of people, they are also trampling all over the Human Rights Act and ignoring constitutional protections," Martinez said. "That is unacceptable, and it is appropriate that the state of Illinois agree that it is unacceptable. Catholic Charities is acting on behalf of the state when they provide these services, and it is guaranteed by the laws of Illinois that when you accept public funds as an agent of the state you must treat those you serve equally, period."
REAL LIFE. REAL NEWS. REAL VOICES.
Help us tell more of the stories that matter from voices that too often remain unheard.