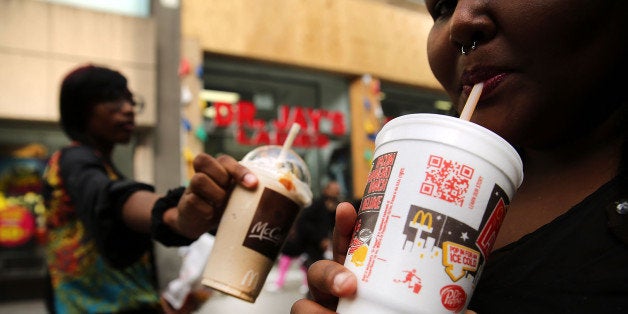 And much like the earliest efforts to extinguish Americans' love affair with cigarettes, attempts to curb sweetened beverage consumption have mostly fizzled, even in the relatively health-conscious states of California and New York.
The resistance hasn't deterred Illinois State Senator Mattie Hunter, though: The Chicago-based Democrat is the latest lawmaker to put sweetened beverages in her crosshairs by introducing a proposal that would impose a penny-per-ounce tax on sugar-sweetened drinks statewide.
Hunter told The Huffington Post that in the scant week since she introduced the legislation, she's already facing pushback from beverage and corn production lobbyists. She's hoping to succeed where others have failed because Hunter says she can testify firsthand to the consequences of inaction. Five of Hunter's immediate family members have died due to health issues brought on by "improper diet," three of whom -- her father, a brother and a sister -- she lost over just a four-month period back in 2010.
"Watching the deterioration around you is enough to make you say 'enough is enough,'" she said. 
BALLOONING WAISTLINES, BIGGER COSTS
Hunter's tax would apply to sugar-sweetened drinks sold in sealed containers as well as the syrups and powders used to flavor them. Part of a larger effort to promote health and wellness, the plan is to fund a variety of health and education programs with the anticipated $600 million in annual revenue the tax could generate.
Hunter said half of the money would be given to the state's Medicaid department. The rest would help community anchors like schools and hospitals promote education and awareness of healthy lifestyle choices like biking, walking and other active transit, nutrition and healthy cooking.
"Just imagine if we can add this one penny-an-ounce tax and put the dollars directly into the economy by implementing these life-saving programs," Hunter said.
Hunter is predicting the tax and the prevention programs it funds would save the state money in the long run, in addition to being a job creator, though her critics from the Illinois Coalition Against Beverage Taxes and other drink industry lobbyists disagree.
"For example, truck drivers who previously delivered regular soda would transport other beverages, such as diet soda and bottled water (often made by the same companies), milk, 100 percent fruit juice, or entirely different products. Potential job losses also would be offset by employment increases associated with revenue generated from the tax."
Mark Denzler of the Illinois Manufacturers Association Denzler called the study "completely flawed," arguing consumers would follow the same trend they do with state's highly-taxed cigarettes and gas.
Hunter, meanwhile, isn't afraid to meet the criticism head-on, even in the face of caution on the part of her statehouse colleagues, many of whom she said were supportive of the measure but were "frightened" to sign onto it. The lawmaker would be the first to admit it's going to be an uphill battle.
"The beverage industry has hired an amazing number of well-paid lobbyists to come against us," Hunter said. "Some of my colleagues are up for for re-election and they don't want their names on this, but someone is going to have to step out there and carry that banner."
 
As her bill faces an uncertain future, Hunter said she and her supporters like the Illinois Alliance to Prevent Obesity are continuing to research similar measures across the country and look at different strategies "to see if we can pick up pointers."
"This is going to be a challenge. We know that," Hunter said. "Even if it takes three years, five years, we're committed. We're going to hang in there."
REAL LIFE. REAL NEWS. REAL VOICES.
Help us tell more of the stories that matter from voices that too often remain unheard.
BEFORE YOU GO
PHOTO GALLERY
15 Super Weird Taxes