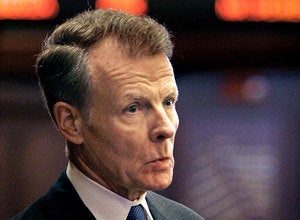 Illinois House Speaker Michael Madigan took the first steps toward impeaching disgraced Gov. Rod Blagojevich Monday.
At a press conference in Springfield, Madigan announced the creation of a special committee to establish the standards of impeachment, review Blagojevich's case and decide whether the governor's actions merit dismissal.
"It is my intention to appoint a special committee to begin immediately an investigation into the governor's conduct in office and to undertake the preparatory work that is a prerequisite to an impeachment proceeding in the Illinois House," Madigan said.
The select committee on inquiry will meet every day except Christmas Eve, Christmas Day, New Year's Eve and New Year's Day. It will be chaired by House Majority Leader Barbara Flynn Currie. Justice Alan Grieman will serve as special counsel to the Speaker.
"We have given the governor six days to resign [and] he's declined to take the opportunity to resign," Madigan said. "I think it's time that we move forward with a committee of inquiry that could lead to impeachment."
The 21-member committee will have 12 Democrats and nine Republicans. Madigan would not give a timeline for when to expect its conclusions.
Asked why he has not joined the chorus calling for Blagojevich's resignation-- especially after being one of the governor's most forceful critics before the federal charges-- Madigan said, "because, in effect, I will be presiding over the impeachment ... and therefore I'll have nothing to say over whether I think he'll resign or not."
REAL LIFE. REAL NEWS. REAL VOICES.
Help us tell more of the stories that matter from voices that too often remain unheard.