This week's "Only in Illinois" is a special Illinois State Fair edition because the fairgrounds this week became the focal point for Illinois politics.
If you've had any trouble understanding why we've got gridlock in Springfield, a few minutes' worth of the rhetoric between the state's primary political combatants -- Gov. Bruce Rauner, House Speaker Michael Madigan and Senate President John Cullerton -- should make things clear.
It started on Wednesday, when Rauner became the first Republican to host Governor's Day at the fair since 2002.
Rauner made what has become his traditional fairgrounds entrance on his Harley-Davidson, though this year he arrived as the governor and not just the Republican candidate. A contingent of Service Employees International Union protesters chanted from across the roadway but their presence barely registered against the festive atmosphere inside the Governor's Day event.
Rauner's speech presentation was a striking contrast from his address a year ago at the fair's Republican Day, when he spoke from the podium. This year, Rauner strolled the stage with a hand-held microphone, engaging audience members on all sides of the state with the zeal of a preacher.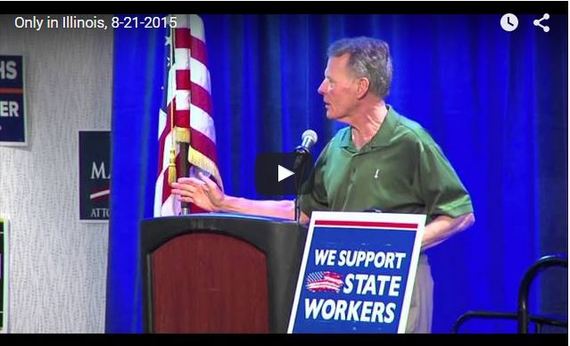 The whole week of the Illinois State Fair was dramatic for Illinois politics, not just the state's agricultural industry. Rich Miller of Capitol Fax says one day in particular will prove to have been especially important, though it's not yet clear whether Aug. 19 will be important for being the best day or worst day of the legislative overtime session. Read Millers' argument for giving the day special designation at Reboot Illinois.

Calling all HuffPost superfans!
Sign up for membership to become a founding member and help shape HuffPost's next chapter