CHICAGO, Nov 17 (Reuters) - A fast-moving storm system triggered multiple tornadoes in Illinois and Indiana on Sunday, killing at least two people, injuring about 40 and flattening large parts of the city of Washington, Illinois as it crashed across the Midwest, officials said.
The storm created tornadoes in Bone Gap and Miller City, Illinois, in Mount Carmel, Noblesville and Vincennes in Indiana, and in Paducah, Kentucky, the National Weather Service said.
The storm also forced the Chicago Bears to halt their game against the Baltimore Ravens and encourage fans at Soldier Field to seek shelter as the storm roared in. Chicago's two major airports also briefly stopped traffic with the metropolitan area was under a tornado watch.
The city of Washington, Illinois, was hit hard by what the National Weather Service called a "large and extremely dangerous" tornado.
Thirty-one people injured by the storm that hit Washington were being treated at St. Francis Medical Center, one of the main hospitals in nearby Peoria, according to hospital spokeswoman Amy Paul. Eight had traumatic injuries.
Two people were killed in Washington County, Illinois, about 200 miles (320 km) south of Peoria, said Illinois Emergency Management Agency spokeswoman Patti Thompson. The agency estimated that at least 70 homes were destroyed across the state.
Stephen Wilson, a spokesman for Peoria's Proctor Hospital, said six or seven patients were being treated with minor injuries. "Mostly cuts, bruises, some broken bones," he said.
Photos from Washington, Illinois, showed buildings reduced to rubble and homes torn in half in the city of 15,000 people some 145 miles (233 km) southwest of Chicago.
"We have reports of homes being flattened, roofs being torn off," Sara Sparkman, a spokeswoman for the health department of Tazewell County, Illinois, where Washington is located, said in a telephone interview. "We have actual whole neighborhoods being demolished by the storm."
Sparkman said the storm also had caused damage in Washington and Pekin, south of Peoria.
Many of the injuries appeared to have been caused by collapsing structures.
"Things falling on people's head, broken bones, deep cuts, things like that," Paul said. "We're thinking it's not as bad as we thought it would be. I think a lot of people got to their basements in time."
The Illinois National Guard sent a 10-person firefighting and search-and-rescue team to Washington to help with the recovery effort.
Illinois State Police spokeswoman Monique Bond said mobile homes were toppled, roofs torn from homes, and trees uprooted. She said officials believe some people may be trapped in their basements under debris.
The American Red Cross worked with emergency management officials to set up shelters and provide assistance to displaced residents, even as rescue workers searched for more people who might have been caught and trapped in the storm's path.
The Washington tornado came out of a fast-moving storm system that was headed toward Chicago and threatened a large swath of the Midwest with dangerous winds, thunderstorms and hail, U.S. weather officials said.
"We obviously have a very dangerous situation on our hands," Laura Furgione, deputy director of the National Weather Service, told reporters on a conference call.
Tornado warnings were in effect for parts of Indiana and Kentucky. Weather officials urged residents of areas with tornado warnings in place to take cover in interior, low-floor rooms of study buildings.
The NWS's Storm Prediction Center said the storm moved dangerously fast, tracking eastward at 60 miles per hour (97 kph).
This storm system has some similarities to the fast-moving "derecho" storm that knocked out power to more than 4.2 million people and killed 22 in the Midwest and Mid-Atlantic regions in June 2012, according to Bill Bunting, forecast branch chief at the Storm Prediction Center.
"The line of storms today, we believe, when it's fully mature, will actually be larger than the areas that were affected by the derecho in June of 2012," Bunting said. "However, this will also be accompanied by a worse tornado threat in the areas that we've highlighted and large hail in Illinois and Wisconsin." (Additional reporting by Deborah Zabarenko, Jonathan Allen and Carey Gillam; Writing by Scott Malone; Editing by Sandra Maler and Bill Trott)
Before You Go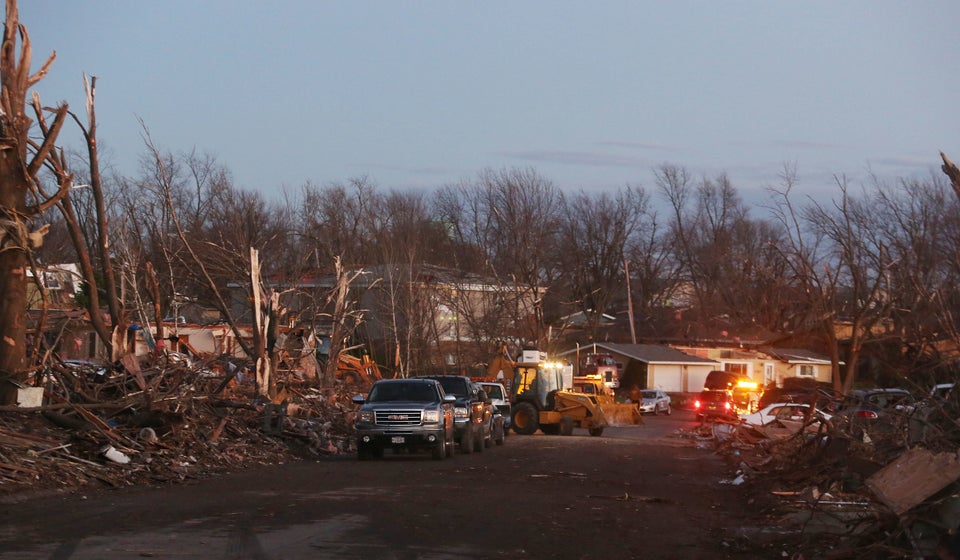 Severe Tornado Outbreak Hits Illinois
Popular in the Community