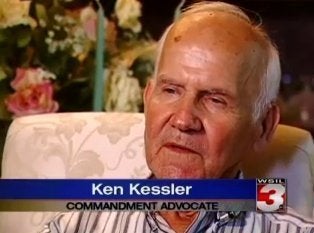 A southern Illinois town is pushing to have a Ten Commandments monument erected in the city's square--and the town's mayor says he will do anything he can to make it happen.
Ken Kessler, a resident of Marion, Ill., got the idea for the monument after seeing one in Indiana, according to a report from WSIL-TV.
Kessler brought the idea to the Marion city council Monday night. It was not approved, but Mayor Bob Butler told WSIL he would get it done.
"I'm not a crusader, I'm just somebody trying to do something for our community," Kessler told the station. "If we aren't reminded of these things that we have, we will see them gradually slipping away."
The Associated Press reports that the American Civil Liberties Union has already threatened to sue the city if the project goes forward. The ACLU has won several lawsuits already involving similar monuments being erected in public spaces.
Responding to the ruling, Daniel Mach, Director of Litigation for the ACLU Program on Freedom of Religion and Belief issued the following statement:
"This decision is a victory for the cherished American value of religious freedom...The government should not be in the business of promoting religious viewpoints. In our country, people should be free to express their faith - or to exercise their right to hold no belief at all - without government interference or favoritism."
Mayor Butler in Marion, however, plans to jump through some legal hoops to get the monument built. He even suggested selling a small section of the city square, WSIL reports.
"That way it becomes private property and I don't believe there's anything that would prohibit the monument from being placed on that spot," Butler said.
Several monument companies have already offered to donate the 5-foot stone and the inscription, according to the AP.
REAL LIFE. REAL NEWS. REAL VOICES.
Help us tell more of the stories that matter from voices that too often remain unheard.