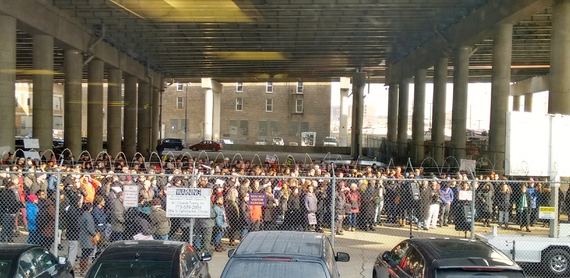 On January 15, 2017, despite the chilly Chicago winds, over a thousand Illinoisans gathered at a "Save Our Healthcare" Rally at the SEIU (Service Employees International Union) building on Halsted. The events leading up the rally were twofold: First, In the wee hours of the morning on January 12, 2017, Senate Republicans voted to defund the Affordable Care Act (also known as "Obamacare") through a process known as budget reconciliation. Then, on January 13, Republicans in the House of Representatives also voted to repeal the ACA despite not having a replacement in place after more than fifty attempts to repeal the law since 2011. The ACA has given healthcare to over twenty million Americans through individual exchanges or Medicare expansion. The non-partisan Congressional Budget Office's report said that a repeal of the ACA would lead to 18 million people losing their insurance in the first year alone and would double premiums for those that have insurance. An ACA repeal, however, would give tax cuts to the top 400 highest-income payers.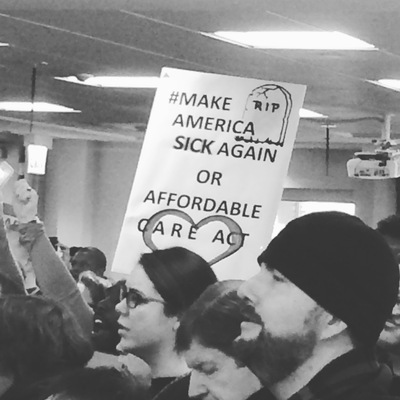 When I entered the building, the line was four blocks long wrapping around the building extending into the parking lot. There were two rooms for the overflow and they overflowed so many attendees had to watch outside on the Jumbotron. The rally kicked off with a live-streamed fiery speech from Senator Bernie Sanders (I, VT). There were placards and homemade signs accompanied by chants of "We Want Healthcare!" The rally in Chicago was one of many organized by Sanders as thousands of Democrats gathered across the country at rallies in cities like Boston, Des Moines, and San Francisco. Sanders billed the rallies as "our first stand."
A Worried Mother
One attendee I interviewed, Michelle,* demonstrated on behalf of her children. Her 22-year old daughter often has to undergo emergency surgeries due to her condition, polycystic ovarian syndrome. Michelle said she worries about what will happen if the ACA is repealed because the ACA made it possible for parents to keep their children on their insurance until the age of 26. Michelle also spoke tearfully about her older daughter who is 28-years old. She said, "The ACA is saving my daughter's life. She has a substance abuse problem, and she is getting better. Because of the ACA, she was able to get into rehab. I don't know what will happen if the ACA is repealed."
Another attendee, healthcare activist Susan Danzig, said she was denied insurance before the ACA because she like, 52 million Americans (27% of the population), has a pre-existing condition. Pre-ACA, it was legal to deny people with pre-existing conditions insurance. Danzig was diagnosed with discoid lupus, which her doctor called "cosmetic--not fatal." Because of the diagnosis, insurance companies denied Danzig on the grounds that discoid lupus can lead to more severe forms of lupus. For five years, Danzig had no insurance and her symptoms actually worsened. When she was finally able to access healthcare after the ACA became law, she was properly diagnosed and treated for fibromyalgia. Danzig also lamented about what a repeal would do to the economy. "Three million new jobs will be lost!" Illinois would lose an estimated 114,000 jobs if the ACA were repealed.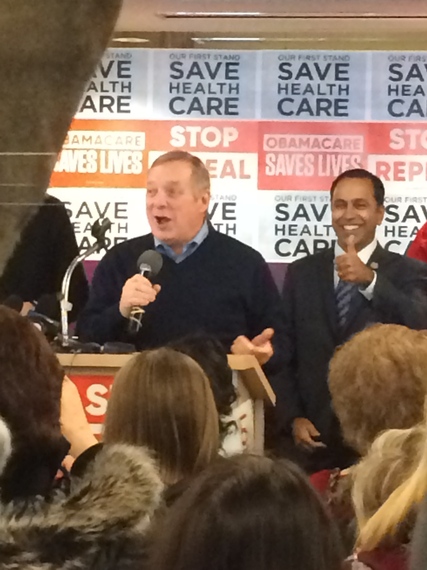 Durbin said, "We now have the lowest uninsured rate in modern history!" You need to reach out to every elected official--every member of Congress--take no one for granted. And tell them if they don't replace it with something as good or better, for God's sake, don't repeal!"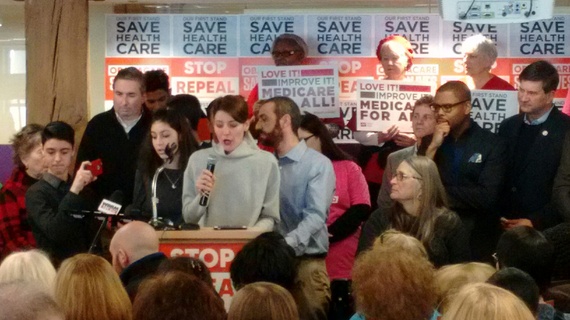 The ACA's Best Kept Secret
One of the most powerful speakers, Tracy Trovato, spoke about lifetime expenditure caps. Clad in black leather pants and a pale sweater, Trovato recalled how her family's life changed in an instant. Her 42-year old marathon-running husband, Carlo, got leukemia. They have insurance through Carlo's employer. She recalled frantically searching through insurance documents after Carlo's diagnosis and finding a paper that said their plan would cover no more than $1 million in a lifetime. Trovato called up their insurance company asking if a million dollars was enough to treat acute lymphoblastic leukemia. The woman on the other end answered, "No ma'am. We don't have maximum caps anymore. President Obama took care of that." Trovato described her relief and said Carlo has been cancer free for three years. "
However," Trovato continued, "There is a 15% chance that Carlo's cancer can return. If that happens, it is treatable. The science is with us but if our insurance company turns him away, it doesn't matter. Pre-ACA, sickness and bankruptcy went hand in hand. The biggest obstacle to the GOP repealing the ACA is people who are willing to share their stories. No matter who you are or where you get your insurance from, a repeal will impact you. Eliminating lifetime caps are the best kept secret of the ACA. And when 156 million Americans learn what's at stake, they are not going to want a repeal. Tell your stories!"
Marca Bristo, the President and CEO of Access Living, spoke. A 1977 diving accident left Bristo paralyzed from the chest down. Bristo said, "I went on Medicaid for a short period of time while I put my life back together. The ACA has given disabled people opportunities that we have fought for over four decades. It's time to say lifetime caps only mean shorter lives and deaths for people with disabilities!" Mark Furlong, the COO of Thresholds, also spoke about how a repeal would harm thousands of people with severe mental illnesses and substance abuse disorders who use Thresholds comprehensive community-based care.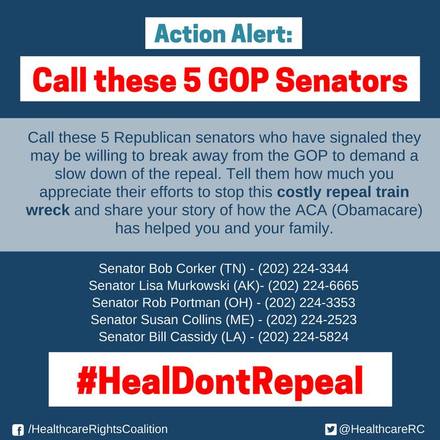 We've Only Just Begun
Several resistance groups that formed post-election attended the rally including Faithless Chicago and Indivisible Chicago. AJ Taylor, the co-founder of Faithless Chicago, said, "We came out to recruit and to ensure Faithless Chicago is part of the movement to save healthcare for all Americans." After the rally, members met up at a nearby café to start contacting Governor Bruce Rauner and asking him to join the group of GOP governors who are publicly opposing a repeal of the ACA. The group also talked about how to contact five GOP senators who have expressed hesitations about a repeal. This writer, who has a disability, is a member of the Healthcare Rights Coalition, a group dedicated to saving the ACA and Medicaid. Chicago's rally can be best summed by Durbin's concluding remarks, "Don't agonize--organize!"
*Michelle is not her real name; for the sake of privacy, rally attendee spoke on condition of anonymity.
Calling all HuffPost superfans!
Sign up for membership to become a founding member and help shape HuffPost's next chapter