In 1970, Donald Jackson told Barbara Walters that it was his dream to handwrite the entire Bible. About 12 years ago, the world-renowned calligraphic artist was given the opportunity to realize that dream.
Minnesota's St. John's Abbey and University commissioned Jackson to create the 2-foot tall, 3-foot wide St. John's Bible, featuring biblical scripture and images of mankind's accomplishments throughout the last 500 years. (Scroll for images.)
The St. John's Bible was a 15-year collaboration among various artists. Completed in May, the finished piece features 1,150 pages of hand-drawn illustrations, elegant scripture and gold leaf.
The first words were written on Ash Wednesday in 2000. Several historic events, such as Sept. 11 and the recent earthquake in Japan, have been artistically incorporated into the illustrations.
"Ten years ago, a short time after 9/11, I was working on an illumination of 'The Prodigal Son' in Gospel and Acts Volume. It carries a message of God's power and willingness to forgive the unforgivable. Without realizing, I found myself weaving an image of the Twin Towers into the design, thinking 'Hard as it is, you've got to love your way out of this one you can't hate your way out of it,'" Jackson told The Huffington Post in an email.
Under Jackson's direction, a team of scholars, theologians, artists and calligraphers from Minnesota and Wales worked together to complete the project. The scriptures were written using quills from goose or swan feathers, the Associated Press reports.
"When you use a quill, because it is a delicate instrument, and it picks up you — I mean as you write, every breath you take, (every) heartbeat, just like a musical instrument, it goes into that," Jackson told Matt Lauer during his interview on "Today".
The purpose of the St. John's Bible is to bring the Word of God to today's population in a way they've never seen it before. Reproductions of the Bible can be viewed at more than 40 establishments throughout the world. The piece is the only "handwritten and illuminated Bible commissioned by a Benedictine Monastery since the advent of the printing press more than 500 years ago," according to the press release about the St. John's Bible.
The Bible is currently on display at the Minneapolis Institute of Arts in Minnesota through Nov. 13, according to the Associated Press. An Apostles Edition of the Bible has been presented to the Morgan Library and Museum in New York City.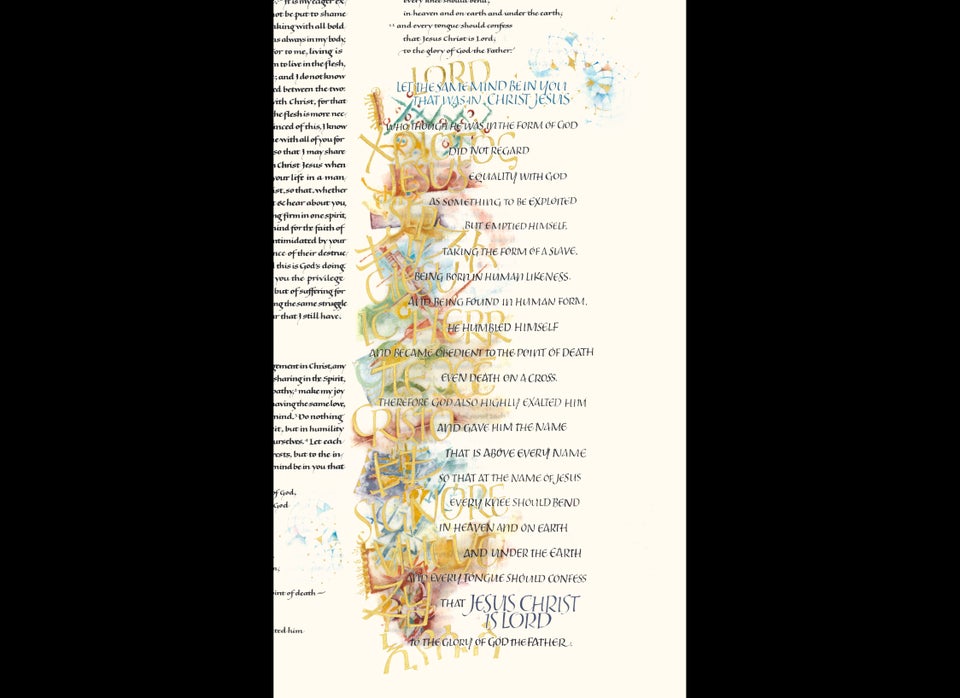 The Handwritten St. John's Bible