On November 24, at Cass and Peterboro, Detroit's Chinatown, 100 Flying Paper Lanterns were launched into the sky. Flying lanterns were first used during the third century in China as a signal during battles, but eventually came to be used in festivals to signify good luck and new beginnings. The event was organized by Bianca Ibarlucea, a Wayne State University Junior, for a class led by visiting artist Fritz Haeg and sculpture professor Eric Troffkin.
"Living on Peterboro inspired this project," Ibarlucea said.
At night, I see things like people selling crack right in front of my car. Midtown is the one of the safest neighborhoods in Detroit but crime still happens, especially where street lights are out. The problem is worse in other neighborhoods -- current figures estimate that around 20 percent of Detroit's lighting infrastructure does not work, and in some areas that number may be as high as 50 percent. This means that all over the city, when the sun goes down the streets go dark. After the lighting bills died in the State Senate this fall, I decided to combine art with activism, and create a project that would amplify the voice of Detroiters as they call on elected officials to resolving the lighting issue. Politicians can't keep hoping someone else comes along and fixes this. Those opposed to the current plan should be coming up with alternatives, and those in support of it should be out explaining why it is the best option. This problem needs a solution now.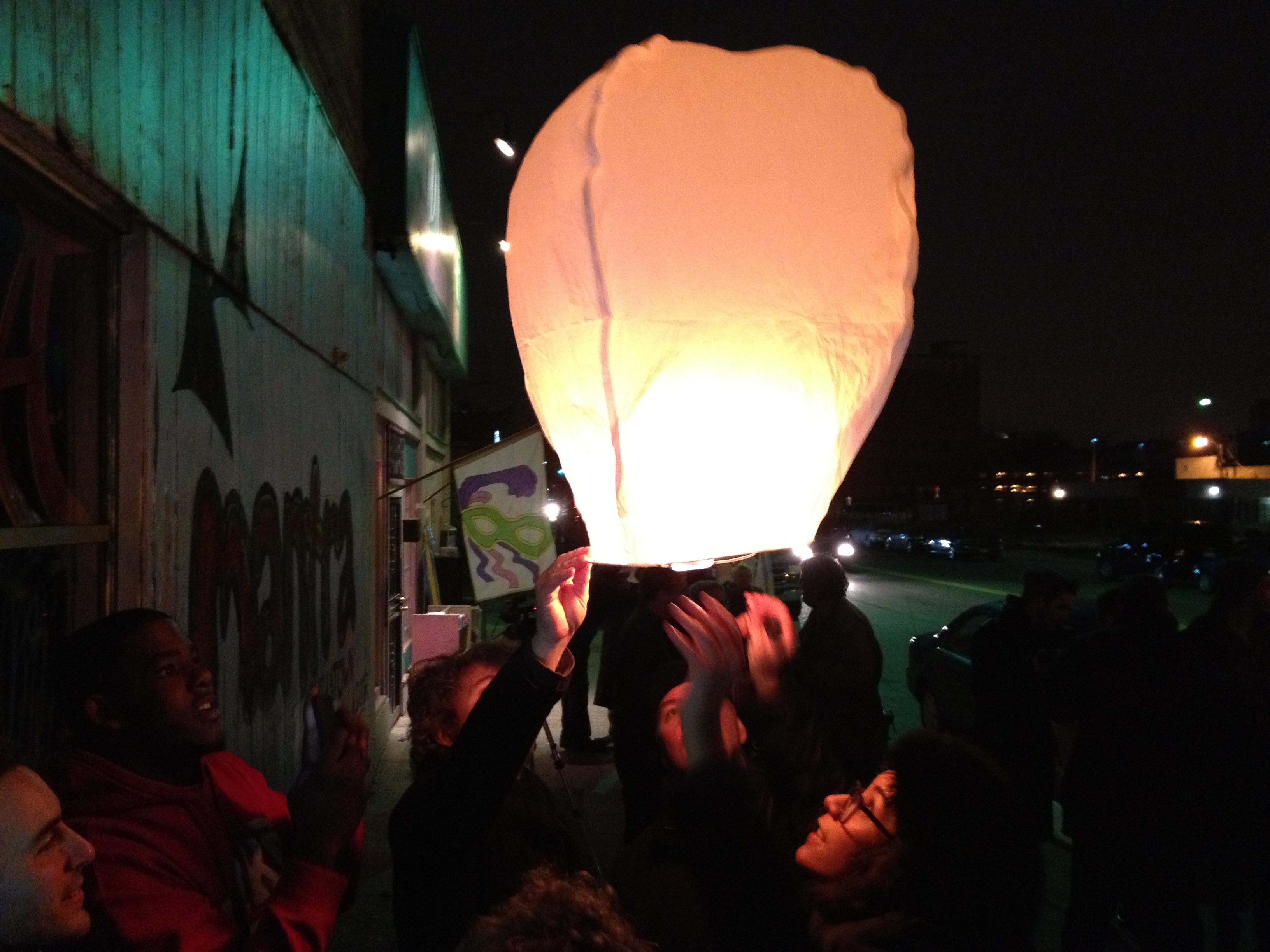 Photo credit: Fritz Haeg
As lanterns floated in the cold night sky carrying wishes for a brighter future in Detroit, their release also evoked the city's past. Detroit's Chinatown, once a vibrant community, would have held festivals with flying lanterns. Sadly, Detroit's Chinatown is no more and its existence has been largely forgotten. According to the Detroit Historical Society, which did an exhibition on Detroit's Chinatown in 2009:
Detroit's Chinatown began when Chinese laundrymen first settled in the city at Third Ave. and Porter St. in 1872. A new wave of immigrants led by five Chinese families opened restaurants, groceries, and a Chinese school between 1910 and the late 1950s. In 1963, Chinatown relocated to Cass Ave. and Peterboro St., where it experienced some success before political and social changes led to its demise in 1987.
"The construction of the Lodge forced the relocation of Chinatown, which the Detroit Housing Commission had declared a 'slum,'" explains Ibarlucea.
Many residents moved to the suburbs, leading gradually to the demise of the city's Chinese community. The neighborhood was seen as undesirable in the face of progress and growth. As investors consider the construction of a new hockey stadium not far from the abandoned streets of Chinatown, I want people to think about the effects this project could have on the neighborhood and its current inhabitants.
An exhibition documenting the event will be held at MOCAD on December 9th. Ibarlucea hopes to organize more lantern launches, providing a way for the people of Detroit to show elected officials that getting the lights back on is a top priority for their city.
Related
Popular in the Community