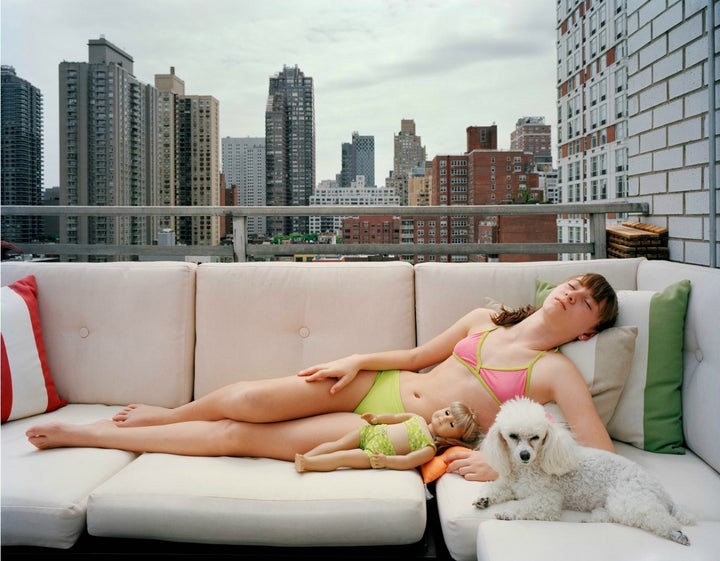 If you grew up with an American Girl doll, you probably remember creating a whole world around it filled with pint-sized clothing, accessories and furniture -- maybe even a matching outfit. And as The Hairpin quipped, your doll may have even predicted your future life path and personality. Now Polish-born photographer Ilona Szwarc is asking what these American Girl dolls really have to say about American girlhood.
When Szwarc moved to New York City in 2008, she became immediately intrigued by the idea of the American Girl doll and the industry that surrounded it. "I realized that [the American Girl doll] design embodies contemporary cultural values," Szwarc wrote. "They were conceived to be anti-Barbie toys modeled after [the] body of a 9-year-old. Each doll can be customized to look exactly like its owner, yet all of them really look the same." To explore this, Szwarc took a series of photographs of young women across the country posing with their AG dolls. The resulting images are both beautiful and slightly haunting, depicting girls from a diverse range of backgrounds, all standing next to their own miniature avatars.
The series, titled "American Girls," focuses specifically on "My American Girl" dolls, which consumers customize to look like themselves, rather than the more traditional "Historical Figures" dolls which Szwarc feels project a more positive and educational message. The lookalike line began in 1995, but really expanded after the Pleasant Company was acquired by Mattel in 1998.
"I think there is a natural need to relate to and carve out an identity, and these dolls play an important role for girls," Szwarc told The Huffington Post in an email. "Girls in the U.S. seem to all be raised as future stars and they feel very entitled -- these dolls underscore that."
PHOTOS: 9 Photographs From Ilona Szwarc's "American Girls"
Calling all HuffPost superfans!
Sign up for membership to become a founding member and help shape HuffPost's next chapter
BEFORE YOU GO
PHOTO GALLERY
Ilona Szwarc's 'American Girls'