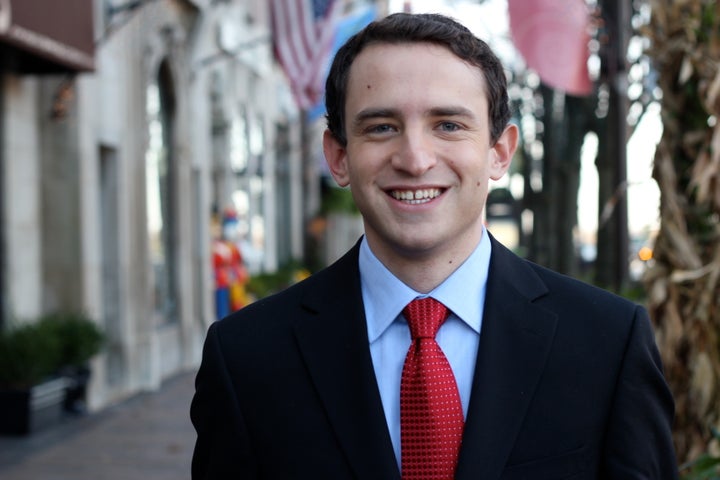 WASHINGTON -- As the national media eyes the Illinois primary race between Republicans Mitt Romney and Rick Santorum, progressive activists have their eyes set to a Democratic primary in the newly redrawn 10th District, which covers suburbs stretching to the north of Chicago. There, activists have invested time and money to help 25-year-old community organizer Ilya Sheyman defeat businessman Brad Schneider as part of a first effort to elect more progressives to Congress in the 2012 cycle.
Sheyman, the former National Mobilization Director for MoveOn.org during the health care reform debate and a former employee of TrueMajority.org, has surged in one late poll after being aided by an army of district-level volunteers from progressive groups and a mailing campaign that targeted his opponent for giving campaign contributions to Republican congressmen in the past.
"In our district, we have 15,000 MoveOn members on the ground in the 10th Congressional District. We have thousands in the American Federation of Teachers, AFSCME, the Progressive Change Campaign Committee and Democracy for America," Sheyman told The Huffington Post. "So these are literally the people who are the boots on the ground, who have worked in campaigns in the past, who are fired up to elect a progressive. They're the ones who have built the backbone in the district with their volunteer army."
Neil Sroka, press secretary for the Progressive Change Campaign Committee, echoed Sheyman's statements about the volunteers working the district: "Our support isn't about the money that we're putting into the race. That pales in comparison to what our members bring to the race. What we are about is boots on the ground."
PCCC; Democracy for America, the grassroots progressive organization founded by former Vermont Gov. Howard Dean; and others have deployed volunteers to knock on doors and get out the vote for Sheyman on election day.
Melissa Lindberg, the chair of Northside Democracy for America, is helping to organize a small part of the 600 volunteers who have mobilized for Sheyman's campaign. She says, "We are hugely excited about how the race is going. It has been one of the best-organized congressional races I have ever worked on."
"We deliberately timed this so it would come late in the process, so it wouldn't give Schneider time to respond and throw him off his message," said USAction Program Director Alan Charney.
Schneider was forced to respond by cutting an advertisement that aired on local cable stations. The ad attacked "out-of-state special interests" for "spreading lies about progressive Brad Schneider."
The progressive groups involved in the primary race note that their support for Sheyman comes from his roots in their movement.
PCCC's Sroka noted that Sheyman is "rooted in progressive values and been in the progressive movement for years getting things done." His accomplishments, according to Sroka, included mobilizing MoveOn members around healthcare reform and fighting back against the Stupak amendment, which aimed to restrict insurance coverage for abortion services under the Affordable Care Act. Sroka also noted Sheyman's work in the 10th District includes helping to support a center in Waukeegan with a goal of reducing recidivism.
The progressive groups see Sheyman's race as just the first in a series of primary races where they are considering efforts to elect more progressive Democrats.
"The exciting thing about it is there's a higher degree of interest in intervening in primaries than in 2010," says USAction's Charney. "This time there are a bunch of races that are on everyone's radar screen."
Amanda Terkel contributed reporting.
Popular in the Community