I live in the San Francisco Bay Area, where local education was most recently thrust into the spotlight by Hanna Rosin's Atlantic cover story "The Silicon Valley Suicides." It is a sad piece about overworked and overstressed Palo Alto teenagers, who become lost and hollowed-out by the intense competition in elite regions to excel in school and get into absurdly selective universities. Every so often, a few end up taking their own lives.
Rosin's article quotes a recent op-ed from a Palo Alto High junior writing for Palo Alto Online:
We are not teenagers. We are lifeless bodies in a system that breeds competition, hatred and discourages teamwork and genuine learning. We lack sincere passion. We are sick... Why is that not getting through to this community? Why does this insanity that is our school district continue?
One reason it continues is because too many parents believe that a certain kind of education is necessary for succeeding in life. Too many parents believe that it is necessary to get into the right pre-school in order to be ready for elementary school, because if you're not identified as gifted by the time you leave elementary school, then you'll be left out of the honors and advanced-placement tracks that are necessary to transcript-build in high school and successfully apply to top colleges. Too many parents believe that it's crucial for high school students to play a sport and be an elected officer and volunteer and participate in national math and science competitions. Too many parents believe that you should always take the SAT at least twice (unless you scored a perfect the first time), because you can always do better and every point might help. Too many parents treat admittance into an Ivy League school (or Ivy League equivalent) as the end-all be-all of an accomplished teenage life.
As a college admissions counselor, I see parents and students all the time who stress out about every test taken and every hour of community service served. I try to remind them to remember the bigger picture -- that nothing is worth it if a student is miserable. I can't imagine what it's like for students who are so stressed out that they cannot see any other exit besides taking their own lives.
The narrow and insanely competitive path to college admissions, I believe, is all wrong. Firstly because there are easier routes to success. And secondly because I think taking the competitive road makes admissions to an elite college harder.
The most financially well-off peer that I know is Jeremy Lin, the basketball player and Linsanity-phenom, who lived in the same house that I did at Harvard. But the second wealthiest young person that I know is not a Harvard Business School banker or Stanford entrepreneur, but a San Jose State graduate who joined Facebook early enough to cash out during the IPO. I know countless numbers of state-school and obscure-school graduates who had the foresight to study software engineering and are thus significantly out-earning many of my Harvard friends. While my Harvard network might pull ahead in time, it does seem perplexing for affluent parents and students to spend so much effort striving for the Ivy League when it seems so clear (especially in the Bay Area!) that other routes to success exist.
The other problem with this all-out sprint to the Ivy League is that it makes so many students look the same, which as any college admissions officer can tell you, is the death knell for an application. I counsel a couple dozen students every year, and in any given year more than half of my students -- affluent, extremely hardworking, probably overstressed students -- have nothing to set them apart. They all serve as the president of at least one major campus organization. They've all volunteered for work abroad trips after sophomore or junior year. They all have perfect SATs, SAT IIs, APs and GPAs, despite all taking every advanced placement class available at their high school or community college. They all come from top feeder schools like Paly, Los Altos, Gunn, Monta Vista, Mission, Harker, Bellarmine, Lynbrook. They all play at least one sport. They've all placed in national science and math olympiads. They are academically perfect; they have literally maxed out on all numerical measures of comparison. And the vast majority still won't get into their top choice schools.
In the context of Hanna Rosin's Atlantic article, this is heartbreaking. Thousands of elite high school students are sacrificing their teenage years and working themselves into depression because they think their hard work will get them into Harvard or Stanford. But for most of them, it won't, because all of their peers are doing the exact same thing. The college admissions process becomes like a stampede, where hundreds of thousands of students try to fit through a bottleneck. Some are crushed.
I try to dissuade my students away from perfection. Naturally, this is not advice that many of them listen to, even if it improves their application's chances while helping them to live a saner life. But I tell them that if they can save hours of their time by earning B's instead of A's in their hardest classes, or by aiming to score 100 points lower on the SAT, they should. College admissions is not scalar -- not being perfect is not a point against an applicant's chances. With the free time gained, I tell them to take the time to enjoy life, to discover what their true hobbies are, to develop passions and intellectual curiosities, to spend idle time with friends. I tell them to forget about the rat race and work on discovering who they are as individuals. The cynical benefit of this is that such an attitude can make them more interesting people, who have stories about forming garage bands and learning how to skateboard, which can help their application stand out in a crowd. But taking a step back has obvious intrinsic benefits, too, which will last much longer than any given application cycle.
After all, college admissions is a beginning, not an ending.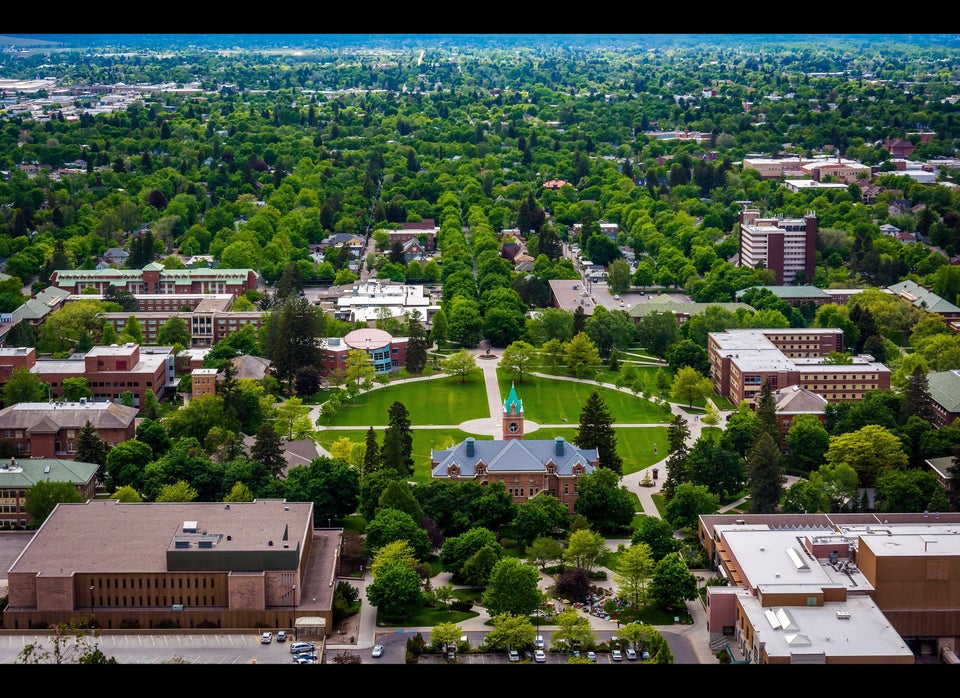 20 College Towns We Love to Visit
Popular in the Community