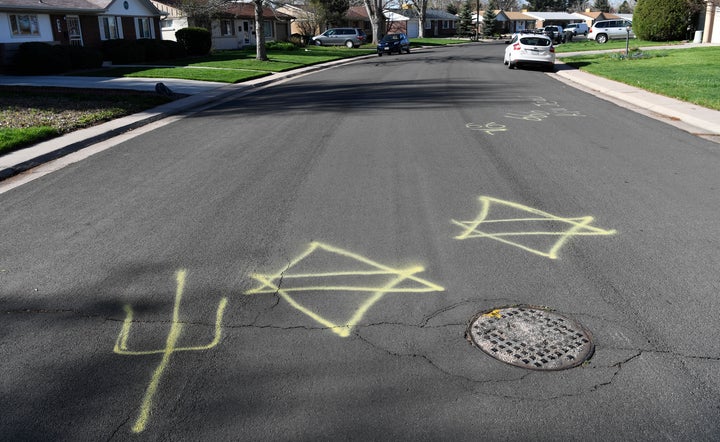 I'm a queer Jewish woman who's spent the past year covering the race, and spent election night at Trump's victory party. I've been given the finger at Trump events, navigated rallies where protesters and supporters all but physically fought each other and made a concerted effort to be fair as I've interviewed those who take no issue with his comments about grabbing women, his racist business practices or promises to walk back LGBTQ rights. Yet, it wasn't until I saw the president-elect standing on stage with Bannon that I understood the magnitude of the platform given to anti-semitism.
A white nationalist who allegedly said he didn't want his daughters "going to school with Jews" is headed to the White House. Many Jewish journalists have already been experiencing the groundswell of anti-semitism throughout the campaign. Now with swastikas appearing around the country and the KKK celebrating Trump's win, we are coming to grips with the notion that the very hate many of our families escaped in Eastern Europe has come home to roost on American soil and worse, in the White House. 
Over the course of the past year covering the election, I've experienced a trickle of anti-semitic hate on Twitter that — I hope — peaked last week with a gif of Ralph Fiennes as a Nazi officer in the film "Schindler's List" pointing a gun in my direction.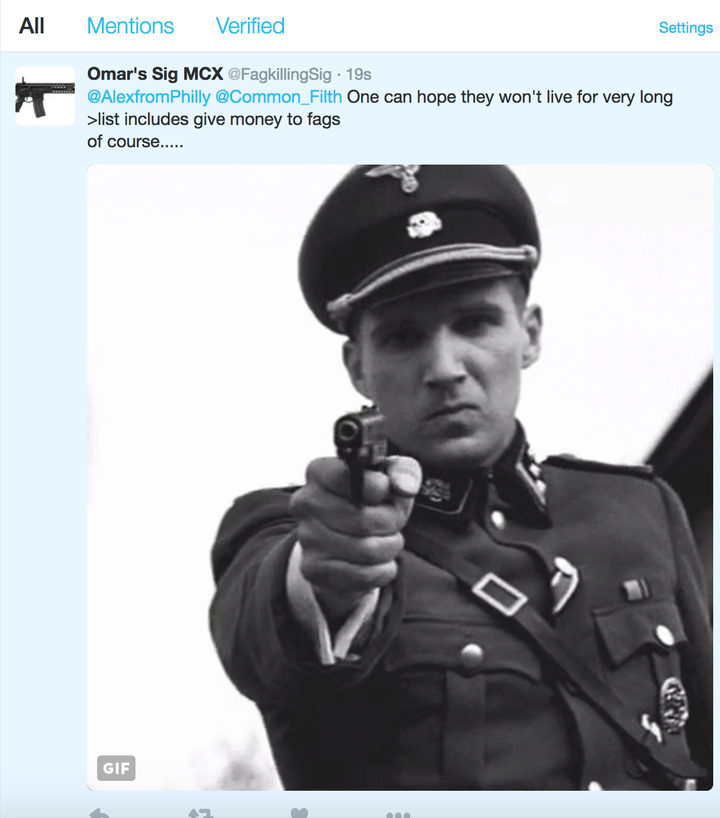 More often, I receive comments on Twitter that I'm "oven worthy" or "inbred" or the like, but this tweet was a reaction to a piece I wrote about how to be an ally to LGBTQ people post-election. As a queer woman, these insults are sometimes coupled with homophobic language. After all, the ideology of white supremacy often goes hand-in-hand with condemning queer people.
The day after the election, the Twitter hate hit closer. On what happened to be the 78th anniversary of Kristallnacht, vandals painted swastikas on a business front in South Philadelphia. The swastikas were just 15 minutes away from the row house synagogue my family first joined when they immigrated to America from Romania and Ukraine in the early 1900s to escape the anti-Jewish pogroms — massacres — happening all over eastern Europe. 
On election night, I spent 10 hours at Trump's victory party for The Huffington Post. Over those hours, I thought of my ancestors who came to America — and that South Philly neighborhood — to work on pushcarts and in factories. I thought of the hardships they faced and the privilege they had as white immigrants. Sometime late in the night, Trump's supporters began singing "God Bless America," as it became clear that Secretary Hillary Clinton's path to victory was virtually nonexistent.
"God Bless America" was written by Irving Berlin, a Jewish immigrant whose family left Russia in the early 1900s to escape the same pogroms as my family. In the 1940s, the KKK protested the song because of Berlin's background. I grew up watching my Romanian great-grandfather sing the song at the dinner table because it signified freedom from fear for my Jewish immigrant family. In that moment at Trump headquarters, it was a hymn for a campaign that's central immigration policy is to "build a wall." 
While many white liberals woke up shocked the day after the election, many minorities felt that the results confirmed the America that they already knew. For those of us who are Jews, we are now faced with a tide of anti-semitism that our families recognize all too well. We are also faced with Islamphobia that feels familiar, with Trump's calls to create a Muslim registry and, at least, limit Muslim immigration to the U.S. It seems that the memory of the SS St. Louis, a ship carrying 900 Jewish refugees escaping Nazi Germany, is a distant one. The ship was turned away when it tried to dock in the U.S. in 1939 and sent back to Europe where hundreds of the passengers were killed. 
In the wake of the election I have wondered if, as a woman, I should stockpile birth control before the inauguration. I have wondered if, as a queer person, I should marry my partner before Mike Pence takes office. And, I have wondered if, as a Jew, my safety will be at stake when Bannon begins working in the White House. I have wondered the same for people of color, Muslims and other marginalized groups.
Since November 8, white voters who elected Trump have said they are not racist or xenophobic or sexist. Looking back at anti-semitism throughout history — from Kristallnacht to the SS St. Louis to the Holocaust — it's striking how many "good" people stood by as these atrocities occurred. In six weeks, Bannon, along with the rest of the Trump administration, will take office. We don't have to wait to find out how their views will play out. With the uptick of swastikas, Internet harassment and hate crimes, we already know.  
REAL LIFE. REAL NEWS. REAL VOICES.
Help us tell more of the stories that matter from voices that too often remain unheard.
BEFORE YOU GO
PHOTO GALLERY
Kids At Post-Election Demonstrations