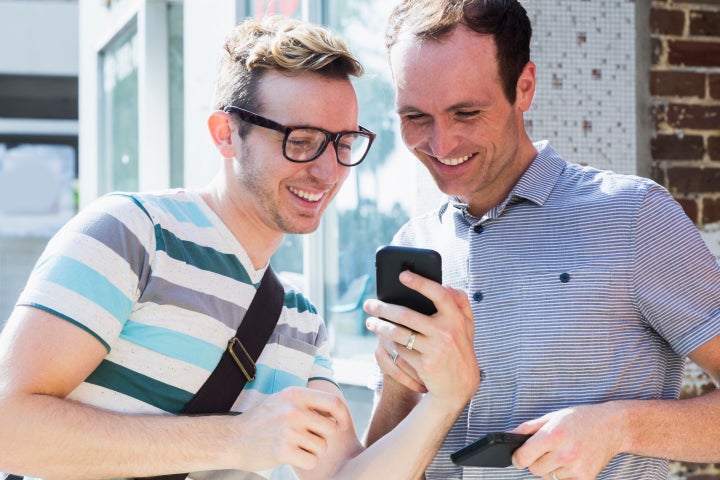 I was right in the middle of reading about what a horrible person I am for enjoying casual sex with another man — "empty," "shallow," "embarrassing" — when I realized Houston might not be the only one with a problem. The notices were all coming from gay men — yep, those guys who like c*** just as much as I do — commenting on remarks I'd made about engaging in uncommitted sex after the age of 50.
It wasn't necessarily my age that made sex such a bad thing — although that factored into criticisms because, you know, I'm old and sex out of wedlock should only be practiced by younger men as it says in the "Book of We're Here, We're Queer, Don't Get Used to Actually Enjoying It" — it was admitting that, not only do I have sex with men I'm not dating, sometimes I seek it out! I know, right? Orgasms brought on by actual flesh and not porn or any of the gazillion other sexually explicit images at a finger's touch? That's really bad. Like "Brady Bunch" (Mike wouldn't approve) bad! I should have put "Game of Thrones" on speed-butt-dial instead and "GoT" off that way like a normal person.
"We spent a couple of decades where sex, literally, killed us, and now that we're finally in a better place, how dare we enjoy the relaxed benefits!"
We spent a couple of decades where sex, literally, killed us, and now that we're finally in a better place, how dare we enjoy the relaxed benefits! That would be like taking advantage of walking after the polio vaccine kicked in. Those wheelchairs aren't going to roll themselves! Sit. Back. Down!
I don't know when the gay world got so prudish and judgmental when it comes to penises interacting without adult supervision, but if I thought it was because we were worried about another epidemic this would be an entirely different column. (That fear is always legitimate, and why it's so important to know your HIV status and to sexually educate yourself.) There appears to be something more Provincial setting in among gay men in regards to sex (young men, especially), and it goes against everything we've fought for since drag queens fought for their lives at Stonewall — live and let live!
Marriage and children and mainstream visibility are likely contributing factors to a more conservative outlook on sex, and that's swell. And hypocritical. Studies show that only about half of gay partnerships are strictly monogamous, and you don't need to be a professional tracker to see their footprints all over hookup apps. Many are open, many are not, many will blame you if they get caught, many are still hooking up in steam rooms — and I always thought that only happened in the '90s because the music outside was so bad. "Discreet" is such a refined word you can practically hear the English accent. How could something that sounds so lovely be code for "f*** my hole before my boyfriend comes home?"
There's such a need to be accepted into a hetero-norm society that we're adopting many of the same attitudes about out-of-wedlock flings, and uncommitted sex: It's bad, and, by association, unfulfilling. And, more important, it makes us look bad.
The latest intrusion into gay sex is the g0ys, gay men who, according to Queerty, "shun effeminate behavior because they think it's 'cowardly.'" The publication goes on to explain that "they refrain from calling one another things like 'girl,' 'bitch,' or 'queen,'" and that their biggest hang up is anal sex. "They don't believe in it, because they think it's a 'violent act' that represents 'the ultimate form of sexual disrespect.'" And they like the numeral "0" because "a" is the first letter of the detested "anal."
To be clear, if you don't like anal sex that's your prerogative, and I would never suggest it's wrong or immoral. And I don't care what you call your best buds. But when you tell everyone else their behavior is cowardly or violent, you've crossed a line. G0ys also believe their anal-resistance keeps them from getting STD's, because, apparently, they've never learned that oral sex can also lead to STD's. Girlfriend, someone needs to be bitch-slapped!
It's bad enough that we have doctors (and many gay men), slut-shaming guys for taking PrEP, even though its success rate hovers around 97 percent. And why are we still calling it "safe or bare" instead of "raw or wrapped," when condoms are on a par, reliability-wise, with Truvada?
I know what you're thinking: "David, you're as old as this topic, and we like being monogamous, so give it a rest." While I would agree on two of those points, I can't help but think you're also adding "…you big slut," for elaborating on the subject. Gay culture has become so immersed in name-calling and labeling—hence the ironic title of this piece—that a primer on what we fight against on a daily basis is always a good reminder. We should also remind ourselves that everyone jumps onboard to dress up as slutty-something over Halloween. It's a thing, this love to act trampy, provided we can escape it when we take the costume off or when Blanche Devereaux's one-liners end on "The Golden Girls."
I'm thrilled if you and your partner choose a monogamous relationship, and I also believe it shouldn't discount those who choose otherwise or who are single and openly enjoy casual sex. Provided I'm not hurting anyone, there's nothing morally or ethically wrong with me having sex with a stranger, a friend, an ex, or a Ken Doll. It's a personal choice, and our progress on sex-choice needs to evolve as much as our development in other areas.
Since I was a child I've been told by factions of society that desiring the male body was wrong, and there are traces of that in the new conformity. I must be sad, I must be desperate, I must be lonely. I can't be enjoying it. How very tragic. There's just a slight creepiness in saying gay men in committed relationships are slightly better than those who are not. The male body is okay, finally, as long as one of the fingers has a ring on it.
I'm over the self-loathing tendencies of The Boys in the Band, and, to a lesser extent, Making Love. Even the guys on Queer As Folk were often in over their heads. Those depictions of sex are crucial in helping us navigate our own struggles, but sometimes we need to be reminded that sex is just sex in all the excitement that word intonates.
I'm also over hearing the phrase "casual sex" almost always used as a derogative, something that needs to be explained, justified, defended. I don't hear many partnered couples saying "I had sex with my husband and—I know—it was wrong and I'm laden with guilt over it. When will I grow up?"
Casual sex can be a lot of things — terrible, wonderful, boring, fabulous, regrettable, scintillating. It depends on way too many factors to list. It can also be a wonderful way to spend some time, and if that makes me a slut, well, color me "Boy Toy." It can be as frivolous as a Taylor Swift tune or as uplifting as a new mani/pedi — an act of pure indulgence that makes me feel sexy and relaxed and, for a brief period of time, like a bad-Ass.
This essay is part of an ongoing series by the author about issues facing older gay men. If you've got a "Daddy Issue," I want to hear about it. -DRT
Popular in the Community