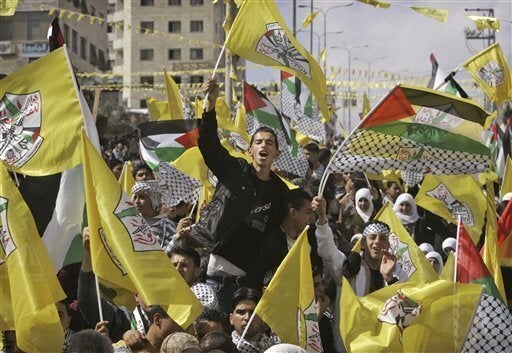 "Void in Israel, see Palestinian ID #." That's what an Israeli stamp states in Hebrew on my American passport. In Israel, I am a numbered Palestinian despite my American citizenship.
Although the Oslo Accords of 1993 paved the way for limited Palestinian self-governance under the Palestinian Authority, they have not led to statehood. Instead, the creation of the Palestinian Authority has consolidated Israeli control of the West Bank and Gaza and the people who live there. One method of Israeli control is the "Palestinian Hawiya," or identity cards that Palestinians are required to have. These identity cards effectively control the population within enclaves in the West Bank, trap residents in Gaza, and reduce people of Palestinian descent, even American citizens, into faceless numbers.
To visit my ill grandmother in the West Bank I am not allowed to fly into Tel Aviv, about two-hours from her home in Ramallah. Instead I fly to Queen Alia International Airport in Amman, Jordan. I spend the night in Amman due to the limited hours of operation of border crossings.
The bridge between Jordan and the West Bank usually takes about ten hours to cross, due to Jordanian, Israeli and Palestinian immigration centers. This is on a good day. Many people are held longer and some are denied entry. The bridge is flimsy. I can cross it by foot in 2 minutes. Palestinian poet Mourid Barghouti eloquently described it: "How was this piece of dark wood able to distance a whole nation from its dreams? To prevent entire generations to take their coffee in homes that were theirs? How did it deliver us to all this patience and all this death? How was it able to scatter us among exiles, and tents, and political parties and frightened whispers?"
Usually, I am admitted. However, because I am not given a "Tourist Visa" like other Americans, I am limited to travel on Palestinian-only roads and must go through checkpoints between Palestinian cities and towns. I am not allowed into any Israeli cities, not even Israeli-occupied East Jerusalem. It is even "illegal" for me to be in a car with a yellow Israeli license plate.
Because of my Palestinian identity, and regardless of my citizenship, I need a permit issued by Israel to visit the American Consulate in Jerusalem from the West Bank. Yes, I am required to ask permission to visit my own country's consulate. The US Consulate informed me via email that to Israel my "U.S. passport, unfortunately, is only secondary." I have asked several times what the US Consulate is doing to reverse this discriminatory policy. I am still waiting for a response.
As an American, $3 billion of my tax money goes to Israel, a country a little larger than the size of New Jersey. As a Palestinian, I am not allowed beyond checkpoints without special military permits that are virtually impossible to obtain. To vote in the US Presidential election, my dad had to meet a woman at a checkpoint to take his ballot to the Consulate.
If Palestine were an independent state, then the permits, entry requirements, etc. would make sense for Palestinian passport holders. But Palestine isn't an independent country. Israel is the occupying power in charge of the Palestinian Territories. Further, as an American I should be allowed to enter Israel as a tourist regardless of my background.
Although I must go through Jordan to visit my sick grandmother, I am lucky in that I am allowed in at all. Several thousand international volunteers or workers in the West Bank are denied entry at every border each year. My uncle, an American with no Hawiya, was held at a detention center in Tel Aviv while challenging their decision to deny him entry. The Israeli Authorities sent him back to the US after 30 days.
This policy is Israel's systemic way of separating families, stifling the development of the Palestinian economy, and scaring foreigners from entering and documenting the effects of the Israeli occupation. We must work together to make Israel accountable for how it spends our tax money, since the 1949 Fourth Geneva Convention is clear that this policy is against any International Humanitarian and Human Rights law.
Israel can't forbid me from being a tourist in my ancestor's homeland forever. Perhaps in the next American election, my family in the West Bank can vote at the American Consulate in Jerusalem -- instead of questionable transfers of ballots at one of Israel's 600 checkpoints.
REAL LIFE. REAL NEWS. REAL VOICES.
Help us tell more of the stories that matter from voices that too often remain unheard.