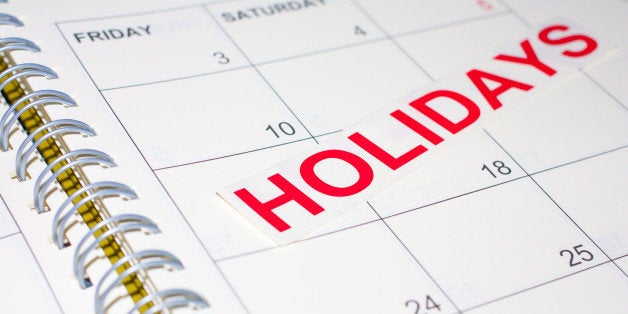 I get more done between November and December than I do in the other 10 months of the year. There's something about the prospect of looking over the productivity of the past year, come December 31st, to light a fire under my yoga-pants-wearing, reality-TV-watching arse.
And the whole "time flies" cliché doesn't sting as much when I can look back on a year (two months) full of accomplishments, new memories, and a heftier bank account (wait, that rarely happens for me -- let's change that to "an expanded heart.")
Most people are so "on it" they're jumping on it come January, what with all the New Year's Resolution hoopla. But I'm so wiped out by the time the New Year rolls around that I pretty much write January off to detoxing from butter, chocolate, and all forms of potatoes. I need to fill my achievement coffer before January 1st.
The following garner the majority of my maniacal end-of-the-year get-er-done-ness:
1. Baking. I'm not chummy with my kitchen until the holidays roll around. As soon as my Halloween candy hangover lifts, I'm a butter-softening, hot-pad-wielding, cookie-icing machine. I even bake a few healthy goodies, with hidden ingredients like Garbanzo beans and tofu -- that's right, tofu. My husband loves it, and I have to continually remind him not to get used to it.
2. Continuing Education. To combat the numbing effects of the butter and sugar, mama needs to stretch the brain. I should also mention that most of my client-work dries up during the holidays, so I have to do something to convince my family that I'm working. I take online classes, go to seminars, and hold work-related books on my chest as I nap.
3. Eating. That's why I do all the baking -- so I can eat fresh-baked chocolate chip cookies when my son is napping, and an extra slice of pie after my husband has gone to bed. I'm also an overachiever in turkey sandwich, mashed potatoes, and spiced-anything eating during this time.
4. Precious Family Memories. The holidays are my time to make delicious, contrived memories. I'm all over the sledding, caroling, decorating, tree-lighting, gingerbread-housing, hot-chocolating, crafting, popcorn-stringing, holiday-movie-watching, and merry-making. And by golly we will have fun. (But most of the fun actually happens in the spontaneous moments at the road-trip gas station, dairy aisle at the grocery store, and messy kitchen -- it's the heart of the home, y'all.)
5. Purging. Not my stomach, my house -- my closet, in particular. I get rid of it. Or at least most of it. People give toddlers a lot of gifts -- I have to make room. My family hides their valuables from me during the holidays.
6. Grandiose Goals for the Next Year. This is the time I make big goals for the next year that I will scramble to accomplish come November.
7. Exercise. Well, not actual exercise, but I think about it a lot. And then I bake something.
8. Pictures. I'm not just talking fun holiday candid photos, I'm talkin' premeditated awesomeness. Once the shot is set up, I take a minimum of 20 photos -- and if my mother-in-law is there, we take 50 photos. And group shots that are always fabulously horrible.
9. Vacation Planning. The end of the holidays makes me so depressed, I plan as many little "next year" getaways as I can to soften the blow of saying goodbye to family, putting away the decorations, and just-saying-no to the bag of chocolate chips.
10. Letting It All Go. I've gone down in mental-stability flames by mid-December enough times to learn the importance of lightening up. If I'm met with many empty checkboxes come January 1st, but many smiling faces, all is right with the world. (But I do love me some checked boxes.)
With that said, my family thinks I'm nuts (spiced holiday nuts). It's OK; I love it all, even their predetermined teasing -- I wish I could encapsulate the excitement, buttery smells, anticipation, sparkle, wonder, love, and peppermint-flavored everything that comes with the end of the year. Does that come in a pill? Maybe I should ask my doctor. Or Santa.
Wishing you a holiday season full of accomplishments composed of hearty self-worth, presence, laughter, love, and more peppermint (for good measure).
Related