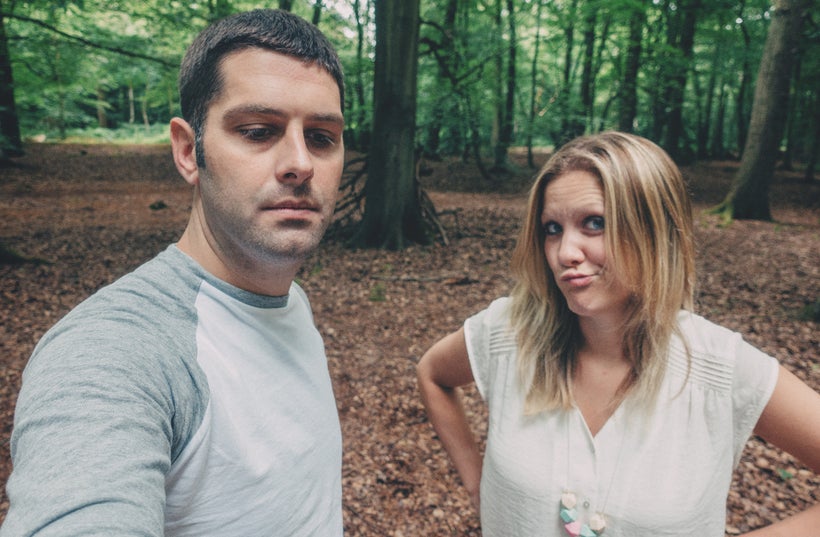 Hannah has started adopting the term 'Instagram Husband' for me when talking on social media, but what exactly is an Instagram Husband and how did I get labeled as one?!
In short, being an 'Instagram Husband' I'm expected to be:
A stylist, a photographer, a photo retoucher, a human tripod, a runner, a location scout, a bag holder and general dogs body whilst on 'location.'
All in the quest for my 'Instagram Wife' to get the photo she wants for her Instagram feed!
If you couldn't tell, we have really tried to ramp up our Instagram feeds over the last few months. Back in May we went on holiday to Lanzarote and I said to Hannah that this would be my opportunity to start afresh with mine, delete the shit and post proper photos. For that week I captured everything and my feed started to slowly grow and then when we got back I carried on with it.
It all first started when Hannah started her blog, orginally Mummy and the Beasties now What Hannah Did Next.
Hannah created her account to go hand in hand with her blog. Although back then, it was just about posting anything and everything and not really caring.
Her blog was the place she could share all the photos that we had taken.
Fast forward a few years and we now take a lot of pride in what our feeds look like, like a lot of others do. However for the husbands and boyfriends this comes at a huge cost, whether you are on Instagram or not.
With the release of Hannah's new blog, it was to head in a different direction, no longer was it just the parenting aspects she wanted to blog about, she also wanted to include lifestyle, parenting, fashion, food and basically anything that interested her.
So with the new lease of inspiration, she set about about needing to build up blog posts and images for her Instagram feed to go with the posts.
Let me paint the picture for you…
Hannah: "I want to get some images for a pose post I want to do".
Me: "Ok, what sort of poses do you want to do".
Hannah: "Not to sure, any ideas?".
Me: "I know a few you could do. What about outfits you want to wear?"
Hannah: "Not to sure, any ideas?".
Me: "How about that denim dress and accessorise it with your satchel and look two could be your leather look trousers, white zip up top and pair it with those mint vans. Where do you want to do the photos?"
Hannah: "Not to sure, any ideas?".
Me: "We could do them in our local high street, I know some side streets which would make great backdrops. When do you want to do it?"
They say a woman's work is never done, but in this modern era, an 'Instagram Husband's' work is never done.
We work, we clean, we tidy, we look after the kids, we do school runs but we are also expected to be a one man team straight off the Vogue floor.
This is where it all goes to shit though!
As a consequence our own feeds suffer, as all the effort goes into the 'Instagram Wife's feed!
So 'Instagram Husband's' of this world you have my deepest sympathy, it's not easy being married to a blogger as you unofficially accept all of this responsibility whether you like it or not.
And as if the photos aren't enough, if your 'Instagram Wife' is that way inclined, you the 'Instagram Husband' also get to be a film director, a cameraman, an editor, a colour corrector and an assistant at the same time!
REAL LIFE. REAL NEWS. REAL VOICES.
Help us tell more of the stories that matter from voices that too often remain unheard.
This post was published on the now-closed HuffPost Contributor platform. Contributors control their own work and posted freely to our site. If you need to flag this entry as abusive,
send us an email
.