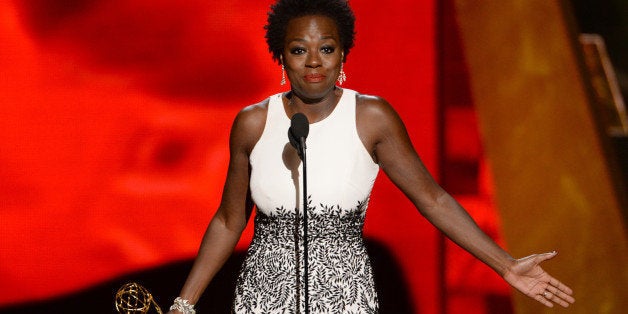 "The only thing that separates women of color from anything else is opportunity."
Viola Davis is an inspiration.
I am totally in love with her and her work. Her speech was phenomenal. I was so excited when she got up to that stage, and every single thing that she said was so on point. You guys don't know how much I love this woman.
But I'm angry. I'm angry that I saw this woman, up there, crying as she became the first black woman to win the Emmy for best actress in a drama. I'm angry as hell. There are so many black women with talent, and they're barely recognized. Are the Emmys trying to tell me that there has only been one black woman, in all 67 years, that deserved this award?
Some people will try to tell me that this is about talent. To that, I scoff, clench my fists, and try not to scream.
Let's talk about how only eight black women have won Oscars, and how no black woman has ever won the award for Best Director. We can talk about how this isn't about lack of talent: a big example is from March, when HBO held a contest for "diverse" female and male writers of color, allowing eight winners to receive training and support to help them produce a TV pilot. How there were so many applicants that the site crashed.
And if you still need some proof, we can talk about how Nancy Lee Grahn said that the Emmys are not "a venue for racial opportunity" and that Viola Davis "has never been discriminated against." You know, even though she's a white lady and has never been a black woman. We can talk about how, during her apology, she said she "never expected every black Twitterer to attack."
For a black young woman who wants to be in this industry, this is heartbreaking. For crying out loud, this is disappointing for black women everywhere. The fact that black women are still made to feel inadequate, even while they have the same talent as white women. This is why it's so important to have women of color as film studio executives and producers, so that they can pull other women up with them.
Patricia Arquette brought up important issues about women in Hollywood, about women in all industries. Why can't Viola Davis do the same for women of color? While feminism is trying hard to make things better for women, we have to help all women: brown women, Asian women, trans women, queer women. You can't leave half of us hanging.
I'm not angry about Viola's win. She deserved it, and I will vouch that from the rooftops. But black women shouldn't have had to wait so long for recognition. Don't forget about us. We have just as many stories as we do.
Calling all HuffPost superfans!
Sign up for membership to become a founding member and help shape HuffPost's next chapter