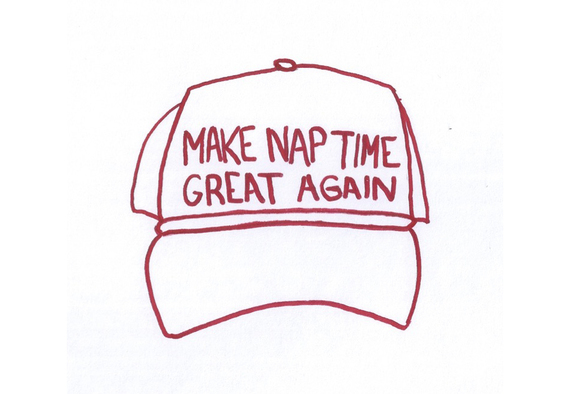 I'm beginning to suspect my 11-month-old is really Presidential Candidate Donald J. Trump. Yes, it may seem unlikely that my adorable baby is actually a 69-year-old real estate tycoon from Queens, but hear me out.

Anything I post about him goes viral. Seriously, I put something up on Facebook and immediately have like 100 likes. Grandma and Grandpa are emailing me about it and they don't even have Facebook. My baby is clickbait.

People think they know what he's talking about. He says Mamamamama and everyone starts nodding. "Oh, he's hungry," they say. "He's saying your name," they say. "He's going to reform the US-China trade relationship," they say.

His opinions change fast and dramatically. He wants chicken for lunch... No, he haaaaaates chicken! He'd never want chicken! He's never liked chicken!

He makes broad generalizations. All baths are bad. All dogs are good. Every diaper change is the worst.

He shoots from the hip. He knows what's best because he follows his gut. If his gut is telling him to follow the butt cream in a nosedive off the changing table, he's going to follow the falling butt cream in a nosedive off the damn changing table. My baby is a cowboy like that.

He loves boobs. Boobs are his number one thing. And his number two.

Great, great wall-building abilities. My baby builds stupendous stacks of blocks. Huge. The best.

Everyone applauds him. All the time. The kid points to an airplane and people start clapping. They clap when he pulls himself up. They clap just to make him clap. My baby drops a ball on the ground and I'm all, "Good job throwing!" He didn't even throw the ball! He dropped it! That's how much I like applauding him.

He's not politically correct. Why be polite? If the twins across the street have a new toy, Grabby McGrabberson is all over it.

Tiny fingers. Like really, really small. Like they need their own kind of nail clippers small.

He thinks he's the center of the universe. But, I mean, he kind of is.

I know every mother dreams of her child becoming the next leader of the free world, but I wouldn't want to be anywhere near the Oval Office if he doesn't get his second nap in.