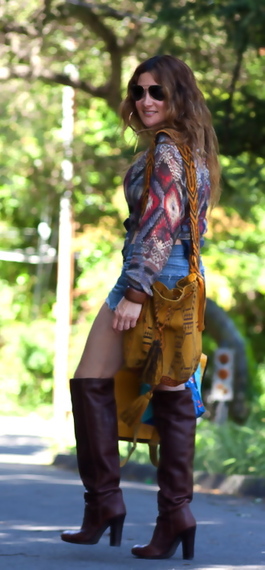 Looking around the coffee shop this morning, I notice everyone appears as though they're about to embark on a white water rafting trip:  The Patagonia Fleeces, the Lululemon yoga pants, the sneakers, the thick wool socks and the re-usable, nondescript bag.  As a new resident of Marin County, it's my personal mission to banish this image of Marin County being the mecca of the unstylish, suburban mother who doesn't work, but only works out. We all know how untrue this stereotype is.  Let's be honest, you know you wear work out clothing, more than you actually work out.  I'm not here to judge, only to help.  I'm just as guilty of wearing work out clothing, when we all know I'm really sitting in a donut shop pretending to write. 
 
But I'm here to give you some tough fashion love Marin.  I know you are juggling, and probably haven't urinated without the company of a small child in years.  I get it.  But this is no excuse. We are women and multi-tasking is our gift. I'm pleading with you to please multi-task into being the sex sirens of your past.  The issue at hand Marin mammas?  Let's just say, it was Saturday night. I saw all of you, and those hot bodies were hidden beneath layers of fleece.  It was appalling. Here I go making an effort to execute my style, and throw on 6-inch ankle boots (putting myself at risk walking on these hilly streets) and earrings the size of a small country. 
 
And you stared at me. Maybe you were thinking? Who in their right minds wears 6-inch heels to a hole-in-the-wall bar? Or the most obvious, is that Beyonce? Or Queen Latifah called, and she wants her earrings back from 1987...Whatever the case, I've seen you out at night with your hot dates, or with friends...and you know what? You still look like you're embarking on some sort of outdoor adventure, only in sensible, flat boots.  Marin, this is unacceptable.  All that hard work at the gym? And this is what you give me? This is what you give your lovers?  Marin mammas, I'm giving you permission to be a little vain and a lot sexy, even if this article makes you seek me out and participate in a fashion hate crime. 
 
Since moving to the land of Milk and Honey, I realize I may be on the higher end of vainness. In Miami, I was probably on the average vanity spectrum.  And those who know me well, I ask that you control your loud cackles.  Just like it's tough for men to admit to vanity, it's kind of the same deal in Marin County, only for women.  See, straight men feel like they have to mask their vanity, because it somehow takes away from their masculinity. And in Marin, women feel like they have to mask their vanity, because it takes away from their earth motherliness. I'm not really sure why we can't just be vain and still love Mother Earth.  Didn't you hear about the mom in over the knee gladiator boots, who got stuck to the sap of a Redwood? That was me, I'm a tree hugger and a fashion appreciator. I promise you can be both, notwithstanding the occasional sticky wicket you may endure.  Maybe being vain, is really not a narcissistic quality, but more about generally caring about yourself.  Isn't it healthy to want to look the best you can look?
Let's work together.  Please walk hand in hand with me in 6-inch ankle boots and keep your Patagonia Fleeces under your funky jackets.  Below, I've outlined easy steps to bring your sexy back Marin....
 
Workout style:
So you are wearing sweaty clothing all day, fine. But take a few minutes to add a little va va voom.  Here's how:
Buy Cool Kicks: Have you seen the selection of sneakers for women? I had to buy a new pair of sneakers and the selection is horrifying. Women's sneakers are as big as boats and come in a scary array of colors, which look frighteningly similar to those cheesy toddler shoes that light up. I needed a new pair as my all black, nondescript kicks are no longer in production. Not only are the color choices hot pink or purple on a pure white canvas, but they are really pricey. It makes no sense that I have an issue with spending money on sneakers, but the real reason is they only have a strictly utilitarian purpose, and who wants to spend money on shoes you only wear to work out? I am still a fan of the New Balance old school sneakers in grey... they kind of remind me of a 1980s station wagon with wood paneling; classic, preppy and funky. I found a pair of sneakers designed by a Japanese company, purchased at Zappos.com. I picked them based on pure style... not sure how well they are working for me, so maybe skip my advice and put comfort first...But after your workout, you can just be all Mr. Rogers..
It's OK to Pull a Mr. Rogers:  This is the best option.  I switch to my grey Minnetonka ankle boots or my Ash gold high tops. I purchased my moccasins at a consignment store in San Anselmo, they were half the price of a new pair. And splurged on the Ash high tops, purchased in Soho.
Freshen Up:  Clean your face, and carry baby wipes for obvious reasons. Throw on some Josie Maran Argan Oil, a little Nars Orgasm blush stick on your cheeks and shiny chap stick. And if you have dark circles like me, a little peachy concealer.  
Tops: You can leave your yoga pants on, just switch your top.  For hygiene purposes, switch into another bra and throw on a tank top. And if you don't need to wear a bra, that's a privilege in itself.  Find some cool tank tops that look great, and then throw on a jean jacket or a worn in looking army jacket.  If it's freezing, you can wear an outdoor jacket, but at least when inside, remove as quickly as possible.  I usually wear a white tank or my repeater Trunk Blondie tank. And then one of my many jackets, usually my acid wash jean jacket or my vintage army jacket. If it's freezing, I throw on a pea coat or my Uniqlo jacket. The thing is the "outdoor" jackets are just not stylish, if you must wear them, go for something outside the box, if not, it tends to look like everyone else. You can walk into any used clothing store and get an amazingly cool and unique jacket or if that's unappealing, go to a "regular" store and find a jacket that works. Uniqlo does a great job, with function and hip Japanese design.
Accessories: This is where you can have a lot of fun. I wear huge earrings, some call them "door knockers".  I have three piercings in each ear, and don't like to leave them lonely.  Therefore; I fill each hole with a large gold decoration.  I realize this is a lot.  But Marin mammas, you can add something to bring a little sparkle to that gorgeous face.  You can buy cheap hoops anywhere, even on Amazon or at Target.  Figure out if you look better in silver or gold, and work with that.  Olive skin looks good in gold, and skin with pink undertones better in silver.  I'm no expert, so google it.  I love a good re-usable bag, believe me.  But please leave that in the car, and bring out a cool "pocketbook".  Have fun, steal one from an older relative or buy yourself a gift...doesn't have to be expensive.   Sunglasses are important, especially if you want to hide your post-workout face...My face looks better in oversized aviators..and I just think they are sexy on all women.
Hair:  Sweaty hair, put some Argan oil on the ends.  A braid always looks sexy, I have an issue wearing my hair totally back. Let's just say one of my brothers told me I look ugly with my hair back, I still believe him... siblings! But if you are without weird childhood image issues, a bun or a full braid looks so pretty.
Dance: You know how I get in touch with my inner sex goddess? Every morning (don't ask my boys, it's an unfortunate part of their childhood) I dance to my girls, Beyonce, Shakira and Aaliyah.  That's right. I shake my hips and booty all while making breakfast and screaming at them to stop fighting.  I continue the party when I drive my kids to school, and constantly notice onlookers staring from their cars.  This is humiliating, but I figure I'm not the gross nose-picking driver who thinks he somehow is undetected behind the lightly tinted windows.   I promise, you will feel like you are ready to make your stage debut at the MTV Music Awards, looking sexy as ever.
Bat those lashes:  If you want to be natural, invest in an eyelash curler.  Everyone should use one before you go anywhere. Eyelash curlers open the eye.  Every night apply a lash serum, they work and make lashes grow like teenage hair.  Want to look beautiful when the sun rises? Be committed to eyelash extensions.  They are amazing, but are costly and require up keep.  Not only do lash extension open the eyes, they last up to three weeks. No need for mascara.  I hear Jennifer Aniston dyes her lashes jet black - this allows you to be free of the raccoon look. I've never tried this, only because it may cause issues for your eyes.
Eyes/Cheeks: So easy, wake those eyes up with a dab of a light shimmery eye shadow in the inner corners.  I like Stilla's Kitten. Nars Orgasm blush stick, like I mentioned before. It works wonders - Smile and apply on the apples of your cheeks. Blend--and you will look like you just finished a refreshing jog.
Self Tanner: Once a week exfoliate in the shower and slather on a natural self-tanner. Not only will it give you a youthful glow, but you will lose five pounds without the effort.
Brazilian Wax or Something Close: I Don't mean total hair removal. And I know this may offend some of you, but the feeling in between your legs after a Brazilian wax, will kick in your inner Sofia Vergara into overdrive.  It's worth the pain and vulnerability of someone seeing every ounce of your vagina, I guarantee it. 
Body Oils: Rice or Coconut oil are my body moisturizers. I make sure my skin is damp, and slather my body into a greasy mess. It works, smells amazing and the only down side is you will pretty much leave a grease stain on your shrink's leather couch (talking about me here) and your spouse may not enjoy sleeping in greasy sheets. You can buy coconut oil at Whole Foods, Trader Joe's and Good Earth. Rice Oil is at Sephora, it's about $50.00, but smells incredible. 
 Lips: All you need is some old fashion chap stick (buy only natural brands), and get glossy.
 Heels: It was Dolly Parton who said, "When I'm feeling a little low I put on my favorite high heels to stand a little taller." So I ask you to make a commitment to don some heels at least once a week.  I assure you, you will stand taller and look incredible. 
 
Quick Fixes:
 
Swollen: Scary looking in the morning? Place an ice cube at the roof of your mouth for a minute, it will de-swell you.
 Skin/Body: Drink warm water with lemon every morning. It clears the skin and flushes the body of toxins.  And it keeps you "regular" - let's face it, constipation is
not sexy!
Face: BB Cream gives coverage and offers a number of benefits. In a rush, it's all you really need.
 Wrinkles: Retin-A is the only proven non-surgical wrinkle fighter, you can get over the counter doses at any pharmacy.  Use it a few times a week and add some heavy moisturizer to avoid dryness.
 Driving: We all should be using sunscreen on our hands, face, chest and neck (chemical free brands) when we're driving these kids around town - -the sun is amazing, but it causes pre-mature aging.
 Teeth: Floss!!! Plaque causes bad breath, not sexy!
Marin Mammas, please know this is all written from a place of pure love..the love of fashion and of course the love of all my local sisters. Can't wait to see you next Saturday night! (please don't hurt me)
Calling all HuffPost superfans!
Sign up for membership to become a founding member and help shape HuffPost's next chapter