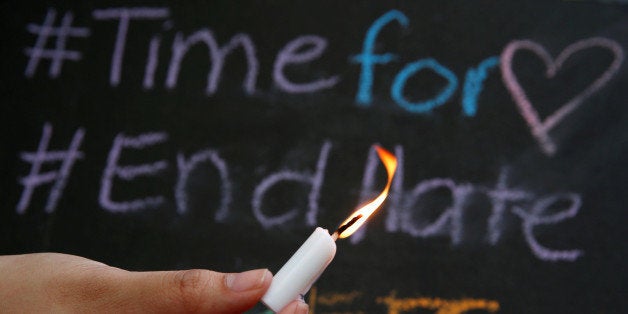 Over the last 48 hours I've come to know that I am fully and finally done accommodating religious hatred towards queer lives -- whether from foaming mouthed extremists from any religious tradition, or polite, "respectable" religious denominations with which I most closely identify.
I'm done. It's over.
How utterly pathetic that it took 49 lives slaughtered for me to pack up my "thank you for your point of view on why queer lives are not fully human" table and close shop.
For too long I have tolerated "Setting a big tent" and "Allowing many points of view" and "Dialogue" when talking about LGBT people as if our lives are up for debate and as if the jury is still out on our humanity, our dignity, or our being made beautifully in God's image.
Fuck "love the sinner, hate the sin." All I hear in these conversations now is death.
Recently, a woman associate pastor who is the lifeline for closeted LGBT people in her congregation told me that the senior pastor insists that their church be "Welcoming and NOT Affirming."
Prettified permission to kill others, petrified permission to kill self.
I'm done. Silence = Death.
There is no more debate on queer lives. I will love and be loved and my love is not a question mark in your canon. I will not debate at your annual gathering. There is either death, or life. I will choose life. I will give life. Everlasting.
And now, a benediction from Angels in America:
"The world only spins forward. We will be citizens. The time has come. Bye now. You are fabulous creatures, each and every one. And I bless you: More Life. The Great Work Begins."
CrowdRise has listed a number of ways to help. Donate here or through the widget below.
Related
Popular in the Community