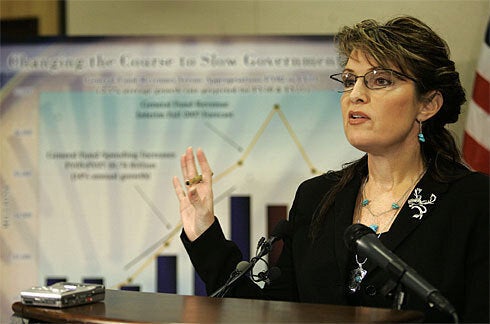 I think politicians' families are totally off limits. Children are meant to be seen and not heard about. The second they finish the People magazine photo spread, that's it. Mum's the word. Or grand mum. Or whatever Sarah Palin is.
The Palin Family is private. That's why Sarah Palin never, ever mentions her son in the army. Except for eleven lines into the first speech she ever gave as the nominee.
"Our oldest son, Track, though, he'll be following the presidential campaign from afar. On September 11th of last year, our son enlisted in the United States Army. Track now serves in an infantry brigade. And on September 11th, Track will deploy to Iraq in the service of his country. And Todd and I are so proud of him and of all the fine men and women serving the country in uniform."
Except for his name, rank, serial number, when he enlisted and where he's being deployed, not another word.
I also think big families like the Palins are great. Hitler was the fourth child in a run of eight, and Pat Buchanan says he grew up to be "an individual of great courage, a soldier's soldier in the Great War (and) a political organizer of the first rank." And Sarah Palin used to wear a Pat Buchanan For President button, so it's all cool. We're all on the same page there.
And the Palins might seem kind of embarrassing right now, with the domestic abuse and the snowmobiles and shotgun weddings, but they could turn out to be an American dynasty. You know, like the Snopes.
They're good country people. They might be just the breath of fresh air a state funeral needs.
But their family is their business. Except the one (9/11) in the army (9/11). It's all personal and private, and we have to back off, because treating Sarah Palin the same way we'd treat a male politician is sexist. Or something. We should judge her on her positions, if we knew what they were, and her achievements, if she had any.
Here's where I get off board with Sarah Palin's privacy: The baby blanket.
Sarah Palin could have left the kids at home when John McCain called her to Dayton to be his vice president. (It can't be cheap to buy fifteen plane tickets on three minutes notice.) But she couldn't leave them at home, of course. Her family was the whole point.
So what to do about the pregnant, ashamed teenager?
Not John McCain's problem. Get her on the stage.
How do we cover her up? I've got it! We'll make her carry the Down syndrome baby! And a blanket! (Put on this black dress, it's slimming. And we'll have it taken in for the funeral.) Look: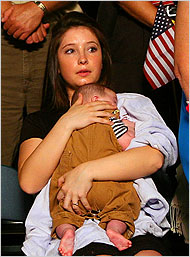 Photo by Jim Wilson / New York Times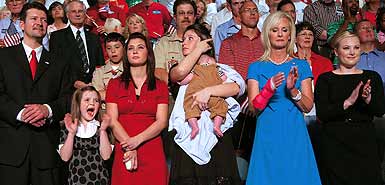 Photo by Jim Wilson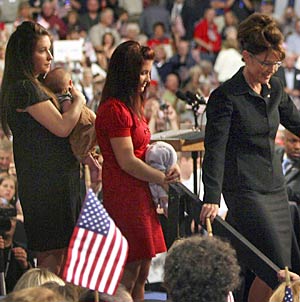 Mary Altaffer / Associated Press
Look at her face. My heart breaks for this young woman, and I think I've made it pretty clear that I'm an asshole.
You'd have to be the worst parent on earth to do that to your daughter to get a job.
Popular in the Community