I am fat -- not curvy, fat. I have a fat stomach and I jiggle when I walk. I am most likely going to be the fattest person in the room at all times and I gladly accept that role. I adore my body and I don't hate myself. I love all of my imperfections and dimples. I never want to be skinny.
Society tells me that this is a radical notion. It's not. There are more girls like me out there. We just aren't given space to be visible. I feel like I was put on this earth to be colorful and take up space and I am not ashamed.
We are told by the media that we need to live in shame, stop eating seventeen cheeseburgers, and hide our bodies. We are told to wear something "more flattering" and "not to show so much skin" and "put your boobs away Melissa, you are scaring the children." Oh, I'm sorry, I would have cleavage even if I wore a turtleneck and I'm sick of trying to hide it.
We are also told that no one is going to want to have sex with us, especially someone conventionally attractive. Just look at any women's magazine -- not a dimple in sight! My own father told me when I was 10 years old that no man would ever want to hold my hand unless I lost weight and stopped biting my fingernails. LOL@dad, they want to do so much more than hold hands now.
I am fat and I have casual sex with strangers, attractive strangers even. Recently I took a roadtrip with my mom from LA to Oregon, where I live. It was an impromptu mini vacation before I move to Portland to go back to school for my art degree, start a boudoir photography business and live amongst other body-positive, sex-positive women like myself and the beautiful beards that love us.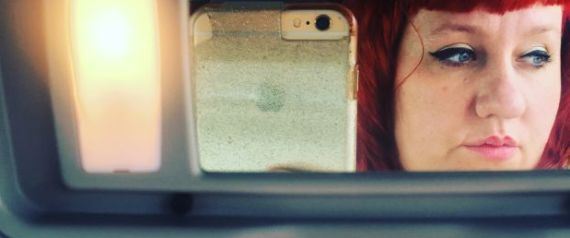 Roadtripping with my mom.
My mom loves to draw everything out, so she was only willing to drive three hours per day. This meant that we stayed in four different hotels over five days. Partly inspired by Amber Rose's Slut Walk, which was happening at the same time as my trip, and partly out of my love for new adventures, I started swiping right on men and women on Tinder as I waited to deplane at LAX.
I follow Amber Rose on Instagram and I find it infuriating watching other women tear each other down for what they choose to do with their own bodies. I also find equally disturbing the entitlement some men demonstrate when a woman chooses to display any amount of skin or overt sexuality in their presence.
To me, being called a slut isn't degrading. I see it as empowering and symbolic of me taking ownership over what I choose to do with MY body. My fat beautiful curvy soft body.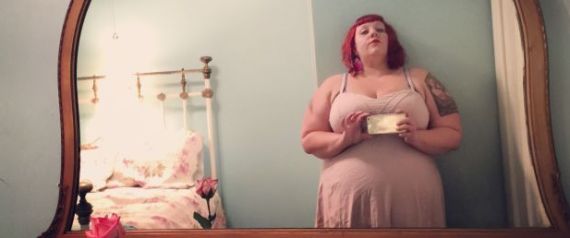 San Luis Obispo, CA
Much to my surprise, people in LA utilize Tinder's "Super Like" option like nobody's business, making my quest for adventure that much easier. Before I got to my first hotel I was talking to six or seven very attractive strangers. I have found that most men who want casual sex aren't creeps or rapists. They just want to feel pleasure and make a connection however brief, just like me.
Sex doesn't have to be a big deal. Sex doesn't need to equal love for it to be mind blowing. It can also be about mutual pleasure and the way two or more bodies fit and complement each other.
I have a pretty strict vetting process for picking up men and I have never had any problems. I have pictures on my Tinder profile that are quite suggestive. If a man can have a normal conversation with me without getting gross and demanding, I give him the green-light and we keep chatting for a bit until we agree to meet up. I find it's easy to pick up on the entitlement factor, and that is a major red flag. Just because a woman is showing skin doesn't mean you have the right to expect sex from her.
While every woman should feel empowered to say no, she should also feel equally empowered to say yes. Sometimes we meet for coffee, sometimes we go on an actual date, sometimes I go to their house and we are having sex within 15 minutes and sometimes they come to my hotel room at 2am and we bond over Louis C.K. and then laugh a lot and start going at it and it feels like old friends. It really just depends on the vibe I am getting and whatever is mutually agreed upon.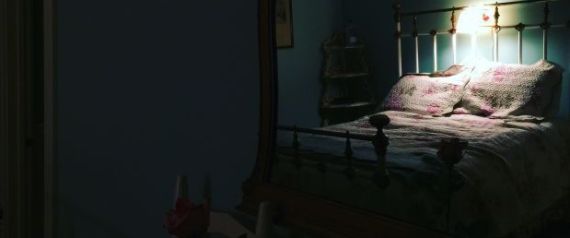 This bed won't stay empty for long.
Over the course of the next five days I did say yes. I had my own multi-city-state Slut Walk in a different city every night, with my mom staying in a hotel room right across the hall. Oddly enough, two of my hookups visit Portland rather frequently. Round two has been discussed and I am sure will happen at some point in the future.
Each guy was attractive in his own way and made me feel comfortable and was respectful. Mutual respect is required even when nothing respectful is happening. My best friend coined this and it has stuck with me and come to define the way I look at sexual relationships.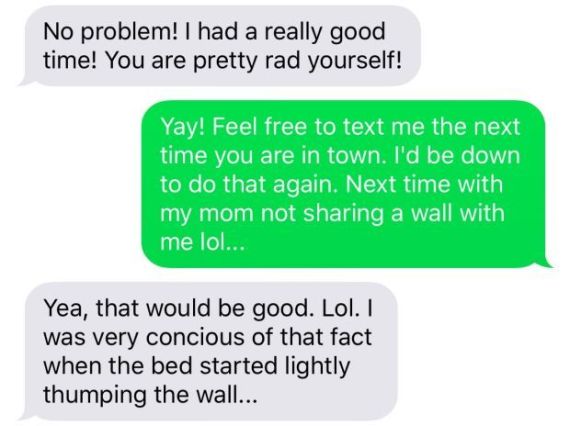 Dirty talk with the musician.
When I first started meeting up with strangers, I would make sure to warn them that I am "not a small girl." I think I was holding on to the last bit of self-consciousness about my size. I felt like I had to issue a warning, like "brace yourselves boys, I'm a fatty."
I have since stopped doing this. All of the men I have ever talked to have been nothing but complimentary about my body. I have never had anyone see me in person and walk away or stand me up.
I am currently the biggest I have ever been and at the same time I feel the sexiest and most present in my body that I have ever felt in my life. I am no longer afraid of my desires or being naked in front of others. I own my sexuality and my choices. I have a certain number of sexy individuals to thank for that. And no, I'm not telling you my number.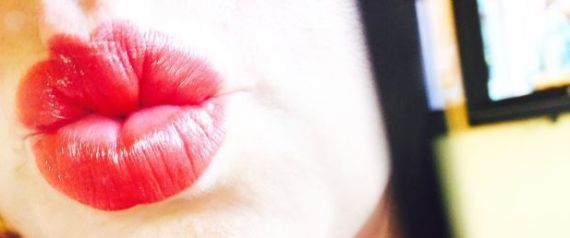 Kiss me. Kiss me. Kiss me.
Like Us On Facebook |

Follow Us On Twitter |

Contact HuffPost Women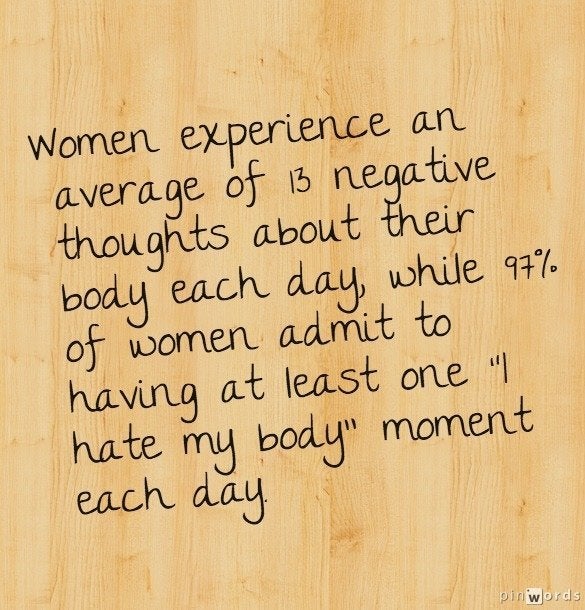 Facts About Women And Body Image
Related
Popular in the Community