My friend Dave Lieber proposed to his wife via a column in the Fort Worth Star-Telegram. It became the title of his successful book, The Woman of my Dreams but the Dog of My Nightmares.
I thought about borrowing Lieber's strategy as Karen Thomas, the woman of my dreams, (who owns the dog of my nightmares) lives in Winchester, Kentucky and the Winchester Sun carries my column.
I decided that I didn't want to plagiarize Dave. I developed my own proposal plan.
I made a reservation for Jeff Ruby's restaurant in Louisville.
Jeff was a dear friend of my father and pallbearer in dad's funeral. Ruby is now one of the most successful restaurant owners in the region. I knew that Jeff would provide the perfect dining experience for a proposal.
Karen agreed to marry me, but we had a couple of bumps along the way.
I had checked "anniversary" on the online reservation as I wanted a private booth. I didn't want to make my pitch in front of someone leering from the next table.
Got the booth, but the hostess, waiter and staff at the entrance greeted us with "HAPPY ANNIVERSARY."
When Karen asked what anniversary they were talking about, I told her "the first one" and gave my pitch, which I had written out in my semi illegible handwriting.
After three or four attempts to read it, she grabbed her reading glasses, figured out what I was asking and said yes.
I felt like I won the lottery. And handling it better than Powerball Jack Whittaker or some of the "lottery losers" that I write about.
She then got up to use the bathroom. She fell on the way back to the table and broke her thumb.
We made it through dinner but spent the rest of the evening tracking down an urgent care center, getting X-rays and a cast. She has surgery this week.
I knew she had to be really hurting. She shakes off pain like Sylvester Stallone in the first Rocky movies.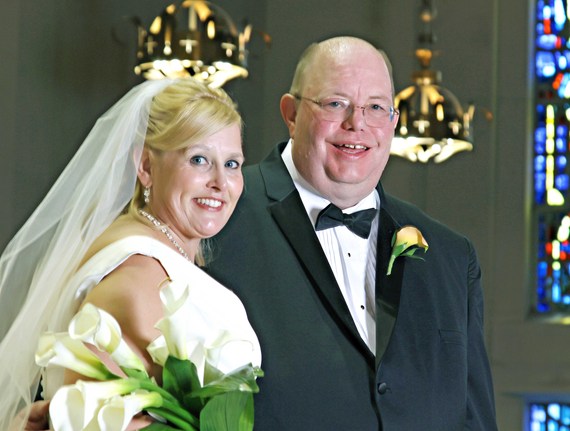 Karen grew up on a dairy farm. Cows have to milked and fed, 365 days a year. She is now the principal of a large Catholic school in Lexington and doesn't want to hear about aches and pains.
Unless she is infected with Bubonic Plague, Karen is going to make it to the classroom.
She will have her ring to remember the moment, but she will also have her thumb. It will seem funny someday in the future, when the swelling and bruising die down.
She found a ring she liked and I purchased it. I stunned her by getting down on one knee, presenting the ring, and asked her to marry her again.
It wasn't the question that stunned her. It was that with my age and body type, I was able to get down on one knee.
More importantly, I was able to get back up.
Inspired by Toby Keith, I'm as good once as I ever was.
Karen and I come from very different backgrounds. Her father is a successful dairy farmer in Cecilia Kentucky (outside of Elizabethtown) and her mother a retired school teacher. Her parents and siblings have college degrees and beyond.
My father was a professional gambler in Northern Kentucky. Until this May, I was the only McNay to graduate from college and the first to graduate from high school.
Karen is media shy and will never brag on herself. I operate in a totally public spectrum. I tell the world about my finances, my weight, my family and what I think about the Chairman of the Federal Reserve Board.
It would never occur to her to write a public statement about our engagement. It would never occur to me not to.
We are both very independent and have been single for several years.
During that time, she raised three wonderful children. An accountant by training, she made a move into education. For a couple of years, she made the 200 mile round trip from Winchester to Cincinnati, two or three days a week, to get her Master's in Education and Montessori certification at Xavier University. She then taught at a private school. Along the way she got her Rank One and Principal's Certification from the University of Kentucky.
She writes for well-known education publications, speaks at national education conferences, and for the past seven years has been Principal at Christ the King Elementary in Lexington.
She didn't need me "to complete her." Her life was complete without me.
I stay happy and busy, but as Kenny Chesney noted, the idea of knowing "how forever feels" has an overwhelming appeal.
I look at my most successful friends and at my daughter and son-in-law. They are in stable and happy relationships.
Most of my friends have been married for a long time or got the right partner on the second try. Their marriages are partnerships built on love, sharing and trust.
When you look at merging families, households, incomes, and what to do with the pets, (Her dog hates my guts. Her cat worships me as an ally against the dog.) It can seem simpler to stay single.
Then I look at how she adores me. Which is a reflection of how I truly adore her.
So it all goes back to the Tina Turner question, "What's love got to do it with?"
In this case, everything.
I am going to find out how forever feels. Despite what Neil Warren says.
Don McNay, CLU, ChFC, MSFS, CSSC of Richmond Kentucky is an award-winning financial columnist and Huffington Post Contributor. McNay founded McNay Settlement Group, a structured settlement and financial consulting firm, in 1983, and Kentucky Guardianship Administrators LLC in 2000. McNay has Master's Degrees from Vanderbilt and the American College and is in the Hall of Distinguished Alumni of Eastern Kentucky University. McNay has written two books. Most recent is Son of a Son of a Gambler: Winners, Losers and What to Do When You Win The Lottery. McNay is a Quarter Century member of the Million Dollar Round Table and has four professional designations in the financial services field.