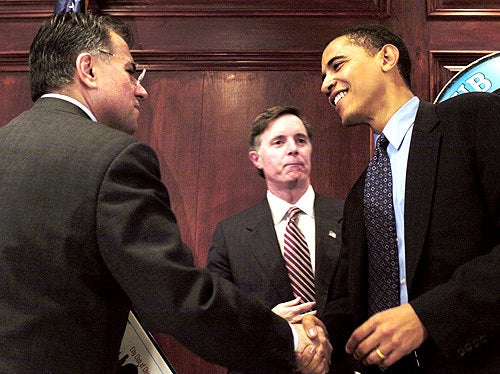 Right after a U.S. Senate debate at the Abraham Lincoln Library in Springfield, Illinois in 2004, then-State Senator Barack Obama approached me, leaned over, and quietly offered: "I wish we could get these five others off the stage so that just Gery and I could debate the issues."
Obama was talking about my boss at the time, Gery Chico, whose campaign I was managing in a seven-way Democratic primary race for the open U.S. Senate seat. Besides Obama, there were a few other potential heavyweights: State Comptroller Dan Hynes, Cook County Treasurer Maria Pappas and multi-millionaire businessman Blair Hull.
As is usually the case among loyal campaign aides, I sincerely believed my horse would make the best U.S. Senator amongst the field. Gery had been a partner in two large law firms and had served as chief of staff to Mayor Richard M. Daley. Gery had also taken on the herculean challenge of becoming President of the Chicago Public Schools in 1995. Three years later, the CPS was praised under his leadership by President Clinton for increasing accountability, raising test scores and rebuilding educational facilities across the city.
Gery and Obama's professional paths had crossed years earlier at the Chicago law firm of Sidley Austin. And while the State Senator may have just been schmoozing me up after that debate, it was clear to several in the press during the campaign that the responses and solutions coming from these two men were easily the most thoughtful and serious of all the candidates. Often times, candidates find it difficult to compliment one another during the heat of a political race. And Gery was no different behind closed doors. But I could always tell that underneath his steely remarks sat a stubbornly grudging respect for Obama's mind.
One time in particular during the race, Obama tried to butter me up. After the main program at a CityPAC fundraiser we were both attending unrelated to the campaign, he cornered me and put his arm around me as if we'd known each other a decade. He left me with a message in that same quiet fashion, but this time it was direct and solicitous: "Now, don't forget me, Golden. If Gery gets out, don't forget me on that Latino vote. Don't forget me, Golden."
As a Mexican-American, Gery would have been the first Latino ever elected statewide in Illinois to federal office. And with Gery's deep experience in Chicago's wards and local politics as top aide to Mayor Daley, we were running vigorous messaging and grassroots effort to get out the Latino vote in Cook County. Obama knew this. Obama wanted Gery's endorsement if the time came. We lagged in the race, but in a typical show of phony campaign bluster, I told the Senator to forget about any early exit. My horse was just getting into position and we'd see him at the finish line with smiles on our faces.
The rest of that race had some ups and downs and Blair Hull did take the lead for a stretch after spending more than $20 million of his own money. But ultimately, Barack Obama emerged to wax the field, earning 53% of the vote. The second-place candidate finished 30 points behind - and it wasn't us.
After that, Gery and I supported Barack Obama's general election campaign and also his successful bid for the presidency three short years later. Along the way, I worked with Obama and his staff when he came to help raise money for the last candidate I managed, U.S. Rep. Melissa Bean, who was victorious in the 2006 mid-terms (the night the Democrats took back the House and Senate for the first time in a dozen years).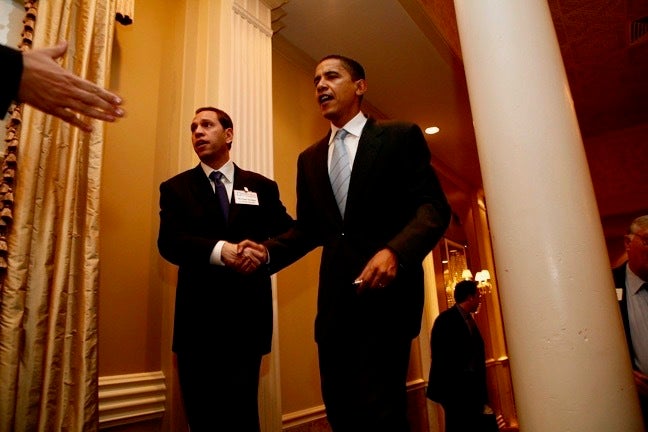 One year before Barack Obama launched his first campaign for the White House, I had cofounded a non-profit community college scholarship program in Chicago called One Million Degrees (formerly IEF). And in 2008, as we held our first annual Food + Wine Tasting Annual Fundraiser, my relationships with the folks in the offices of Senator Richard J. Durbin and Senator Obama helped to secure both Illinois stars as our event's Honorary Co-Chairs. It was a confidence-inspiring thrill for our nascent OMD team.
Following Barack Obama's historic election and re-election, I've cheered him on as a citizen, visited the White House as a higher education advocate and written about the President's relationship with Congress as an author. This is not the place to make a comprehensive case for Obama's presidency - and I don't know a single American who's approved of every decision he made on behalf of the country. It's kind of a hard job. But I do firmly believe that the man was an epic role model in the presidency, and that on the whole, the incredibly perilious time and tasks he took on eight years ago has resulted in our country being far better off than when he inherited his responsibilities. And in the stretch of years ahead, history just may judge this president in glowing terms.
I'm lucky. The candidates I managed for several years in U.S. House and Senate races were all high quality people. And today I share close friendships with more than one of them. Gery holds a special place, though. More than a friend, he became a mentor, adviser, business partner and ultimately something more akin to an older brother. He would have made an excellent U.S. Senator. Still would.
The deflating feeling of defeat in any long campaign connects with your gut like a sucker punch you never saw coming - no matter how many points you might already have been expecting to lose by. But 12 years later, it's pretty damn easy to say: I'm so grateful that Barack Obama was elected U.S. Senator from Illinois. Our little loss very rapidly became a huge national win. 
Calling all HuffPost superfans!
Sign up for membership to become a founding member and help shape HuffPost's next chapter