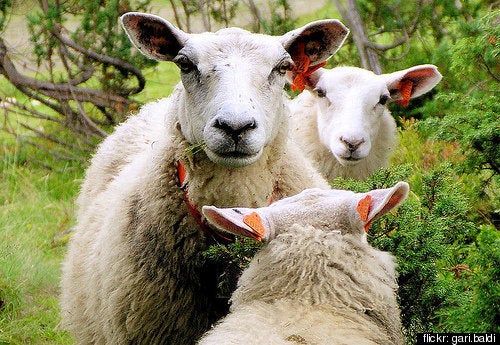 This weekend I'll be attending a Greenhorns event in upstate New York called the Hogget Cook Off. It's the first of a two-day event that centers around basic butchering education, but the buck doesn't stop there. Every aspect of processing the animal will come into play. The fleece will be shorn and cleaned for spinning. The fat will be turned into soap. The hide will be tanned and the meat will be eaten. All of these sheep adventures will be presented to a hands-on audience of scrappy young farmers who will be attending the event. Some will have land, others will rent--a brave few will have just started entertaining the idea of a grass-fed career. All of us are following our gut to Kinderhook Farm, in Ney York's Hudson Valley on the first official day of Spring. I'll be showing up as a young shepherd chomping at the bit to learn.
To some it may seem odd, or even revolting, to spend a day centered around an animal's death. But this Animal Welfare Approved event isn't about slaughter--it's about community. The pasture-raised lamb (a hogget is a sheep under a year old that has never been shorn) will be treated with the utmost respect and gratitude from the lot. The crowd will be current and future sustainable farmers, people who strongly desire to opt out of the illusion that meat comes from the land of styrofoam trays and shrink wrap. These are people (like myself) who are hoping to raise meat on their own farms. The point: to be part of the solution that ends the demand for factory farm meat. More farmers raising free-range animals means less assembly line lamb chops. Events like this are a wake up call to a culture becoming more and more suspicious of industrial food.
I was talking to a friend in the office about this earlier this week, and his response was pretty common. He said being a part of something like that would surely turn him into a vegetarian--just the thought turned his stomach. I can see his point. It won't be pretty, but it will be important. What may turn one man into a vegetarian is probably what's going to turn me into a meat eater again. I mean that in the most best way possible. I'm a vegetarian that will return to local carnivory only when I am assured the animals on my plate lived the best life possible, on my own farm or at the farms of friends. The Hogget Cook Off is a practice of that life choice. When it comes to my food, I want to look it in the face before I sit down to dinner. I want to know how it lived, see how it was treated, and make sure other animals are given the same dignity before their own demise. It takes all kinds to make this world turn on a slightly kinder rotation, some of us just have sharper teeth.
It's a celebration of the Vernal Equinox, but it's also a celebration of a lifestyle. If not the life the greenhorns have, then the life they desperately want. Whether the attendants live in Brooklyn or the farm next door they're coming to Kinderhook, yes, to learn how to cut up a sheep, but also to meet other people who want to spend their Saturday learning how to cut up a sheep. It's not exactly a check-off option on e-Harmony.
I'll be going to learn about processing animals, something very important to me. I myself raise sheep and hope to start breeding lambs for the table next spring. I'm looking forward to the hands-on aspect of the work, but more so I'm looking forward to the conversations and company I'll keep for those hours. A chance to stand outside in the dead grass among people who share your love of rotational grazing and heirloom beef cattle is a recipe for a very specific kind of happiness. It proves that even among twenty-something's networking doesn't always require a Facebook page meet up and a drink at a bar. For some of the feral ones, it just requires a dead sheep. I'll take it.

Calling all HuffPost superfans!
Sign up for membership to become a founding member and help shape HuffPost's next chapter