A BBC video clip of Joe Biden jokingly embracing his Irish roots went viral Saturday as news of the president-elect's victory garnered cheers from Biden's fanbase in both the U.S. and Ireland.
The clip was part of a BBC broadcast announcing Biden's victory, which included a supercut of scenes from the campaign trail, from his earlier bids for president in 1987 and 2008 and from his tenure as vice president under Barack Obama.
"Mr. Biden, a quick word for the BBC," BBC's New York correspondent Nick Bryant can be heard asking.
"The BBC?" the president-elect said before responding with a smile: "I'm Irish."
The exact date of the clip is unknown, but the lack of face masks suggested that it was archival footage.
Nevertheless, it quickly went viral on Twitter. Irish voices praised the president-elect as "relatable," and some speculated on what a Biden presidency would mean for U.S. relations with Ireland and the U.K., which is in the throes of Brexit.
British politician and leader of the Brexit movement, Nigel Farage, was quick to weaponize the video for his own purposes.
Ireland's taoiseach (prime minister), Micheál Martin, did not comment on the video, but he was among many world leaders who offered congratulations to both Biden and Vice President-elect Kamala Harris. "Joe Biden has been a true friend of this nation throughout his life," Martin said.
When news of Biden's victory hit the town of Ballina — located in Ireland's County Mayo and the hometown of the president-elect's great-great-great-grandfather — revelers celebrated in the streets.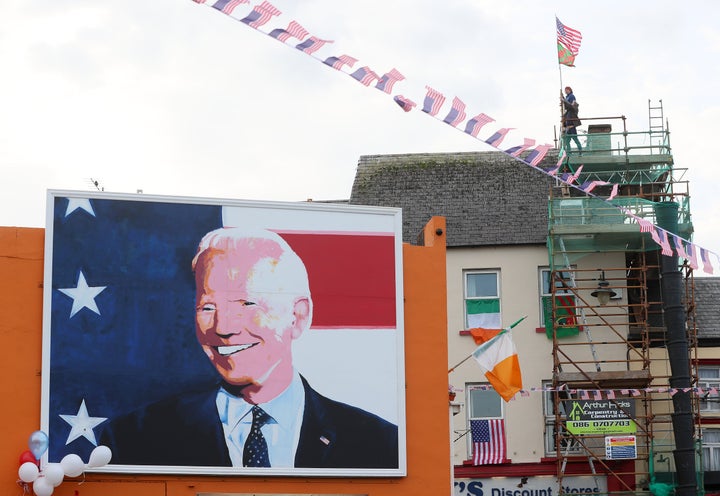 Popular in the Community