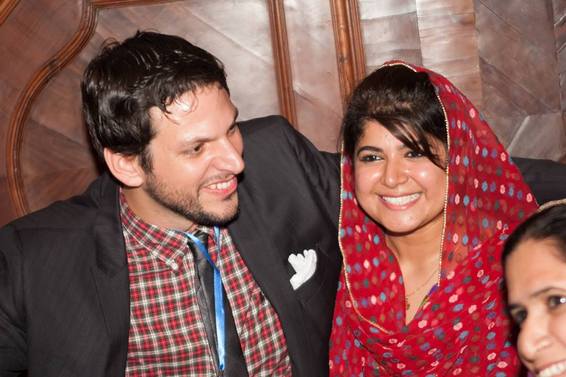 I first met my in-laws outside baggage claim of Marco Polo airport, Venice, Italy, on September 11, 2014. They arrived on a flight via Dubai, originating from Karachi, Pakistan.
My fiancée, Khalida Brohi, a dedicated advocate for women's rights in Pakistan, waited with me, anxious for her parents to emerge. The attendant who had wheeled my mother out pecked impatiently at her smartphone. My mother was excited, but clearly exhausted. Her face drooped despite her smile. A soft jersey cap covered the seedlings of her post-chemotherapy hair. Carol beside her was weighed down in luggage. Representatives of the Pilosio Building Peace Award gala, the event that had brought us here, waited only steps away where they were facilitating the arrival of their other guests, including Kofi Anan.
I rocked side-to-side, nervous, eyes darting between doors, trying to catch my first live glimpse of my in-laws.
Plain-clothed Carabinieri (the Italian equivalent of U.S. Marshals) with badges hanging from their necks, jeans and sunglasses ala Jack Bauer, were stopping random South Asian men. The passengers looked perplexed as they were led back into the bowls of baggage claim before reaching the light of day. This concerned me (obviously), as I feared my in-laws -- both clearly South Asian -- were being detained in some corner out of our reach, threatened with deportation. It had taken a lot to get both families here for our first-ever live encounter, and the thought that some over-zealous cop could blow everything at the last moment fueled my anxiety.
Obtaining visas had not been easy, despite the obvious respectability of my new family: My father in-law (who we affectionately call abba) is an expert researcher and former journalist in Karachi who speaks flawless English; his wife (ammi) is the mother every child dreams of having. Together they are raising 11 children, including their future daughter in-law, and a baby they adopted from a young man, an orphan who they had had a hand in raising, and whose wife passed during childbirth. These exemplary human beings were denied visas by the Italian Consulate the first time they applied, despite copious documentation on the nature of their visit. It was only due to the persistent coaxing by the good people at Pilosio that they were finally granted entrance.
It felt as if I were shrugging-off a hundred-pound sack of rice as I trotted to meet them. Abba came out first. I bent down to touch his feet and then my chest, a sign of respect, but he thwarted my gesture. Awkwardness followed as he tried to pull me up, saying lovingly, "No, no, don't do that." We hugged. Then I turned to do the same for ammi, this time less awkwardly. We embraced deeply. For a long time she and I stood there hugging. Tears came to our eyes. We were overcome by the joy of finally being in each other's company. Her suitcase fell over, blocking other passengers as they were exiting. But we didn't care. We stood there, still hugging.
After an hour, the moment I had nervously awaited finally arrived. My mother had already disappeared into the taxi van that had been waiting outside. I carried luggage to the waiting van, new family in tow. Everyone met each other. It was beautiful. It was exciting, awkward, warm and congenial. Ammi doesn't speak English, and my family doesn't speak Urdu or my fiancée's tribal language of Brahui. But love and kindness have their own universal gestures, and it is amazing how quickly we all remember them when the moment calls.
And then we were six, snug yet comfortable in the van as we motored off to Piazzale Roma where we would meet the water taxi that would take us to our apartment.
The following evening we attended the Building Peace Award gala, presented by Pilosio. It was grand. As a family, our primary responsibility was to witness my fiancée inspire the world, which she does effortlessly. She works tirelessly to better the lives of rural women in Pakistan. She inspires them and educates them in basic literacy, as well as their rights under Islam. The faith that their husbands use to subdue them in fact enshrines principles that set them free. In Islam, women are meant to stand shoulder to shoulder with men, and Khalida makes sure that these women know it. Most important, she helps women to transform the way in which they see themselves.
The other speakers and attendees that Pilosio had brought together were equally extraordinary, including Nobel laureate Betty Williams, and Save the Children CEO, Carolyn Miles. We were all there to honor an amazing person, Samia Naba Nkrumah, for her political and humanitarian work in Ghana, and her vision to build a national library (as pictured above). It was a rare honor to hear each of these game-changers speak.
But the real event that brought our two families together came the day after the award ceremony. It was our engagement ceremony. Khalida and I had waited a long time to commemorate our parents agreeing to our marriage. Pilosio had generously agreed to put us all up in an apartment next to the Rialto Bridge in the heart of old Venice, where we could all live for a week as we got to know one another.
As an American who grew up watching all manner of proposals on television and in movies, I knew that an engagement was a private and personal moment; one that you share with friends and family only after the fact. For Pakistanis who see marriage as the bringing together of two families, the expectation couldn't be any more different. An engagement is a family affair with food, song and dance. So when it came down to it, I had no idea what to expect. But then again, nor did they -- or anyone else in our group. This was unfamiliar ground for all of us. There was no anticipating anything that would happen on this trip. There was no map for what any of us we were doing, nor were there instructions on how to bridge the worlds that we were bringing together. So, we made most of it up as we went.
Being a good future husband (which I am currently aspiring to be), I took my cues from my fiancée. We had each brought gifts for each other: gifts from my parents to hers, from her parents to mine, from her parents to me, and mine to her. Ammi brought me a traditional Pakistani outfit, a "shalwar qameez." Abba brought a silver bejeweled hat called a "topi," an elaborate version of the typical style of the men of Balochistan and Sindh provinces in Pakistan. They also brought me an ajrak, a large scarf with exquisite patterns worn by Sindhi men that they use for everything from covering themselves against dust to wiping their mouths. When her parents explained its purpose to me, it reminded me of Douglas Adams' description of a towel in the Hitchhikers Guide to the Galaxy (one of my favorite books, and one of the gifts that I had placed on the table for abba). In Adams' world of intergalactic nomads, the degree of respect given to a hitchhiker was determined mainly by his presence of mind to know where his towel was at any given moment. Now I had my own towel of sorts, which felt appropriate, since Khalida and I were becoming global nomads, or rather, global citizens.
We both looked gorgeous in our new engagement dresses, and yet completely out of place in our modern Venetian apartment. Our parents looked equally foreign. We were halfway around the world from where any of us had been born, amidst a foreign language and culture, but all very grateful to be there. We took more pictures, choreographed by my -- now official -- fiancée, as we symbolically recognized the beginning of our relationship, exchanging rings.
Over the course of the following days, Khalida and I explored the ancient city together with her parents, while my mother rested back at the apartment. Thankfully, I had had the presence of mind to take Italian classes back in college, expressly for this purpose. We glided easily and seamlessly everywhere: in the stores, on the streets, navigating via Vaporetti (the Venetian equivalent of the MTA, but with boats). People often soften when you make an effort to speak their language, even if poorly. Of course, there were those to whom the sight of us must've been like staring into a Picasso painting, one from his Cubist period; they didn't much care for the dissonance. Such people were the exception, and we were received warmly everywhere we went. From Murano to Burano, San Marco to Lido, we used our Vaporetto passes like museum tickets, touching every corner of the city.
It was hard to say goodbye. We parted at the airport. I treated them to one last Italian delight at the airport espresso bar: café latte, which I figured most resembled the chai that ammi had been making every morning. Abba and Khalida drank theirs dutifully, while ammi quietly stared into her glass. She was embarrassed yet grateful when I finally noticed and relieved her of the bitter milk that I had asked her to drink. We had a good laugh about it.
To prolong the moment, Khalida and I slipped away to buy stamps for the postcard that we would send to ourselves (we decided to do this in every foreign city that we visit together). After affixing the stamps to the card, Khalida pulled out her Sufi "Book of Life," which she often consults before embarking on a new journey or goal. In Islam, a beautiful faith that Khalida has brought me to, there are a multitude of names for God, each illuminating a different aspect of the Ineffable. This book had an entry for each. When consulted, the book reveals eerily accurate results for her, and this time was no exception.
She opened it to "al-Karim," the name that emphasizes the over-abundance of blessings that God provides. I had never seen this name before. Unlike the names that had been revealed to us in the past, each illuminating a possible course of action, this name emphasized pausing to express gratitude. My eyes began to tear. Gratitude could not begin to express the joy my heart felt. We had accomplished the impossible: we brought a terminally ill yet deeply courageous cancer patient from Los Angeles, and two rural Pakistanis, out of their respective comfort zones and into one of Europe's oldest and most prestigious cities. What's more, they all enjoyed each other's company! And while many people worked hard to make this happen, us included -- and especially the good people at Pilosio -- the coincidences and fortuitous circumstances that had facilitated -- indeed, permitted -- all of this, were too great for any human hand. I had been grateful to Allah the entire trip, but at this moment, we felt the presence keenly. Goose bumps. And in our gratitude too was the awareness of the ephemeral character of the moment. It was time to go.
Walking towards my gate, catharsis flooded me. The beautiful memories of our engagement in Venice seemed to erase every kind of stress, worry, fear and anxiety that Khalida and I had faced in the eight months that led to it. This voyage not only removed barriers between our love, but also between our two distinct worlds.
It is true that life for both of us is turning a new page, but the title of our book is still the same. We have both struggled to challenge systems throughout our lives, and now, as we embark on the journey of making the world a smaller and better place, challenges are definitely going to knock on our door.
We are ready to embrace the challenges and to stand firm in our beliefs -- of love, compassion, and light. For Khalida, it is to unleash the potential in rural women. For me, it is to stand by her, support her, and love her until the end of time.