Picture this in your head:
Small photos filled with perfect little people, filtered to make one look like they have slept for 10 hours, make-up that is perfection, & children who are modeling as if they are from a Gap ad.
Houses that are never messy, food that looks like it shouldn't be eaten, and craft projects that an average mom doesn't have time for during her everyday hustle and bustle.
That's what you would call Instagram.
I'm not hating on Instagram -- I'm a huge believer, and if anything I'm obsessed.
I have met my mama tribe on there, I goo-goo eye the prettiness, and I drink my coffee and envy the Pinterest-filled recipes and ideas.
But here's the real truth. I can't be as perfect as Instagram wants me to be.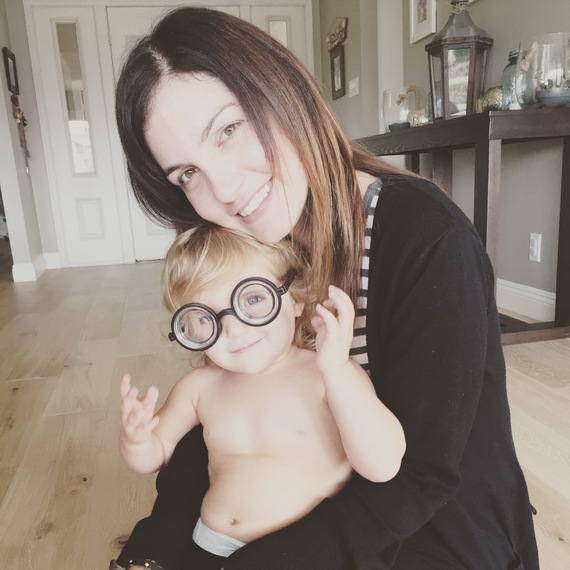 I don't have an Instagram husband who wants to or will take pictures of me. My house is as clean as it will ever be, and in all reality, there are always crumbs, piles of crap, and laundry on any given day.
I look like hell on most days, and taking a selfie or picture is on an excellent day. My squares are not filled with pictures from my Canon I got for Christmas.
I was trying to use my fancy camera, and up the ante on my blog. But when do I have time to capture the little moments in my life? Nine out of 10 times I catch everything on my phone. I don't have time to edit, crop, and filter.
When I was a newbie mom, and I was sitting in my loose black clothing, and 20 pounds overweight in my bed half asleep, I would scroll through Instagram and almost be in tears. I would ask myself, how come I didn't look like that every day?
I had black circles, greasy hair, and milk stains all over my clothes.
I soon realized that those pictures are inspirations to me, but they don't have to be my reality.
My reality, and message for mothers, was the non-sugar-coated, bare honest truth, and a look behind the scenes of what my life would be in pictures.
My pictures are of the struggle, the reality, and the sweetness of my life.
The relationships I have developed over this social media outlet are beyond my imagination. I have never met half these women, and I feel like they are walking behind me in this tribe called motherhood.
Everyone is just a picture away. We get happy when we see their smiles posted. We get sad when we see their struggles in words. We like their pictures, comment when we need help or praise them when they need to hear it.
The mothers of Instagram have different views, but we all have the same view, and that's the everyday life of a mother and our reality of what we feel is motherhood.
I just realized I'm not perfect, nor will I ever be perfect.
So welcome to my not-perfect squares, where filters happen to cover the real circles under my eyes, the frustrations of my day are documented, pictures of coffee mugs float around, and wine is poured to help me whine my struggles away.
The not-so-perfect Instagram mom.