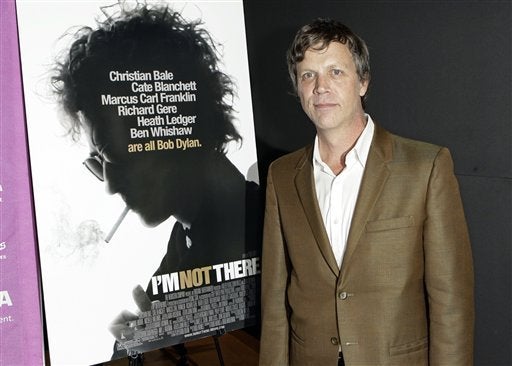 Todd Haynes has much to be thankful for this holiday season. Boosted by gushy reviews and positive film fest receptions, I'm Not There, the indie director's experimental, don't-call-it-a-biopic take on Bob Dylan's life, grossed over $1 million in limited release over the five-day holiday -- a career-high haul for the 46-year-old filmmaker. The film -- which features a sextet of different actors portraying various incarnations of Dylan -- is also generating serious Oscar buzz for co-star Cate Blanchett and former nominee Haynes (Far From Heaven) himself. Not bad for a $20 million flick that's been seven years in the making. Haynes recently spoke to the Huffington Post about the film's origins, his passion for Dylan's music, and the character that didn't make the film cut.
Despite making a entire film about Dylan, you've never the man in person. How did you negotiate getting the rights for his music? It was actually quite a simple process. I just wrote the one-sheet according to his manager [Jeff Rosen]'s description, sent it off, heard a positive response, and that was it. Of course, after knowing about the rights, I could have asked to meet with him or talk to him, but I never needed to do so to make the film.

Having been denied permission to use certain artists' music catalogs for films before -- namely David Bowie for Velvet Goldmine and the late Karen Carpenter for Superstar -- were you surprised you were approved? I still am. Seriously, I still am. It was the summer of 2000 when I sent off that thing and by the fall, we had word. It was that fast and that simple.
Has Dylan seen the film? We sent him a screener a few weeks ago but haven't heard anything yet. I mean, it would be disappointing if he never watched it, but I think he will eventually. I feel fairly untaxed about it; I just hope he laughs.
As part of the film deal, you were also initially asked to produce a theater show as well. Yeah, that was totally surprising. I didn't end up putting anything to paper, but that's how [co-screenwriter] Oren [Moverman] began his involvement with the project. Our running joke was that I'd ask him because of his background in the theater, which of course, does not exist, as mine does not. So it was great fun and exciting to come at it with an innocence and complete lack of theatrical training. I mean, I did theater in high school and college, but nothing beyond that; we sort of thought that made us better people to think about the project because we didn't have that baggage and so he got involved with the different stories at the very beginning as we tried to think of theatrical and style equivalents to put it on the stage. But at some point, the Twyla Tharp relationship began, and that's where this idea got diverted. So it never really happened and was never expressed directly. Who knows -- maybe they still want me to do it.
Did you ever conceive of the film with a more straight-forward narrative? No. In a way, the purity of the whole thing is that the idea, what first began as seven characters, came part and parcel with the idea of wanting to make a film about Dylan. I thought it was a good way of dramatically cracking something about him, this character that was true to him, but was also a format that was as innovative as he was. And I kind of always suspected that if Dylan were to give permission, it would have to be something unusual and that was exactly what happened. So in a way, the multiple character concept was one and the same with getting permission, and one and the same with the idea for the film.

You mention seven characters, but only six are in the film. What Dylan variant got the axe? As described on the one-sheet, the seventh character was named Charlie; he was going to be a one-off story that occurred through one of Woody's fanciful tales. When Dylan came to New York in the early 1960s, he was described countless times, mostly in the way he performed in his first stage appearances, as Chaplin-esque. He had these baggy pants and this little urchin face, and he would do little bits of business where he'd slip off his stool and his hat would fall off and he'd put it back up again and it'd fall off the other side, and the first ways that he adapted classic blues songs to his own theme, in the folk tradition, were humorous and had a tramp-like quality to them. So this seventh character was a silent-screen, Chaplin-like Dylan, who performs these little feats of magic and whimsy in Greenwich Village and ultimately resolves the conflict between the Beats and the Folkies, a very Romeo-and-Juliet moment.

How was the writing process for you? I actually left Portland to start serious work on Far From Heaven in 2001, and when I left, I'd already written a draft of the script. It wasn't until all the Oscar stuff was over in 2003, that I decided to push it aside and start from scratch with a research project and be methodical about it. So writing took most of that year. I don't remember when I brought Oren in. I had written several drafts myself, and was overwhelmed by the scope of the material and drafts, so was happy to have him. When I look back on that early draft now, it really is true to the film.
Was the film easier to write having never met Dylan? I don't know. I had no interest in putting Dylan in the position of giving me encapsulated truths about his life, because what he would have decided to share, and the weirdness associated with it, would have been not worth what I got out of it. That's not what the film is really about; the whole spirit of the idea was several steps removed from his own personal encounters. Just reading [Dylan's 2004 autobiography] Chronicles was enough. There's no greater gift that any pop culture singer has given to his fans in recent memories than that book.
What was the focus of your research? I started with all of his work -- his published writings, his lyrics, all the records and unreleased material and all the biographies written about him. From there, I tried to follow, to my best abilities, his own creative influences, starting with folk music and traditional music, Woody Guthrie and his writings, and then expanding into the symbolist poets and beat poetry. I also read and heavily notated the Old Testament for the film. All the while, I had files for each of the characters, and would then deposit all of the materials, songs, pieces of stories, accounts, lyrics, biblical quotations, as they applied to the characters, in my mind.
So basically, this was a beyond tough sell to the studios. Very much so. But that was exclusively due to the script. Sadly, if I had come to the studios with the same package of Dylan-approved music rights and this cast of actors and pitched an ordinary, paint-by-numbers standard biopic, they would have just grabbed it. But of course it never would have come into being, because I never would have gotten the rights from Dylan. But that's not to say I don't understand how hard it was to read that thing, how unusual a script it was to read. It was just what the general climate of risking-taking was in those years at the studios in Hollywood.