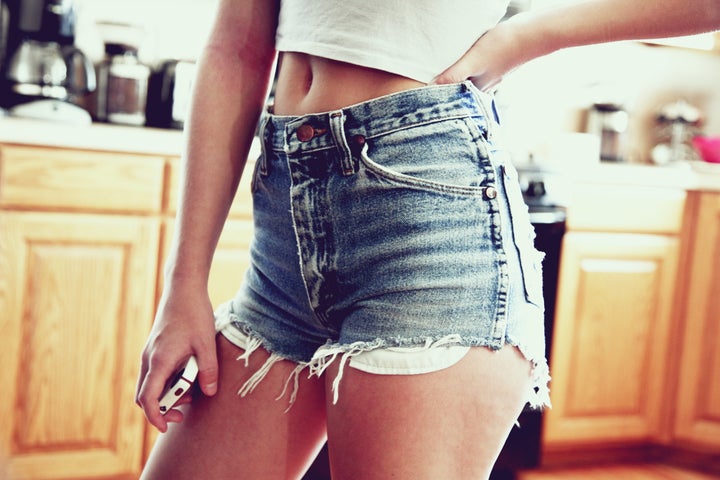 This is inspired by a girlfriend of mine who commented on my "booty shorts" when I thought I was just wearing normal shorts.
Reflecting back now, it does help explain the dirty looks I received from the waitresses at the restaurant under my friend's apartment when I was innocently trying to pick up my take-out.
I love clothes. I've always loved dressing up and having my own style. When I was a little girl, my dad let me dress myself as soon as I could pick out an entire outfit, and I have pictures of myself in these carefully curated outfits; one that comes to mind is 7-year-old me, wearing a pink and white dress, with one pink and one white shoe, and matching alternating color socks. I am still proud that I made all of my high school formal dresses (the best was Junior Semi when my dress was made out of a Twister mat) and wish I still had the duct tape skirt I made in 7th grade. I have always preferred thrift stores and the majority of my outfits are from where I like to call "Salvation Armani." The tradition that signifies the beginning of spring and that I look forward to all winter long is rescuing my summer clothes from the dark, cold, lonely attic and welcoming them back into my wardrobe. Summer clothes are my favorite, and I'll take floral flock over flannels any day.
Over the past few years, as I've been making the migration from the Junior's section to Women's, I've found myself in some predicaments over how to dress in the summertime. It is becoming harder and harder to find something to wear that I feel cute, comfortable, and conservative in (when I want to dress conservatively). I honestly think that new lines of shorts, dresses, and skirts get slightly shorter every year. There is little compromise between feeling comfortable wearing the same pair of shorts out in public and comfortable wearing them in 90 degree weather. Case in point: Right now, as I type this out, sitting in an air-conditioned coffee shop to gain a little reprieve from the 92-degree day outside, I keep catching myself subconsciously tugging at my cut-off, mom-approved, high-waisted Levi shorts, trying to pull them down a little bit closer to my knee cap. I'm not wearing these shorts to be sexy. I'm not wearing these shorts for people to look at me. I'm not wearing these shorts to show off the tattoos on my legs. I'm wearing these shorts because it is fucking 92 degrees. That's it.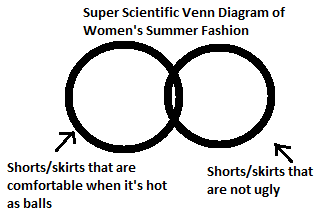 So, I guess one solution would be to buy up a few sizes so that the short will extend a whopping half inch further down my leg, but I don't really want to do that. All I want is to wear clothes I feel good in and that fit so that I am physically comfortable. Unfortunately, I don't see affordable women's clothing lines helping create a trend of extending the length of shorts and skirts anytime soon. The other solution is to exclusively wear longer skirts and dresses to try and stay cooler on hot days. Listen, I'd rather wear a dress than shorts or pants in almost every situation, however a mid-length dress or skirt isn't going to keep you as cool as shorts will. Plus, it's way more comfortable to wear a pair of shorts than a dress when I want to go for a bike ride or walk at Nay Aug Park with my dog.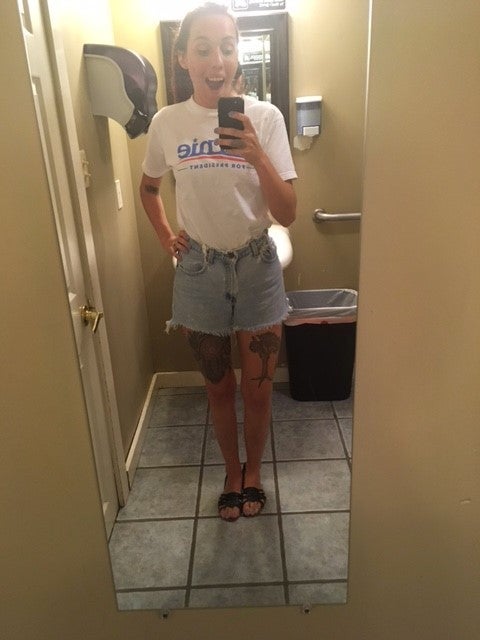 The ultimate solution, the solution that would actually fix everything, would be to figure out a way for society to stop sexualizing women for trying to stay cool during the hot summer months. I wish there was a magic way to unsexualize all women's summer fashion and teach people that the girl wearing the short lavender dress isn't a slut or trying to show off her body, but instead is just trying to wear something she feels good about- both temperature-wise and self-esteem wise. And we gotta educate other people, especially our boys and men, about this. Because it's easy to think that a girl is dressing a certain way for one reason, when the reality is totally different.
And ladies, it's okay to wear short-short booty shorts on purpose. It's okay to wear a short dress because it makes you feel sexy.
I just wish our culture could shift the immediate assumption that a woman is wearing shorts on purpose to show off her body, and instead replace that thought by recognizing that she's probably just trying to beat the heat because its 92 degrees out.
I mean, at least for me, it's not that I'm trying to be sexy, I'm just trying to not be so fucking sweaty.
Popular in the Community