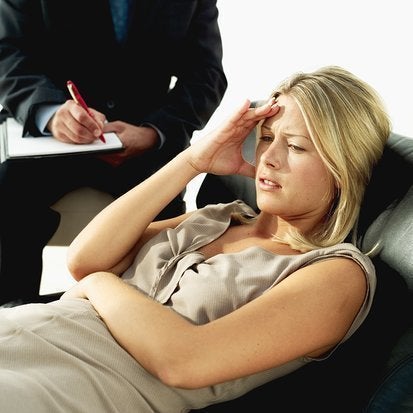 I think it's time we discussed your therapy. I am enclosing here the bill for your 158 missed sessions but that's not what's really important. I sense a disenchantment with me in particular and with psychotherapy in general. This despite the fact that we have made tremendous strides over the last 30 years. But never mind all that. I wanted to apprise you of certain professional choices I've made that will address your concerns and open new avenues for treatment.
I have become a life coach.
My three months of intensive training at the You Got It! Institute of Boulder, Colo. were eye-opening. Up until YGII I was unaware of "Facebook" and "Twitter" or that there existed a "fan page" about me, brilliantly crafted by you, with many lovely contributions from my other clients. As you know, I had been a strict Freudian and believed that an impermeable wall between therapist and patient was critical for unfolding the id and deconstructing the machinations of the super ego. How surprised I was, therefore, to see photos of my waiting room, my bathroom, my mother, even my ex-wife posted to my "page." I've decided to "go with it" and have created a "page" of my own. The link is pasted below, but if, like the previous 59 bills I've sent you, this letter fails to reach you, please see my tweet.
It may not be immediately apparent from my "page" but you will find out the next time you come into the office that I have shaved my beard and dropped 87 pounds. Furthermore I am ripped. Six-pack. Seriously. And also, no more "Dr. Weinblatt." You can call me Neil.
Another important point. I am no longer an actor. That is to say, in the interim between when you last came to the office and now, I started and ended an acting career. Jaime, perhaps the most terrific lecturer at You Got It! is also a former actor, as is Corkey. Actually Corkey was a sculptor first but he/she is much more of a former actor than a former sculptor. What the heck, he/she is a DYNAMITE life coach.
One of the things Corkey told me during the deep-tissue massage/orientation is that I have to stop tearing people down and start building them up. More forward, less backward. And forward is exactly where I aim to go with you next time you come by the office. "Your mother this," "your father that." Basta! What mother or father wouldn't let bygones be bygones if their beautiful son managed through dynamic goal-setting and high energy self-realization exercises to snag the role of Bustopher Jones in the Broadway revival of Cats! C'mon, We can do this! I have real tools! Binders, reading lists! You should come by.
I also wanted to point out to you that just because I am now in my new role more inclined to "share" "details" of my own life than previously, I don't want you to feel that I will "share" any of the many "details" of your life with my online network of 27,000 life-enabling practitioners. Of course, we as professionals tend to pool our knowledge, but always in an anonymous, fun kind of a way. In fact, after you and I settle up on those missed session fees I would be happy to add you to my network and let you join in on the fun.
Finally, it's important to note that while we life coaches conduct our business by telephone and email (or twitter!) I am still a licensed M.D. and am happy to meet with you in person to provide prescriptions for any medication you might need. My door is always open. So let's make good on what we owe each other. I can finally get that check and you can finally get that hug.
In short, you really should come by the office.
Popular in the Community