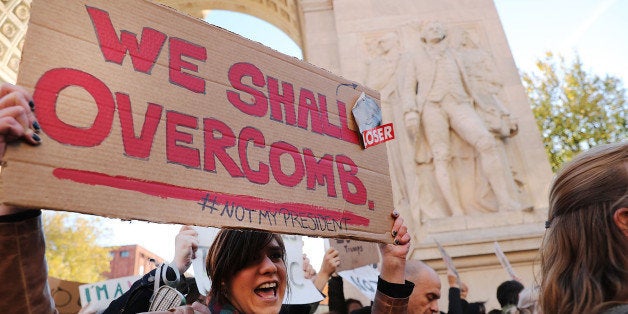 With Tuesday's news, it's hard to see how humanity will be able to solve climate change, heal racial divisions, defuse foreign conflicts, or create meaningful and dignified work for people who need it. Worse, this 18-month election has revealed a critical national deficit of love and goodwill --the most indispensable ingredients for a healthy society.
Still, I'm hopeful.

We've needed a wakeup call, and this is it.
While Hillary was, in countless ways, the more competent and compassionate candidate, let's face it: her actual presidency would have been a no-win proposition. She'd not only be entering the White House with a record shortage of trust, a hostile House of Representatives, and an extraordinarily angry electorate -- she'd also have to contend with a huge range of serious instabilities that are already baked into the system: growing climate chaos, inevitable market corrections, terrorism, racial strife, and rising structural inequality. Sure, she could have made incremental progress -- like continuing the EPA's Clean Power Plan or making a modest increase to the minimum wage -- but these solutions, dependent mostly on unilateral executive actions, are no match for the scale of the problems we face.
While Trump's decisions, from the EPA to the Pentagon to the Department of Justice, will be deeply damaging, he and his Congress will have to bear responsibility for the coming challenges.
In four years, there will almost certainly be appetite and opportunity for much more than the kind of piecemeal change that a Clinton Administration, reliant on executive actions, could have offered. There will be an opening for the kind of transformative change that our challenges demand.
Right now, it's up to us to start building a positive vision of the future and identifying the steps to achieve it. While I'm hopeful, I'm also aware that we have serious work to do.
Hillary's late-October decision to decline supporting the Standing Rock protests was a telling moment: Bowing to pressure from a handful of union members, she not only failed to stand in solidarity with a crucial civil rights movement--but also failed to level with the nation about the simple reality that we cannot continue building fossil fuel infrastructure.
This wasn't just a missed opportunity to energize the left- -i t was a missed opportunity to present an authentic and compelling vision to people across the ideological spectrum. After all, with the cost of solar slated to hit a dollar per watt, it's the free-market that's making the argument against dirty energy. It's been small-government libertarians and even the Koch Brothers railing against militarized police of the sort tormenting Standing Rock. And Trump's Rust Belt victory Tuesday was built on his attacks on the extreme consolidation of political and economic power that benefits firms like those building DAPL.
While Hillary thankfully turned around on trade, she largely ceded the issue because she didn't seriously address the big systemic problems with modern trade deals--problems that are emblematic of what needs to be fixed in our overall legal and economic structures. TPP, for example, isn't really even about trade. Of the agreement's 30 chapters, only six have to do with reducing barriers to exchanging goods and services. The rest of the deal is about giving the global corporations new privileges and powers--like extended patent and copyright protections to stop access to generic drugs or the right to sue taxpayers before panels of corporate lawyers over our health and safety regulations.
The Democratic party needs to organize around an agenda that takes the degree of our challenges -- and our system's flaws -- seriously.
We need to honestly address the fact that the economy is broken in the sense that it is failing both to protect the planet and to promote real human wellbeing. We need to get to work identifying trans-partisan solutions -- like large-scale employee ownership and just transitions for fossil fuel workers -- that can transmute the anger on which Trump has preyed. There's no shortage of these kinds of effective and unifying ideas.
As Vincent Bevins of Los Angeles Times wrote earlier this year, "both Brexit and Trumpism are the very, very wrong answers to legitimate questions that urban elites have refused to ask for 30 years."
In the years ahead, we'll see just how terribly wrong Trumpism is as an answer. We'll need to hold the new right-wing government accountable and ensure that it can't lock-in power through voter suppression laws or consolidation of the national security state. We'll need to brace ourselves for climate impacts and work to prevent all kinds of violence, including nuclear confrontations.
But, at the same time, we'll need to ask and answer long-avoided questions about the structure of our society and economy. I'm hopeful that we will.
Support HuffPost
The Stakes Have Never Been Higher
Popular in the Community