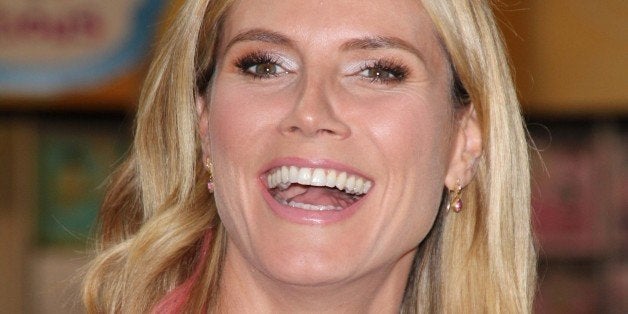 By now, all of us know of Donald Trump's offensive comment that Heidi Klum is "no longer a 10." It was shocking to hear this from someone who is making a bid for President. What is equally shocking is that Trump made this statement after facing public embarrassment and ridicule for other sexist statements such as, name calling Rosie O'Donnell "a fat pig" and suggesting that he would even date his own daughter in light of her "nice figure."
In running his campaign in this manner, Trump seems oblivious to the fact that the 19th Amendment of the US Constitution empowers women with the right to vote. Perhaps Trump should concentrate on running to be the judge of a beauty pageant, not the President of the United States.
Klum's two public reactions to Trump reflect what many women across the country are thinking about Trump. I applaud her responses, first with her video comeback showing that she is a 9.99, and secondly with her recent public comments that every woman is a 10. Her statement to Access Hollywood sums it up perfectly:
We juggle so many things and I feel that, you know, women who support their families, who have children, who make their lunches, drive them all over the place, work at the same time, I mean, we do so many things, so in my book, every woman is a 10.
The Trump-Klum debate highlights exactly what is wrong with our current views of women in society. As a starting point, how is it that Trump can even consider himself a worthy arbiter of a woman's value in society? Isn't it time that we reject the notion that any man (Presidential candidate or otherwise) be in a position to determine a woman's value based on a number?
Even if Trump had the right to judge a woman (which he obviously doesn't have), why is the rating scale based on looks alone? Klum was right to point out that so many things go into being a woman. The combination of factors vary for all of us, whether it be working on our careers, taking care of our families and juggling a million different things at once. I am proud to be a 10.
Let's stop with unilateral judgments about a woman's worth. It's time to end the societal pressure for women to look better, give more, do more -- in essence, to be more. At the end of the day, it comes down to this: women across America are doing our best. That should be enough. It is all women, together with men, who already make America great.
REAL LIFE. REAL NEWS. REAL VOICES.
Help us tell more of the stories that matter from voices that too often remain unheard.