The founder of a popular YouTube channel about college partying told a reporter Wednesday to prepare her anus and suggested his followers try to get her fired.
The Twitter handle for "I'm Shmacked," a channel that posts videos of college students partying and has been known to spur campus riots, took offense at a story by Business Insider reporter Caroline Moss.
Moss' article had nothing to do with I'm Shmacked. It was about how one random guy named Chris Scott made a joke on Twitter that was retweeted by a popular comedian, causing the tweet to go viral and get copied by others on Twitter.
After Business Insider published the article, according to Jezebel, Moss found that @ImShmacked had copied the joke without crediting Scott. She tweeted her story at the the @ImShmacked handle.
I'm Shmacked responded with crudity, threatening Moss with petitions to fire and deport her, and saying she was "prepping her anus" for an assault. I'm Shmacked went on to say he would visit Business Insider's office, where he claimed he and his father "know" people: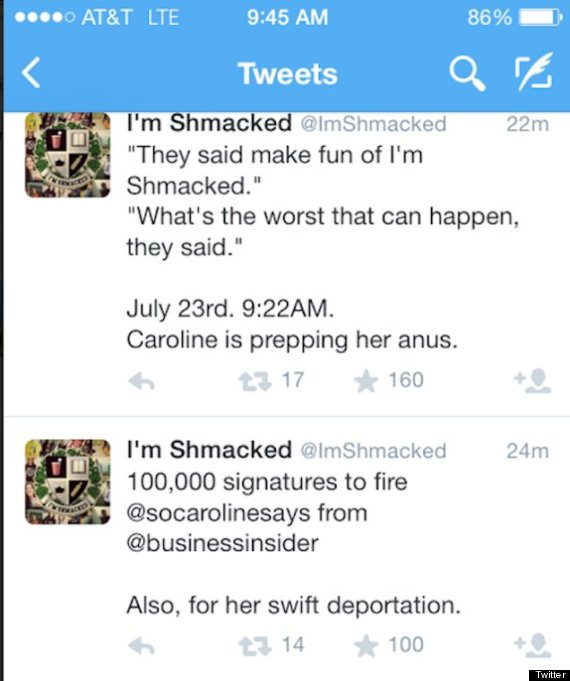 Lindsey Adler, a staffer at Vice, stuck up for Moss:
In now-deleted tweets, I'm Shmacked founder Arya Toufanian threatened legal action against Adler, Moss, Vice and Business Insider for getting people to report his Twitter accounts. (Screenshot per Jezebel)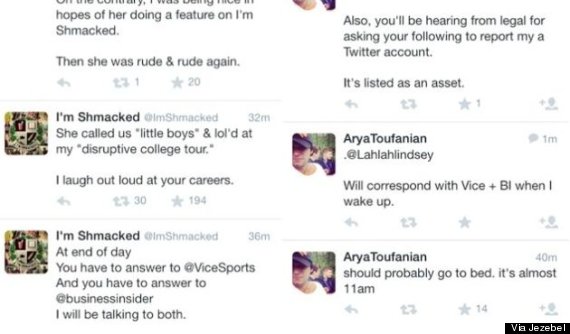 Moss told The Huffington Post she hadn't received any communication from Toufanian outside of Twitter. Toufanian did not respond to a request for comment.
Only this and a couple other tweets are left on I'm Shmacked's Twitter feed:
Adler and Moss showed no signs they were worried about Toufanian's threats:
Popular in the Community