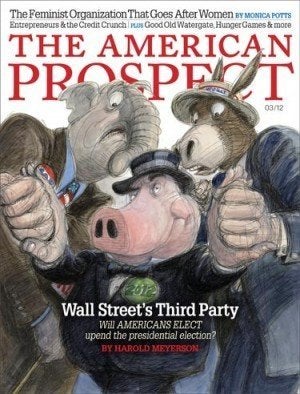 It could have been an editorial meeting for any small political magazine in Washington, except it was punctuated by comments like this: "Speaking of which, there will be a memo going out that if the world comes to an end, we will be providing health insurance until the end of July," Rachlis says. There are appreciative, if not thrilled, murmurs of "awesome," from the group of mostly 20-somethings. It's late May. The Prospect never had an angel investor or a funding board, and like many of its cousins in the world of liberal journalism, has been on shaky financial ground for years. Unless they come up with $1.2 million by mid-June, the next issue they put out could be the last.
Since it was founded in 1990, by Princeton professor Paul Starr, writer Robert Kuttner and political economist Robert Reich, the Prospect has been one of the few publications in Washington reliably dedicated to policy journalism. It's occasionally dull, but almost always ambitious. And it's always been a launching pad for a number of well known writers and editors like Jonathan Cohn, Ann Friedman, Jonathan Chait, Ezra Klein and Matt Yglesias, Garance Franke-Ruta, Richard Just, Spencer Ackerman, and Adam Serwer. Only four years ago, if you were a young journalist who wanted to be a magazine writer, and you were lucky enough to land a job at one of the vanishingly few rags like the Prospect, where all around you academics and experts were advancing liberal arguments, and you could actually try your hand at long form reporting and argument, you could see a bright future for yourself in journalism. (I was lucky too, to find one of those jobs, at The New Republic, until December of 2009, when the magazine, facing its own financial difficulties, laid off a huge portion of their staff. They've since found an a savior in Facebook IPO billionaire Chris Hughes, who's devoting serious resources to restoring The New Republic to its former prestige.) But the Prospect has had no such luck, and the positions available to aspiring journalists in Washington are now mostly web hamster jobs -- ones that reward a performative, maniacal work ethic over context, analysis and enterprise -- who can tweet the fastest, who can write up the press conference quicker. They are not the sorts of jobs that cultivate the talents of sensitive writers and introspective thinkers. In many cases, they burn young writers out, or turn them away from the profession completely.
Rather than push his writers into overdrive to produce more content, more quickly, Rachlis wanted them to be even more enterprising -- to think about how to be relevant in tablet and web forms, yes, while still thinking about reported, narrative journalism -- even as the financial climate and its imperatives were pushing most magazines in the opposite direction. But at the end of April, Rachlis and publisher Jay Harris decided they needed to prepare the staff for the very real possibility that the magazine could fold if it didn't raise money within the next several weeks. "The number of us who were working on this problem had all come to the conclusion that, paradoxically, if we had a chance to survive, we needed to have a near death experience. We had to go public, and we had to go beyond the group of donors we'd been speaking to," Rachlis says. "Not as a ploy -- I don't think we can declare our near death every six months or a year -- but this was real. This was serious, the Prospect had never done this as far as I know, and that we had to let our community know that we might not survive."
As of today, they've raised almost $900,000 -- $500,000 to get them through the end of their fiscal year which ends this month, and another $400,000 toward the $700,000 in commitments they need going into the next fiscal year -- $200,000 of that, Rachlis said, came from readers and subscribers. Starting this week, the entire staff, including Rachlis and the publisher, will go on half pay for two weeks, and everyone will take a week-long furlough. (Just last week, another of those refuges for young magazine writers, the Los Angeles-based GOOD magazine, laid off most of their staff, including Friedman and Tim Fernholz, both Prospect alums. )
Rachlis has only edited the magazine for a year. He uprooted himself from California last year, leaving USC's Annenberg School for Communication and Journalism for what he felt was "an extraordinary opportunity to transform this magazine into an even more important voice" on progressive issues. Before joining Annenberg, Rachlis edited Los Angeles magazine for nine years, overseeing the magazine as it racked up two James Beard Awards and several National Magazine Award nominations. But in 2008, the financial crisis hit, and Los Angeles was forced to go through four rounds of layoffs.
"It's the principle reason I left Los Angeles magazine," Rachlis says. "This is the last thing I was hoping to do. I loved putting out Los Angeles magazine and it had an extraordinary financial run through the 2000s. Then, like every magazine in America, 2008 hit, and it was brutal. And we went through three rounds of layoffs, all of which were economically financially necessary and all of which I oversaw, and they were difficult by any description. But when it got to the fourth one I knew that Lost Angeles was going to be fundamentally different than it had been and that this meant a deep kind of structural change and it meant losing our staff writers. And having been there for nine years, I thought that I didn't want to oversee that kind of magazine, that I wanted to spend next phase of my life doing something different."
"Is it déjà vu all over again?" he says, hands still clasped to the back of his head. "It's different. It's non-profit magazine publishing versus for profit publishing. It's not what I imagined or expected. It's not what I thought I was heading for. But that's what happened and I'm really committed to seeing it through, if the worst happens, as humanely possible as we can, and if the best happens, that we come out stronger for it."
On a recent Monday afternoon, most of the offices on the lower level of the Prospect's loft were empty. The halls, lined with boxes of magazine archives and framed cover stories, were quiet. Upstairs, where the young staffers share offices, there are no outward signs the magazine could soon close. The desks are still littered with papers and books, Tupperware, and cardboard boxes from online purchases. The writers are still pressing forward with their pieces for the next issue -- but they differ on how intensely they're working on finding new jobs.
"I mean, I'm looking seriously. It's a thing I'm doing," says Bouie, a writing fellow who just published his first cover story for the magazine arguing that Romney would govern as a right-wing ideologue if elected. Monica Potts, a senior writer working on a reported feature for the next issue about two generations of a Kentucky family struggling with poverty, says she's looking casually. "I guess it feels less personal," that they're all facing this together, she says. If the magazine closes, she says, "It'd feel like we were part of some project that just didn't work out."
In an adjacent office sits Gabriel Arana, a 29-year-old web editor who's been with the Prospect for three years. On the wall above Arana's desk are photos of him and his partner, whom he married last year. Arana recently wrote a piece for the magazine, a powerful mix of personal narrative and reportage, about "reparative therapy," a now largely debunked mode of rehabilitation meant to "cure" gay people of their attractions to people of the same sex. Arana got Robert Spitzer, the well-respected author of a study held up by gay therapy proponents as evidence that the method works, to recant his paper. His piece brought the magazine more web traffic than any other in its 22-year history -- it made news, changed policy, and touched readers, even those who were unfamiliar with the long-term effects of so-called cure therapy.
"Everyone's sort of waiting until we know. We thought we were going to know by now," Arana says, sitting at his desk. "I'm sort of fatalistic. If it happens it happens, if it doesn't -- being a journalist, you don't deal with these mass sums of money and you're not privy to the negotiations. So it's in rich peoples' hands now."
GQ On Politics: Get the Latest Death Race Updates From the Campaign Trail HERE
REAL LIFE. REAL NEWS. REAL VOICES.
Help us tell more of the stories that matter from voices that too often remain unheard.