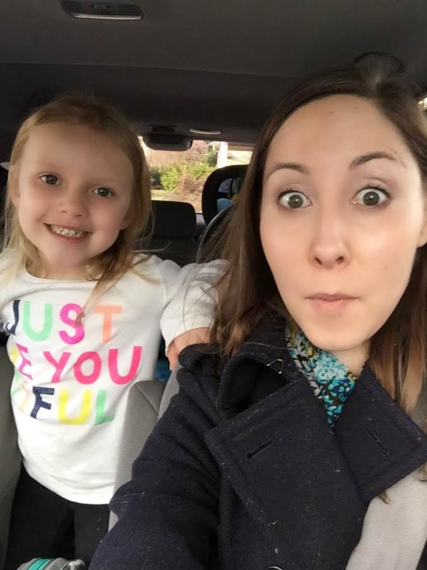 I'm that mom who has counted pumpkin pie as a vegetable.
Who let her 3-year-old watch 3 Tinker Bell movies last night.
Who gets food eaten by arranging it into faces and sunshine.
I'm that mom who has mastered the art of carrying multiple bags and two kids while holding an umbrella and a half-eaten snack.
Who usually wears pajamas all weekend.
Who has ironed yoga pants.
I'm that mom who stands in the doorway each weekday morning, keys in the balance, wanting to hug her kids again while she turns and goes to work instead.
I'm that mom who showed up to work with her shirt on backwards.
Who is wearing a scarf to cover stains.
Who hopes you won't notice she just wore those pants yesterday.
I'm that mom whose kids are sick again.
Who teams up with her husband to give medicine.
Kiss away tears.
Wipe noses.
Clean up vomit.
Call the doctor.
I'm that mom who just cried because it was a hard day.
Because it was a really wonderful day.
Because she feels stretched thin.
Because sometimes she feels like she's not enough.
I'm that mom who worries if her kids are eating right,
If they're learning enough,
If they feel loved enough,
If her 3-year-old has too much screen time and her 7-month old doesn't have enough playtime.
Who promises we'll go to the park tomorrow, that soon we'll take that family walk.
I'm that mom who makes dinners and gives baths.
Who reads books and sings and dances and plays make-believe.
Who longingly looks at her husband, hopes that soon there will be a date night.
I'm that mom who holds her baby long after she's fallen asleep, just to have more time with her, to try to freeze time.
Who tucks in her little girl before the nightly dance of going potty, answering musings, getting water, changing PJs, then going potty again.
I'm that mom who is not perfect.
I'm that mom who hopes she is getting it right.
And when I see you and we smile and say not much of anything,
I'm that mom who wonders if you're that mom, too.