April 3rd, 2016 was a big day. In Dallas, Texas, 101,763 people filled the AT&T stadium like sardines in a can to watch the showcase of the immortals, WrestleMania. Down by the ring, three rows back and three seats in sat a young woman who had travelled there by herself from Honolulu, Hawaii to watch this grand event.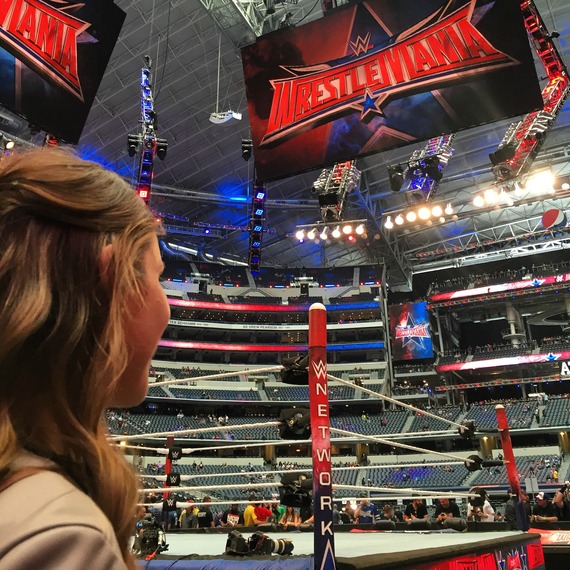 This had been a childhood dream of mine and something I had wanted to do since I was 14 years old. Every year WrestleMania came around and I watched it on TV, thinking about how amazing it would be to actually be in the crowd. Years of this passed by until now, at the age of 27, I felt like I had waited long enough. It was time to be one of those faces in the sea of wrestling fans.
With my husband currently serving in the US Army and being away from home for the last 10 months, I knew that his schedule wouldn't allow him to come along with me to share this epic experience. Since I didn't know many others who love wrestling like I do, I decided to go solo. I knew that if this dream was going to come true, it was now or never and it was up to me to make it happen.
When the travel packages went on sale, I woke up early, reached for my laptop and tried my chances at booking a travel package for one. Half asleep, I followed the prompts then held my breath as I watched the loading bar creep ever so slowly towards 100%.
"Congratulations! You have successfully booked the Texas Star Travel Package."
I sat in shock knowing that it was really going to happen. I was going to WrestleMania!
When the day finally came to make my way to Dallas, I got on that plane with an excited energy and belly full of butterflies. After landing, I went straight to my hotel, ironed all my clothes (I had to look my best if I was going to be meeting wrestlers) and walked down the streets of Dallas for my first event of the trip.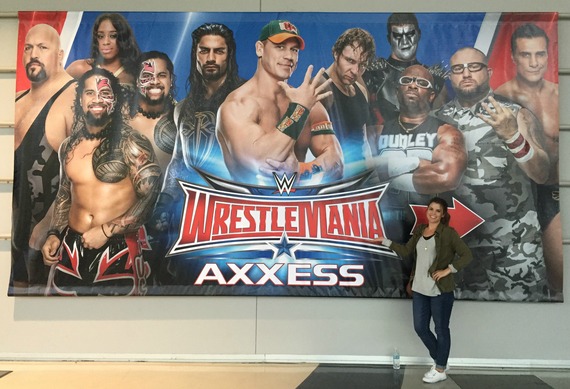 Now, WrestleMania is not simply one event, it takes over the host city for a whole week of events and boy did I do everything! I attended NXT Takeover Dallas, the Hall of Fame ceremony, WWE Raw and even enjoyed a trip to Beaumont Ranch to spend time with some of the WWE Legends over a BBQ lunch. I walked everywhere by myself and stopped strangers many times to awkwardly ask them to take a photo of me.
I went to 4 WrestleMania Axxess sessions - a convention where you can see exhibits, meet wrestlers, watch in-ring action and of course shop at the Super Store!
I even had two VIP meet and greet sessions with none other than The Undertaker and Shawn Michaels. Now, In case you have been living under a rock for the last couple of decades, these are two of the greatest of all time. To say I was nervous is a HUGE understatement.
I'd love to say that when I was in line to meet The Undertaker I was nervous, but on the surface looking calm and ready (big thanks to Eminem for that lyrical genius). But no, I was a nervous wreck. Sweaty palms, nervous chatter to EVERYONE around me, heart racing and hands shaking. I didn't even know if I would be able to make words happen in front of him. Whoever says that getting married is the most stressful day of your life has not met The Undertaker.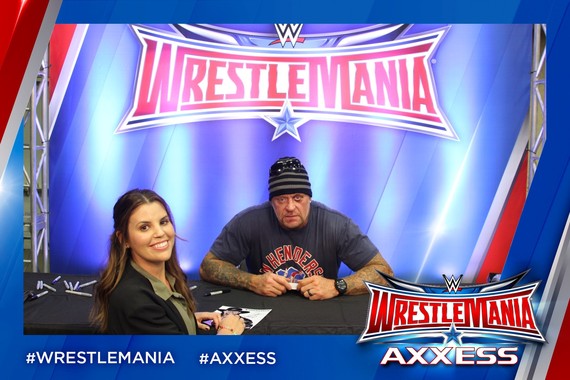 Luckily for me, my shaky little hands reached out and shake his as I said thank you for all of his work over the years. The same happened in my other VIP session with Shawn Michaels. He is my favorite of all time and has had such a huge impact on my life. He always made me feel like I could do anything! To be able to stand in front of him and say thank you was a moment I will never forget.
Then it came time for the biggest show of them all.
I was pacing in my hotel room and it took me about 15 minutes after I was ready to convince myself to actually leave the room. My nerves were rampant. Once I stepped outside my room it was going to be real. Was I ready for this? I had never been in a crowd this big, what if I got lost? What if the people I sit near don't like to chant? I also hesitated because I wished my favorite adventure buddy, my husband could share this huge moment -- the biggest since our wedding day, with me. In an attempt to settle all my nerves and hesitation, I just opened that door and went downstairs to board the bus.
And just like that, we were at the stadium.
Once I found my seat, I stood in awe staring at my surroundings. I swear other people look at their newborn children the same way I look at WrestleMania.
When the show began the intensity in the air rose and the emotional rollercoaster began. I held my breath when Shane-O-Mac jumped from the top of the Hell in a Cell cage; I screamed at the top of my lungs when the glass shattered and Stone Cold Steve Austin appeared; I chanted loud as part of every chant and cried like a sissy when my all-time favorite, The Heartbreak Kid Shawn Michaels, made a surprise appearance.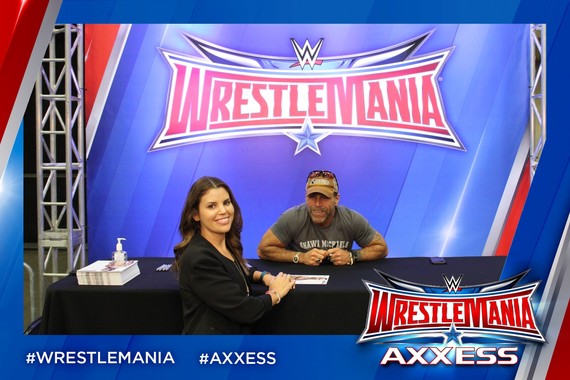 After all these years, I had envisioned what I thought it would be like to experience WrestleMania week and I can honestly say that all my expectations were surpassed. It was so much better than anything I could have ever imagined. It was all my dreams and more. I left Dallas with a happy heart that was filled with wonderful memories that I will never forget.
The funny thing is, though I travelled to WrestleMania alone, it didn't feel as though I was alone. I made so many new friends and was able to talk wrestling with fellow fans the whole time. This company, these athletes, this grand spectacle united us all. It didn't matter where you were from or what you did for a living, for one week of events, we were all just wrestling fans.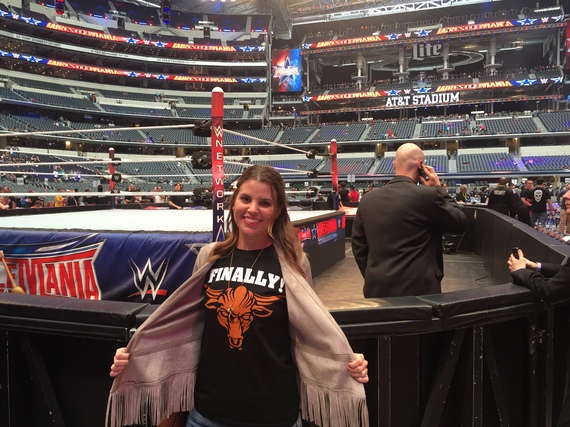 After it was all said and done, I boarded that plane back to Honolulu with a heart full of memories to last a lifetime. Would I go to another WrestleMania alone? Without a doubt! Though, next time I hope to share the experience with my husband for the ultimate date night!
Related
Popular in the Community