For as long as I can remember, I've seen too many homeless New Yorkers suffer the city's brutal winter wearing nothing but an old coat. No socks, no gloves, no scarf and no hat to keep them truly warm. As a young child, I would fantasize about befriending each homeless person, cleaning them up and giving them a daytime talk show approved makeover. Maybe then, all their problems would go away. Maybe then, they would be completely happy. I've grown to learn that life's pleasures don't come so easy and that it's even harder to change the life of every person. But what has stayed with me is the desire to help those in need feel better about themselves despite their circumstance.
Four years ago I came up with an idea to host a clothing drive that would focus on the small yet important items (aka winter accessories) that typically get left out in most coat drives. Inspired by the intent, I named my dream drive "Just a Little Warmer." After much trial and error, over-thinking and fear, I finally made a true effort to bring this dream to life. "Just a Little Warmer" will be held at The Bronx Museum of the Arts during the museum's Holiday Market Weekend on Saturday December 12 - Sunday December 13 at 11am-6pm. I am presenting this drive through my creative project Casual Muse, a space dedicated to the stories and casual musings of everyday people.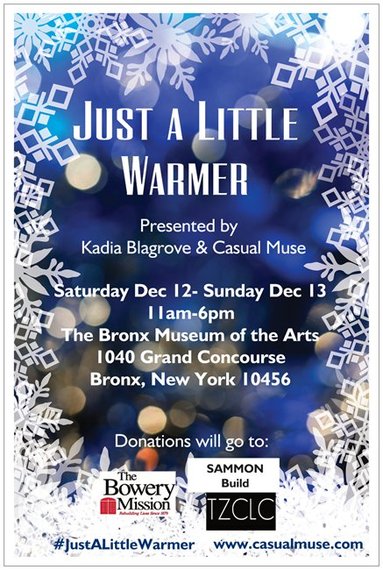 It is extremely important to me to support not only NYC, but specifically my borough -- The Bronx. Donations will go to the homeless single mothers and their children of SAMMON Build, a Bronx shelter under non-profit organization Tolentine Zeiser Community Life Center. Although SAMMON Build is funded by the Department of Homeless Services, the program is still very dependent on charitable donations of food, clothing and cash. I grew up in the Bronx, and I've seen and known many women who struggle to make ends meet, providing only enough to keep their children fed and clothed but unable to care for themselves. I admire SAMMON Build's mission and I am very honored to be a part of it this year.
Donations will also go towards the homeless men, women and children of The Bowery Mission. The downtown Manhattan shelter is also non-profit and offers folks in need not just the basic necessities, but also the emotional and spiritual essentials needed to survive. The Bowery Mission's recovery programs help victims of poverty and hopelessness find mental peace and the motivation to change their lives. It's simply not enough to provide those in need just money, food and clothes; personal connections are invaluable.
The Bronx Museum's Holiday Market will feature several local Bronx businesses and activities for the whole family to enjoy. What better way to build community than with support and charity? I'm thankful to be a part of this special weekend. As gratitude for donations, donors will be treated to hot cocoa and a raffle entry to win a holiday gift basket, sponsored by some awesome brands like Colgate-Palmolive, LARUICCI, Black Gotham Experience, and more. The gift includes family products, bespoke accessories and vouchers for free tours and art classes.
If you're in the NYC area, please come out and support! Accepted donations include:
Socks
Gloves,
Hats
Scarves
Thermal wear
Sweatshirts
Sweatpants
Hoodies
Tights
And any other gently used or new winter items of the like
"Just a Little Warmer" will be held at The Bronx Museum of the Arts, 1040 Grand Concourse Ave, Bronx, NY 10456. You can find more information by checking out its Facebook page.
Special thanks to The Bronx Museum of the Arts for providing space for this drive and help making my little idea into a big reality. Many thanks to the other wonderful sponsors that have supported: LARUICCI, Black Box Jewelry, Black Gotham Experience, Creative Cookie, Sugar Fetish Cakery, Colgate-Palmolive.
Calling all HuffPost superfans!
Sign up for membership to become a founding member and help shape HuffPost's next chapter