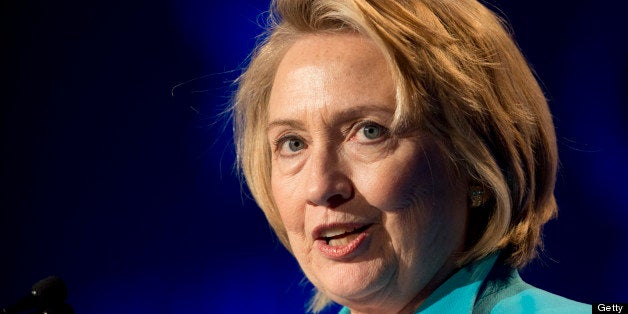 Things are heating up in the 2016 presidential election. Hillary Clinton's "wind-tousled, bouncy hair" is up fifteen points over White House hopeful Bobby Jindal's "lame, boring dude cut." This is quite a turning point for the Clinton campaign. Despite her considerable base, Mrs. Clinton's hair was initially off to a rocky start with her patent "helmet" style threatening to alienate conflict-fatigued voters. Proof of this was evident in the third of 25 debates where pollsters reported a lack of distrust that Hillary's hair really meant fiscal responsibility. However, pundits note that constituents are re-energized, attributing the uptick in Clinton's popularity to her "vivacious, kicky fringe." Reminiscent of Rachel Green's 'do on Friends with its soft, fun layers and updated color, which an anonymous source close to the campaign confides is called "Iowa Straw Poll at Dawn," Hillary's hair signals a definitive shift.
"Yes," said a man from Minnesota watching the latest debates, "That is hair that will not take my gun rights away."
"I would trust that hair with the rights of my unborn child," stated a woman from Florida who had waited in the rain for three days to attend a rally for Hillary's hair.
Though she has yet to announce her bid for 2016, Hillary Clinton is already the subject of much media coverage, so much of it (still) focused on her appearance. Recently, the Former Secretary of State attended an event hosted by Vogue's Anna Wintour where the fashion magazine magnate enthusiastically endorsed Clinton for a 2016 run for the White House. A post on VanityFair.com encapsulates the perpetually strange and somewhat cringey fixation on Clinton's look, specifically on her hair: "Its freshly voluminous curl forces us to conclude that, like Regina George, Hillary Clinton's hair is full of secrets. As for precisely what's hiding beneath those peppy layers? No one (apart from, perhaps, the similarly swoopy-haired Laura Bush) can say for sure." What, indeed are the mysteries of Hillary's hair? What can we learn from these tresses? Top secret missile codes? The key to peace with Israel? A fan-girl crush on Justin Timberlake? Oh, if only that hair could talk!
Luckily for us, the person underneath that hair can talk, quite intelligently, eloquently and compellingly about global policy, about how to keep reforming health care, about advocating for women's rights, about providing foreign individuals a path to citizenship, about repairing our educational system and about economic accountability, and OK, probably about Justin Timberlake as well. The argument persists that in our current age of hypermedia, male politicians experience the same kind of intense focus on their appearance. While there may be some truth to this, (Chris Christie comes to mind), rarely has one feature, like hair, been so remarked over that it is used as a deflection away from the mind and voice underneath. No one ever ruminated on the secrets roiling around in the wild storm of Ted Kennedy's silvery Irish tresses.
This kind of focus diminishes her accomplishments and sends the wrong message about image over substance, one that is especially fraught for women who have been configured historically in the public sphere through the primarily male gaze and through institutions where that gaze is also politically powerful. On a journalistic front, it's lazy writing. With four hundred precious words to use, why waste 150 of those on terms like "swoopy" or "kicky?" For her part, Hillary seems to take this attention in stride, giving her own nod to the inanity on her Twitter account where she describes herself as a "hair icon." I wonder what her pantsuits have to say about that.
REAL LIFE. REAL NEWS. REAL VOICES.
Help us tell more of the stories that matter from voices that too often remain unheard.